Let DoNotPay Help You Claim Your CamelBak Lifetime Warranty!
You got your custom water bottle or pack to suit your active lifestyle from CamelBak? Are the items not living up to their promise? CamelBak offers a lifetime warranty on all their products, including packs and accessories. 
If you need a replacement part or want to claim a warranty, CamelBak says that they have your back. DoNotPay can help you to claim your warranty quickly and easily. 
What Does Your CamelBak Lifetime Warranty Cover?
CamelBak provides warranties for all its products for a lifetime. The warranty covers:
Reservoirs

Bottles

Backpacks

Accessories
All items are guaranteed against manufacturing defects or defects in quality and materials. You can't claim the warranty if you lost a part or if it's broken due to negligence. 
How Can You Claim the CamelBak Lifetime Warranty on Your Own?
How do you go about claiming your CamelBak lifetime warranty? Here are possible options that you can use: 
| | |
| --- | --- |
| Method: | Yes/No |
| DoNotPay | Yes |
| Website | Yes |
| In Person | No |
| Phone | Yes |
| Letter | No |
Claiming Your Warranty on the Website
To claim your warranty on the website, follow these steps:
Log on to the CamelBak website

Click on

Got Your Bak

warranty at the bottom of the page

Select

Submit a Claim

 

Choose whether you need a replacement part or warranty assessment

Follow the prompts
If you need a replacement part, you can go through the self-service portal to order the piece at no cost. CamelBak will review your warranty claim, and if they approve it, they will send you a replacement part or new product.
Claiming Your Warranty Over the Phone
You can call the CamelBak hotline to file a warranty claim:
Dial 1-800-767-8725

Explain the problem to the call center agent

Let them know whether you need a replacement part or want to file a full warranty claim
Let DoNotPay Help You Claim Your CamelBak Lifetime Warranty
DoNotPay makes claiming any warranty easy. Whether you need to claim a car warranty, learn more about America's home warranties, or cancel your extended warranty, DoNotPay has got you covered.
 Follow these easy steps to claim your CamelBak warranty with the help of DoNotPay:
Open DoNotPay in your

web browser

Select the

Claim Warranty

feature

Choose the

Warranty on a Purchased Item

option

Provide the details of your claim

Click on

Submit

and finish the claim process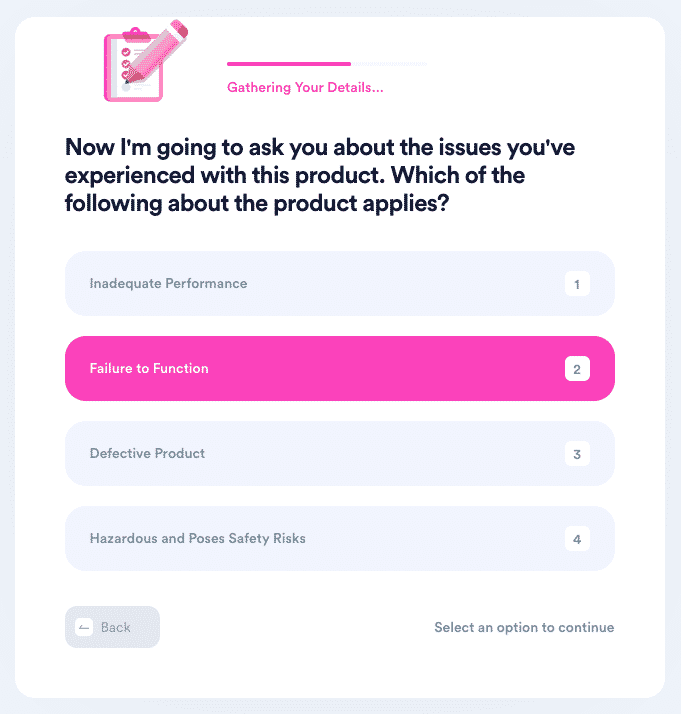 What if CamelBak Denies Your Claim?
We can help appeal a denied warranty claim. You can follow these steps to appeal your claim:
Log in to your DoNotPay account in your

web browser

Click on the

Claim Warranty

service

Select

Appeal a Denied Warranty Claim

Indicate that you're appealing against a manufacturer warranty

Provide the details regarding CamelBak and your original claim
DoNotPay will take care of all the paperwork on your behalf, and CamelBak will contact you directly regarding your appeal. 
What if CamelBak Is Being Difficult?
If CamelBak, or any warranty provider, is being needlessly difficult, it may become necessary to escalate the situation. Many people are reluctant to take companies to small claims court, fearing the legal representation that the company can afford. DoNotPay has made suing companies in small claims court super easy. 
DoNotPay will issue a letter of demand to CamelBak. If their response is not positive, we can take care of the court papers on your behalf. 
The American Bar Association is so impressed with the DoNotPay legal services that they awarded us the Louis M. Brown Award for Legal Access.
DoNotPay makes it easy to fight bureaucracy and get what is rightfully yours. Use our app and get scripted advice from our chatbot for your court presentation. 
Is There Anything Else DoNotPay Can Do?
DoNotPay can do tons of things to make your life easier. Find out everything about home warranty reviews and how we can help make the home warranty claims process easier. We can also help you decide whether you need an extended warranty for your used car. 
Learn more about how DoNotPay will help you to claim any warranty, including for products like Samsung, Verizon phones, and Sony. We can also get you refunds for faulty products if there's no warranty. Request refunds from companies like Home Depot or FedEx.
DoNotPay can offer many other services that you can get through your web browser. Find info on how we can help you with tasks like:
Contesting speeding tickets

Fighting traffic tickets