Bonobos Return Policy—Full Disclosure
Before customers can get their money back for a dissatisfactory Bonobos purchase, they need to understand the fine print of the company's policies.
How do customers qualify for a Bonobos return? What time frame do they have to return their purchase? This guide will walk you through all the details of the Bonobos return policy and show you how DoNotPay can .
What's the Skinny on the Bonobos Return Policy?
If you wish to return or exchange Bonobos apparel, your items must be in the same condition as when purchased—unworn, unwashed, and unaltered. If you would like a refund to your original payment method, Bonobos gives a 45-day return window from the purchase date. If you're okay with store credit, you have 90 days to send your purchase back.
Customers can also choose to exchange their items within 90 days of purchase. Bonobos does not offer exchanges for items bought without a Bonobos account or the orders shipped to U.S. territories or military bases. Such items must be returned for a refund, and then a new order can be placed.
A return is not possible for Bonobos merchandise bought from third-party retailers or final sale items.
The two ways you can return Bonobos clothing include:
Sending the items by mail
Returning them to a Bonobos Guideshop
Bonobos Return Policy for Mail Returns
Follow these steps to return or exchange your item via mail:
Log in to your Bonobos account
Go to Orders
Select Return or Exchange, based on your preference, and print out the provided return label
Pack the Bonobos clothing into its original packaging along with your order form
Affix the prepaid FedEx return label to the box and take it to the nearest FedEx location
Items shipped to a military base or any U.S. territory should be sent back to FB Flurry, 1000 John Galt Way, Burlington, NJ, 08518.
If you don't have a Bonobos account, you'll have to contact their Guides via live chat to get a new return label—the live chat button is only visible at the bottom left corner of the screen when agents are available.
The Bonobos Guides' live chat hours are:
| Business Days | Service Hours (EST) |
| --- | --- |
| Monday–Thursday | 9 a.m.–10 p.m. |
| Friday | 9 a.m.–8 p.m. |
| Saturday | 10 a.m.–8 p.m. |
| Sunday | 10 a.m.–10 p.m. |
Returning Bonobos Items to a Guideshop
Guideshops can process returns but not exchanges because Bonobos' physical outlets do not keep an inventory.
Instead, one of their Guides will help you initiate the exchange process on the website, and your replacement item will be on its way to you as quickly as possible.
You can use Bonobos' store locator to find the Guideshop closest to you.
Returning Defective or Damaged Items Under the Bonobos Return Policy
If your purchase was damaged or defective on delivery, you have to notify Bonobos by contacting their Guides and provide the following information:
Your shipping address
The original order number
The PO number (this is the bottom or last five-digit number on the inner white tag of your apparel)
Photographic proof of the defect or damage
A description of how the product fits you
What's the Wait Time for a Bonobos Refund or Exchange?
Bonobos' return policy states that the Guideshop return requests and refunds get processed immediately. For mail returns, Bonobos processes refunds in 5–7 working days.
Credit card refunds should show on your statement in 1–3 working days, but this excludes American Express, which will take about 5–7 working days.
Exchanges requested via mail or at a Guideshop are shipped immediately from Bonobos' warehouse upon request. The time it takes to ship and process returns from military bases and U.S. territories may be longer than in the cases above.
For all store credit returns, refunds are available immediately after the return is processed.
Want a Hitch-Free Return Process? DoNotPay Can Assist
Going through a lengthy back-and-forth with a company whose items you want to return can be tiring for any customer. DoNotPay's Item Return Request AI-powered feature helps you eliminate the stress and time-wasting from this process. All you have to do is:
using any web browser
Select the Item Return Request product
Answer a few questions about your purchase
Hit Submit
You'll get a return request letter detailing the problem you experienced and your preferred resolution—a refund or an exchange. The request letter will include a deadline by which the merchant should process your request, as well as a prepaid return label for shipping.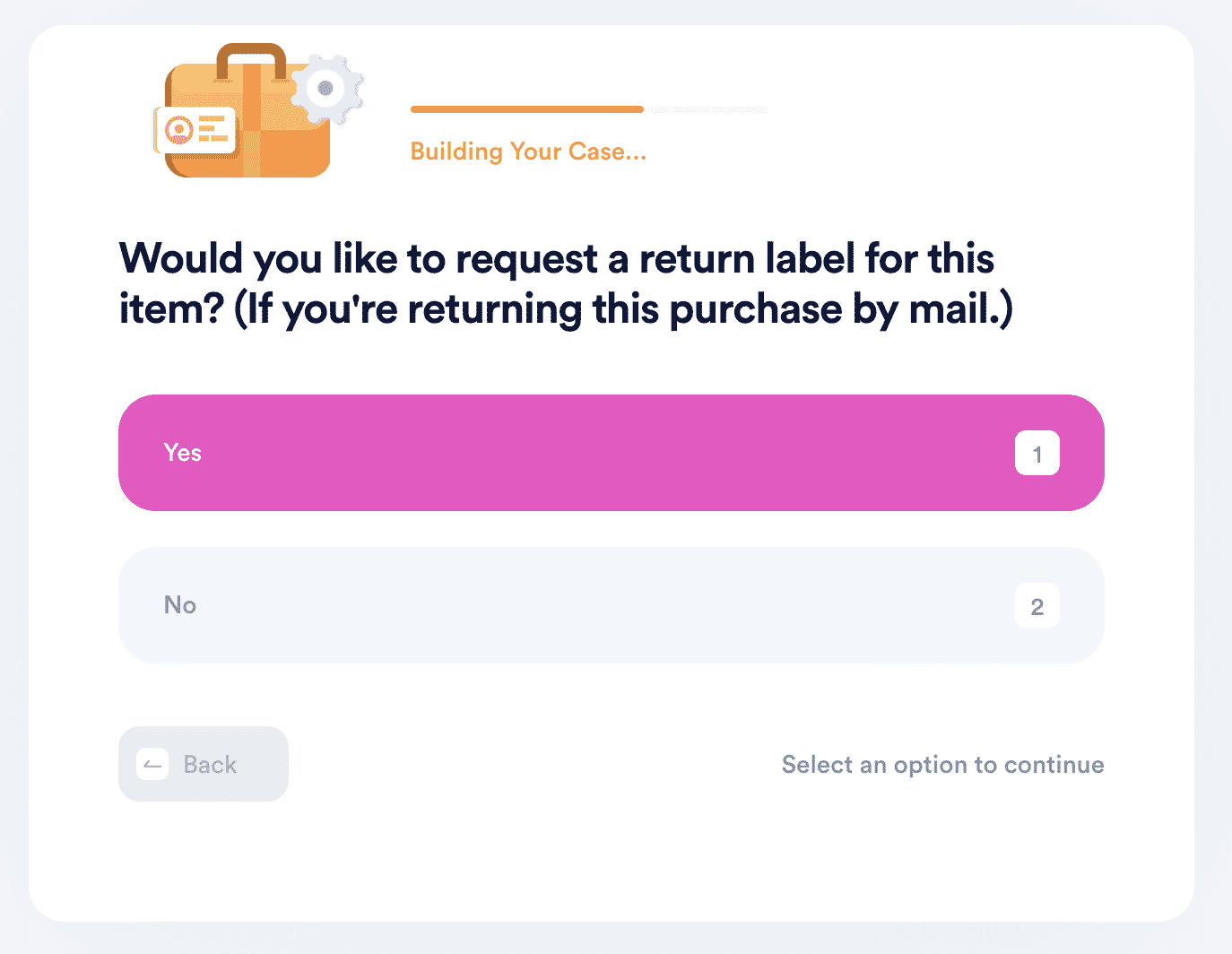 Use DoNotPay's Learning Center To Learn About Return Policies of Other Popular Brands
If you want to return a product to any of these companies, take a gander at their return policy guides:
Not happy with how long AmEx refunds take? Learn everything about American Express chargebacks with DoNotPay's help and discover how to contact their customer service without wasting your time.
Going Back and Forth With Companies Is a Thing of the Past
Have you been trying to contact the company you want to return your faulty item to with no success? No more—use DoNotPay's nifty product to jump the phone queue of any company's customer service line.
Waiting in any sort of line is dreadful, which is why we can also help you schedule a DMV appointment from the comfort of your home.
There are many more tiresome chores you no longer have to leave your bed to complete:
Make the Most of Your DoNotPay Subscription
Our app comes with a large selection of products—for one low monthly fee, you can use them all to complete dreadful admin tasks in a split second. Check out how you can: