Contact the Boise Airport Lost and Found Office the Easy Way
Flights can be exhausting and stressful, which is why many people lose their valuables in the airport. Looking for lost belongings doesn't have to be a nerve-wracking experience. If you lost a personal item at Boise Airport, you should know how to and get your items back effortlessly.
How To Report Missing Items to the Boise Airport Lost and Found
You can report missing items to the Airport Operations office located on the third floor of the terminal. If you prefer indirect communication, you can also:
Call (208) 383-3110
Send an email to boilostandfound@cityofboise.org
You will be instructed to fill out a form describing your missing items and the details of the incident so the airport can start investigating it.
Keep in mind that the Boise Airport Lost and Found is not responsible for the items you left at the security checkpoint or onboard an aircraft.
How To Report Items You Lost During the Transportation Security Administration (TSA) Screening
If you think that you misplaced an item at the TSA security checkpoint, you can reach out to Boise Airport's TSA Lost and Found Office at (208) 338-8252.
After you file a claim, you will be able to track and monitor the progress of your item's search, which can take up to six months.
If they find your lost property, you can retrieve it within 30 days of the item being located. To ensure that all missing items reach their rightful owners, the TSA will return the item in question to you if you can:
Describe the item in detail
Provide the accurate date of when it was lost
Give other relevant identifying information
Show your photo ID and your file tracking number
Items that remain unclaimed 30 days after being found will be sold, destroyed, or turned in to the State as surplus inventory.
How To Report Items You Lost Onboard
Think you lost the item on a plane? You can contact the airline in question directly:
| Airline | Contact Number |
| --- | --- |
| Alaska Airlines | 208-433-6222 |
| Allegiant Airlines | 702-505-8888 |
| American Airlines | 208-336-3487 |
| Delta Air Lines | 208-433-5725 |
| Frontier Airlines | 208-813-7724 |
| Southwest Airlines | 208-813-3800 |
| United Airlines | 208-387-1625 |
You can also try visiting the airline's baggage service to see whether the item you left on the plane has been stored there.
Contact the Boise Airport Lost and Found Office and Get Your Items Back With DoNotPay's Help!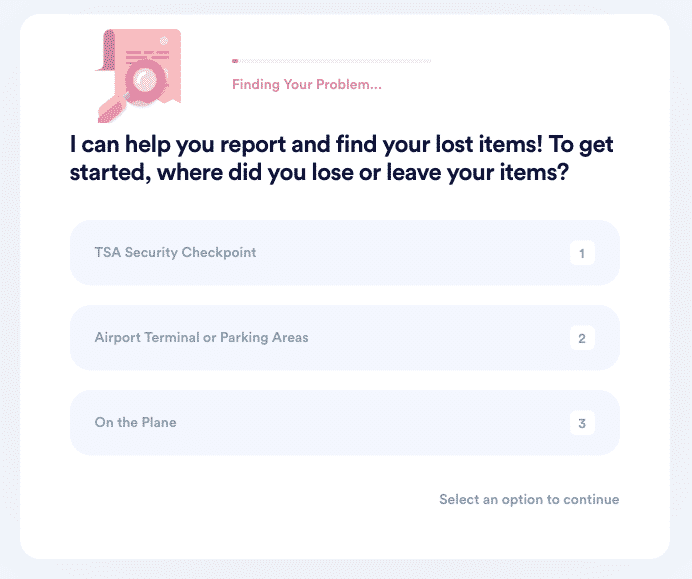 Losing items in the airport is stressful enough—you don't need to suffer additional stress and lose precious time searching for them on your own. DoNotPay can facilitate your search and help you contact the appropriate Lost and Found office hassle-free. To use our app, you should:
Search for the Find Lost Airport Items product
Provide the relevant details regarding the incident
The airport will be notified within minutes so they can investigate your claim and return the item to you.
With the help of our app, you can also request a refund or compensation for delayed and canceled flights or poor airline WiFi services.
Frequently Asked Questions
Below are some of the questions people ask the most regarding missing items:
Can you report lost luggage to the airport Lost and Found Office?
How can you avoid losing items at security checkpoints?
Will the TSA compensate items that are damaged or missing because of screening?
Can You Report Lost Luggage to the Airport Lost and Found Office?
No, delayed or missing luggage is the responsibility of the airline you flew with. If you need to find or track lost baggage, you should direct all inquiries to the service provider in question.
How Can You Avoid Losing Items at Security Checkpoints?
Place small items like phones, wallets, glasses, or keys inside a carry-on or a plastic bag instead of a separate tray. This can minimize the risk of forgetting them when you're in a rush.
Will the TSA Compensate for the Items That Are Damaged or Missing Because of Screening?
If your claim for missing or broken items is approved, the TSA will send you a compensation agreement letter and a form regarding payment methods.
Expect More Help From DoNotPay
Do you want to know what else DoNotPay can do for you? Have a look at the following lists and discover some of our most prominent services:
Type
Particular Services
Getting more cash or saving the existing funds

Lowering property tax bills

Fighting various issues
Other helpful services

Composing revocable living trusts

,

divorce agreements

, and other

legal documents

in minutes
Let Our App Fight Grabby Merchants in Your Name
Have you received a damaged item? DoNotPay helps you file a return request and get a replacement for the faulty product. We can reach out to companies and demand refunds or chargebacks in your stead or request late delivery refunds. This way, you avoid paying for the goods that didn't meet your expectations and standards.
Our app can also send refund requests to airlines and help you get compensated for postponed or canceled flights. You won't need to contact the particular company yourself—DoNotPay does the grunt work and lets you enjoy the results!