Claim
Ally Extended Warranty
Fast and Easy
Ally is a bank holding company with headquarters in Detroit, Michigan. It provides its clients with financial services, such as car finance, online banking via a direct bank, vehicle insurance, mortgage loans, etc.
Here's What
Ally Auto Extended Warranty
Covers
Ally offers its clients four different extended warranty plans for cars:
The table below shows what each of these warranty plans covers in detail:
| | | | | |
| --- | --- | --- | --- | --- |
| Coverage | Major Guard | Value Guard | Basic Guard | Feature Guard |
| Engine | ✓ | ✓ | ✓ | |
| Transmission/transaxle/transfer case | ✓ | ✓ | ✓ | |
| Front/rear-wheel drive | ✓ | ✓ | ✓ | |
| Fuel delivery | ✓ | ✓ | ✓ | |
| Heating and air conditioning | ✓ | ✓ | | |
| Braking system | ✓ | ✓ | | |
| Engine cooling | ✓ | | | |
| Extra perks | ✓ | ✓ | ✓ | ✓ |
| High-tech components | ✓ | | | ✓ |
Claim Ally Extended Warranty on Your Own
There are several ways you can get in contact with Ally on your own, claim a warranty, or request any other information you need. Many companies provide their clients with a few ways to claim a warranty, but the process usually lasts far too long. DoNotPay offers the easiest solution to this issue.
| | |
| --- | --- |
| Can You File Your Warranty Claim With | Yes/No |
| DoNotPay | Yes |
| Email | No |
| Phone | Yes |
| In Person | No |
| Letter | No |
| Company Website/Chat | Yes |
Claiming via Phone
To file a claim via phone, you will need to call the number 1-888-925-2559. Once you reach Ally's customer service, ask for all the necessary information and solutions concerning your warranty claim.
Claiming via Company Website
You can claim your warranty online on Ally's website. Follow these simple steps to file your warranty claim online:
Go to their

website

Select the

Log In To Chat

option

Look for

Chat Availability

at the top of the page
File an Ally Extended Warranty Claim With DoNotPay
You can opt for DoNotPay's easy-to-use features to make the overwhelming processes of filing and appealing claims a bit easier. Our app can also show you how to claim a warranty for used cars or deal with a company refusing to cancel your extended warranty. The Claim Warranty feature lets you claim any warranty—for your car, home, or other purchases—without hassle.
With DoNotPay, you can submit your Ally extended warranty claim by following these simple instructions:
Open DoNotPay in any

Choose the

Claim Warranty

feature

Click

Car Warranty

Provide the information needed

Press

Submit my claim
Once you complete these five steps, DoNotPay will do its part. You can expect to hear from Ally's customer support soon after.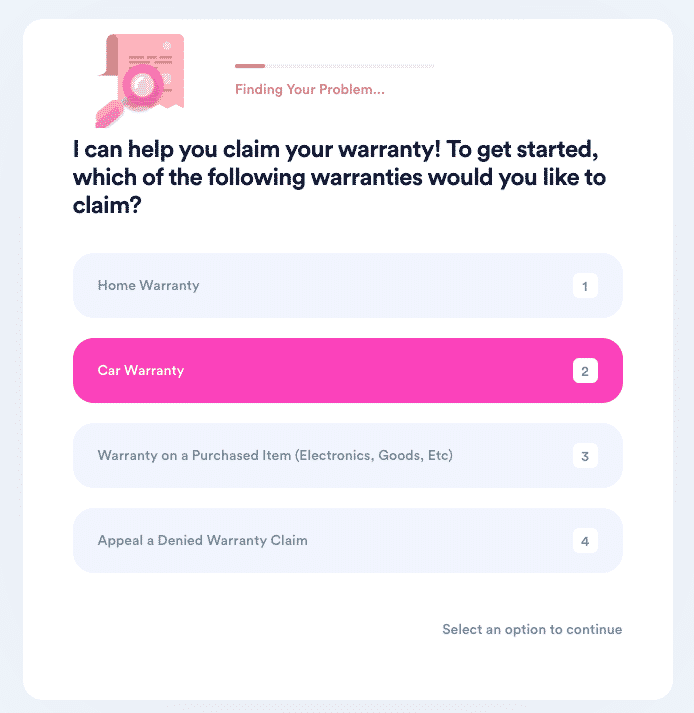 Appeal a Denied Warranty Claim With DoNotPay's Aid
If your warranty claim gets denied, DoNotPay will spare no effort to help you appeal it! You don't have to worry about doing everything by yourself, and the steps to filing an appeal claim are as simple as they can be! Here's what you need to do to appeal a denied warranty claim:
Open DoNotPay in your

Pick the

Claim Warranty

feature

Click on

Appeal a Denied Warranty Claim

State whether you're appealing against an extended warranty provider's or a product manufacturer's decision

Provide details about the company and the original warranty claim
Upon completing these steps, DoNotPay will submit the appeal letter on your behalf, and you should hear from Ally about your case in no time.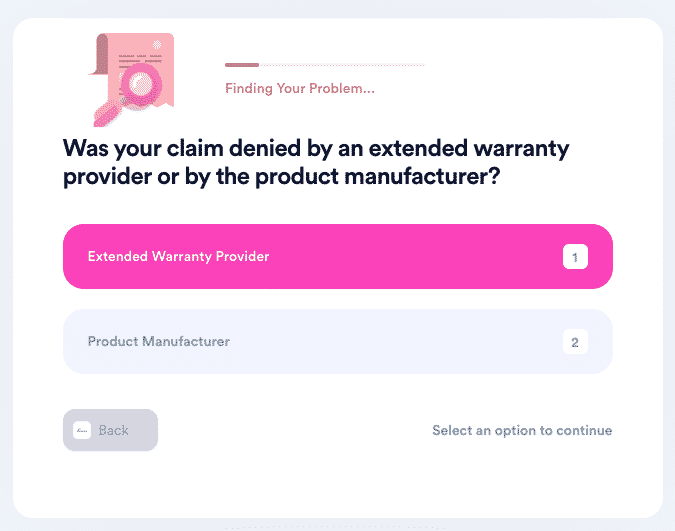 If Ally Is Being Difficult, DoNotPay Can Help You Sue Them
If Ally has wronged you and you're having a hard time resolving the issue on your own, DoNotPay has your back! The best part is that it takes almost no effort at all! Just open the app and use the world's first robot lawyer to sue the company in small claims court and seek justice for your cause.
DoNotPay has even been recognized with the American Bar Association's Louis M. Brown Award for its commitment to providing services to those of modest means and its innovative use of technology.
What Else Can DoNotPay Do For You?
Our platform can provide you with home warranty reviews and help you find the best home warranties in America. 
Besides dealing with warranties, DoNotPay can help you with all kinds of administrative issues. Open DoNotPay in your and see how we can help you:
Fight speeding tickets

Dispute traffic tickets