Extend Your Knowledge About Yamaha Extended Warranty
Yamaha is a Japanese company that manufactures motorized products such as motorcycles, boats, and outboard motors.
The company offers extra protection with its extended warranty plan, called Yamaha Extended Services (Y.E.S.). If you experience any issue with your outboard motors, check out what Yamaha extended warranty covers and how to claim it.
What Does Yamaha Outboard Extended Warranty Cover?
Yamaha outboard extended warranty covers damages in materials or workmanship. Here are more details about what parts and mechanical breakdowns the Y.E.S. warranty covers:
Yamaha Outboard Extended Warranty

Mid section/power trim & tilt

PT&T seals, motors, armature, lower pan switch, bushings, cylinders, brackets, and housing

Intake system/fuel system

Carburetor, fuel injections, fuel pump, fuel rails, intake manifold, injector drivers, fuel line check valve, primary fuel filter, and pressure regulator

Lower unit

Drive gears, housing, upper casing, water inlets, clutch dog, bearings, and shafts

Exhaust

Exhaust guide, turner, and muffler

Powerhead

Crankcase, crankshaft, valve train, wrist pin bearings, connecting rods, pistons, camshafts, cylinder heads, pulleys, oil pressure relief valve, oil cooler, rotor, and tensioners

Electrical

Wiring harness, sensors, charging system, regulator, switches, armature, ignition coils, crankshaft position sensor, idle speed control, Bendix gear, and rope start assembly
You can get Yamaha extended warranty for 12, 24, 36, or 48 months, depending on your vehicle's model.
What Are the Benefits of Yamaha Extended Warranty?
The Y.E.S. plan has several perks:
It's transferable—You can transfer the warranty to the next owner of the vehicle

Has nationwide coverage—You can repair your Yamaha vehicle at any dealership in the U.S.

Has no mileage limits

Includes the Travel and Recreation Interruption Protection (TRIP)—It covers towing and rent-a-car expenses in case of a mechanical breakdown of your vehicle

Does not involve deductibles
How To Submit a Yamaha Extended Warranty Claim on Your Own
You can claim Yamaha extended warranty via:
Claim Yamaha Extended Warranty With a Dealer
You can find the nearest Yamaha dealer via the Dealer Locator page on the Yamaha website. Contact the dealer and tell them what damage you need repaired.
How To File a Y.E.S. Warranty Claim Over the Phone
Yamaha allows you to submit a warranty claim directly to its customer service by calling 1-800-962-7926. Their working hours are Monday–Friday from 7 a.m. to 5 p.m. PST.
When you reach a Yamaha representative on the line, explain your issue, and ask for the repair of your vehicle.
Claim Yamaha Extended Warranty in No Time With DoNotPay
If you want to file a Yamaha warranty claim as fast as possible, use DoNotPay! With our app, you won't have to waste time on dealers and wait on the phone line of Yamaha's customer service!
DoNotPay allows you to submit a Yamaha warranty claim in a few easy steps. Here is what you need to do:
Set up your DoNotPay account in any

Click on the

Claim Warranty

feature

Choose

Car Warranty

Answer a few questions and give the details about the issues you are experiencing with your car

Tap

Submit
Once you complete these steps, we will compose a strong claim letter and send it to the company. You can expect Yamaha's representative to reach you directly and tell you the results of your case.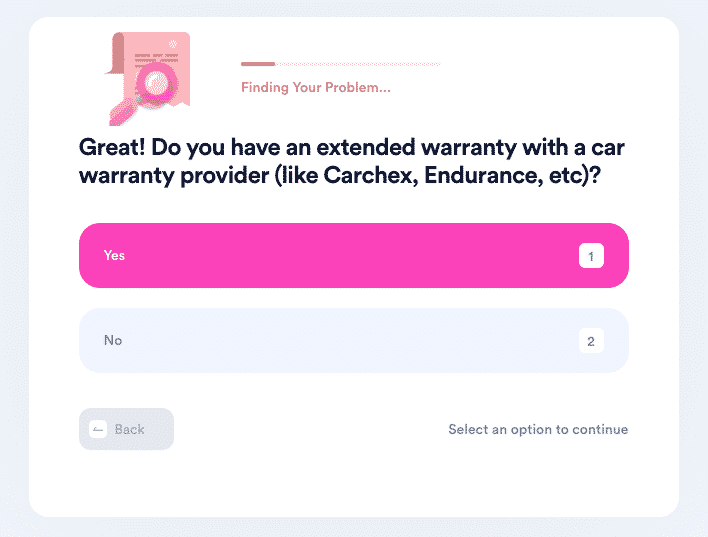 In case you need to claim a car warranty, we can help you out! With our app, you can submit warranty claims for Jaguar, Nissan, or Kia extended warranty.
We can also assist you with claiming home warranties! Read our home warranty reviews and get more info about the best home warranties in America.
You can use DoNotPay to claim a warranty on purchased items as well! Check out how to file a warranty claim for your laptop, Nintendo Switch, or Apple AirPods!
Did Yamaha Deny Your Warranty Claim? Use DoNotPay To File an Appeal
If Yamaha said no to your Y.E.S. warranty claim, don't give up on it! DoNotPay can help you appeal the company's decision. With our help, you have more chances of winning the case. We will generate an appeal letter relying on implied warranty laws for you. All you need to do is:
Log in to DoNotPay in any

Access the

Claim Warranty

feature

Click on

Appeal a Denied Warranty Claim

Provide the information about Yamaha and your original claim

Hit

Submit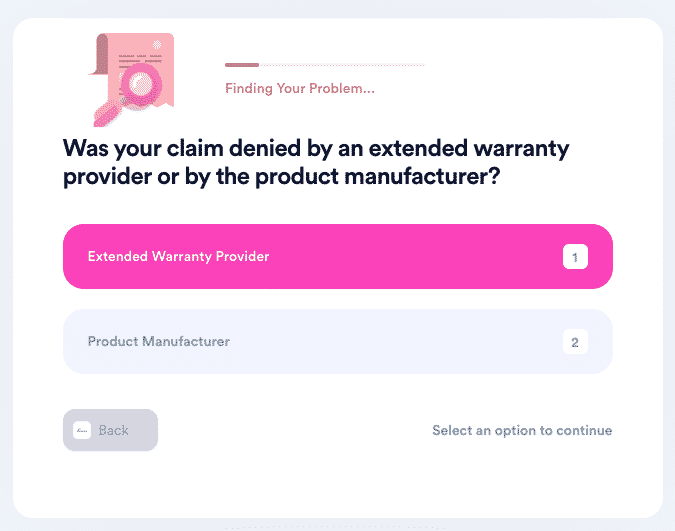 Yamaha should contact you directly with the results of your appeal.
Do Not Let Bureaucracy Drive You Crazy! Get the Help of DoNotPay!
Use DoNotPay to find out more about the extended warranties for used cars and what to do if a dealer refuses to cancel your extended warranty.
With our AI-powered app, you can solve many administrative tasks, such as canceling services or making refund requests!
Access DoNotPay from any , and get our assistance in:
Fighting speeding tickets

Appealing traffic tickets