Get a Washington State Notary Form With Ease
Notarizing important legal documents like wills, affidavits, trusts, and real estate deeds includes the notary performing an acknowledgment. If you have any concerns about getting a notary in Washington state, we're here to answer all your queries, including how to get a document notarized, where to find a notary, where to find a Washington State notary form, and how to draft a legal document within minutes!
What Is a Notary Form in Washington State?
A notary form acknowledges that adequate protocols have been followed when signing a legal document and includes the following information:
The name of the signing parties

The signing parties' addresses, including the state and country

A statement confirming that the signers understand the document and its contents

A statement that ensures that the parties are signing the document willingly

The

notary's signature

and seal
A notary form can be filled out for individuals, businesses, business partners, personal representatives, and attorneys.
How Does Notarization Work in Washington State?
The notarization process in Washington State can be lengthy. To get your document notarized, you should:
Search for a notary near you—this can be a bank, UPS store, law office, or online notary service

Contact them to book an appointment

Gather all the necessary documents

Show up in person at the appointed date and time

The notary must verify your identity as the signer of the document

They should confirm that you are signing the document of your own free will and are not being forced to do so. You will also have to acknowledge that you're familiar with the details of the document

Once the verification process is complete, the notary will sign and stamp the document and write an acknowledgment certificate
How To Get a Notary Form in Washington State
There are three ways to get a notary form in Washington State:
| | |
| --- | --- |
| Notary Method | Description |
| Traditional notary | Visit a nearby notary office |
| Mobile notary | Request a notary to come to the location you pick |
| Online notary | Get the document notarized via online video call |
Most people opt for traditional notary services, mainly because they do not know about other options, but the standard notarization process is complicated and time-consuming.
How can you avoid the hassle? Opt for online notarization. Washington is one of the 28 states that allow online notarization. Other states offering online notarization include:
Even if a state does not allow online document certification, federal law permits out-of-state notarizations, so residents can schedule an appointment with an online notary from anywhere in the U.S.
How Much Does a Notary Charge in Washington State?
Fees vary from state to state but most set a maximum limit a notary can charge. If they charge more, you can file a complaint, and the state government will take disciplinary action.
Notaries in Washington can charge up to $10 per notarial act. Notarial acts may include:
Witnessing and attesting signatures

Taking acknowledgments

Administering oaths and affirmations

Attesting copies
If you are applying for a renewal of electronic records or certificate of commission, you will have to pay up to $30.
Where Can You Find a Notary in Washington State?
There are several ways you can search for a notary:
Alternately, you can search for notaries online and select the one near you:
For a hassle-free experience, use DoNotPay to find a notary in record time!
Use DoNotPay for a Streamlined Document Notarization Process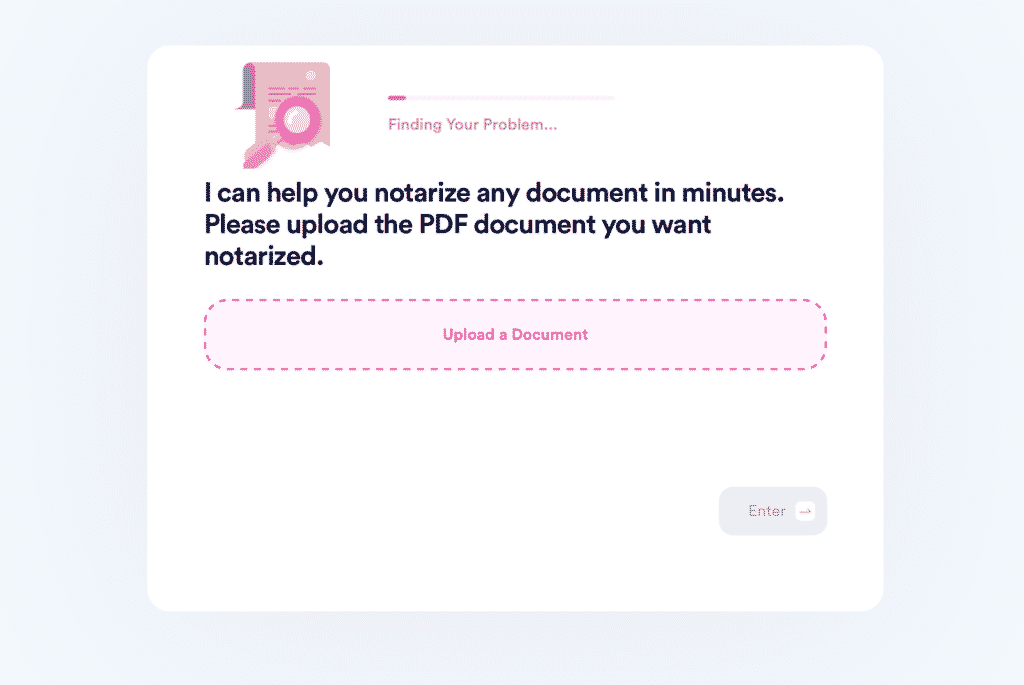 DoNotPay is the best option for notarizing your documents quickly. In a few clicks, you can get an appointment with a notary and initiate the procedure. You don't need to worry about business hours because we are available 24/7, including holidays! Follow these simple steps:
Go to the

Navigate Any Document

tool

Upload the document you need to get notarized

Provide your email address

Follow the link in the email we send you
The link leads to a timetable with slots available for setting up an appointment with a remote notary. Select the time that suits you. A notary will be available at the scheduled time via a video call to verify your signature and notarize your document.
Create a Legal Document and Get It Notarized All in One!
In case you need to draft a contract requiring notarization, DoNotPay can make one in no time! With our easy-to-follow instructions, you can create various legal documents in a matter of minutes:
Enter the name of the document you want to create

Respond to the questions regarding the agreement
Our standardized Legal Document tool is integrated with the Notarize Any Document feature, so you can generate documents and get them notarized in the same app! Here are some of the contracts we can draft for you:
Child Custody

Non-Disclosure Agreement

Independent Contractor Agreement

Prenuptial Agreement

Bill of Sale

Non-Compete Agreement
More Nifty Solutions to Annoying Problems
If you're dealing with problematic coworkers, you're not alone—our app can help you handle these issue with our Fight Workplace Discrimination product.
No problem is too big or too small for DoNotPay! Check out the best time- and money-saving solutions to different nuisances:
An Array of Hacks To Help You Deal With Greedy Companies
Nobody likes to spend more money than they have to. DoNotPay is here to offer many penny-pinching hacks and also stop companies from taking advantage of you.
Almost every free trial nowadays isn't really free. Companies request your credit card info and auto-renew subscriptions. Fight this sneaky practice by using DoNotPay's virtual credit card next time you want to snatch a free trial. We'll also uncover any unwanted memberships you have mooching off of you and help you cancel them in a few clicks.
If you need to contact a company's customer service, avoid wasting your time and money on hold and count on our app to wait in your stead.
Do you need to get your money back, but you don't know how? Use DoNotPay to: