The Ins and Outs of the Visionworks Return Policy
Did you purchase eyeglasses from Visionworks only to realize that they don't fit? What can you do if the frame doesn't suit you? DoNotPay will tell you all you need to know about the Visionworks return policy! If you sign up for our platform, we can even file a return request in your stead.
What Is the Visionworks Return Policy?
Visionworks has a Love What You See Guarantee—a return policy that enables you to return a pair of glasses within 100 days of the original purchase date if you are dissatisfied.
When you decide to return your glasses to Visionworks, the company might:
Issue a refund
Exchange your pair of glasses for another one
In case you want an exchange, the pair of glasses you select must be of equal or lower value than the original pair.
The Visionworks return policy also states that if you bought your items on the website or at one of the retail stores, you have a Money-Back Satisfaction Guarantee. The company guarantees you will be satisfied with your purchase, and if you're not, Visionworks offers an unconditional 30-day money-back guarantee.
What Can You Return to Visionworks?
Visionworks accepts returns if the items are new and in original condition. The company does not accept items that are broken or damaged.
How To Return Glasses to Visionworks
Visionworks doesn't specify how you can return items you are dissatisfied with. You can only contact the company and inquire about the return process. Check out the table below to see what options you have:
| Can You Contact Visionworks Via | Yes/No |
| --- | --- |
| Phone | Yes |
| Email | No |
| In person | Yes |
| Website | No |
How To Contact Visionworks Over the Phone
If you want to inquire about returning an item, you can contact the Visionworks customer support over the phone. Follow the steps below:
Call Visionworks at 1-800-784-7427
Ask the customer support agent to start your return request process
Follow the further instructions
How To Inquire About the Visionworks Return Process in Person
The easier way to start your return process is to head over to a Visionworks store and ask a staff member to initiate your return request. Here's what you need to do:
Open the Visionworks store locator
Enter your city, state, or ZIP code
Find the store nearest to you and click on See Store Details
Visit the store to initiate your return request
Filing a Return Request Is the Simplest With DoNotPay
Since the information on returning items to Visionworks is pretty scarce, you might want an alternative option—DoNotPay can start your return request in a few minutes. All you need to do is provide some details about your purchase, and we'll immediately send your request to Visionworks.
To initiate your request, sign up for DoNotPay and follow the steps below:
Open the Return My Purchase product
Provide information about your purchase and include photos if you have any
Click on Submit
Once you complete the steps above, our app will generate a letter request and mail it to the company right away! We can expedite the return process by setting a deadline by which the company has to process your request and provide you with a free return label.
DoNotPay can help you return items to numerous companies. Check out the following table for some of our useful guides: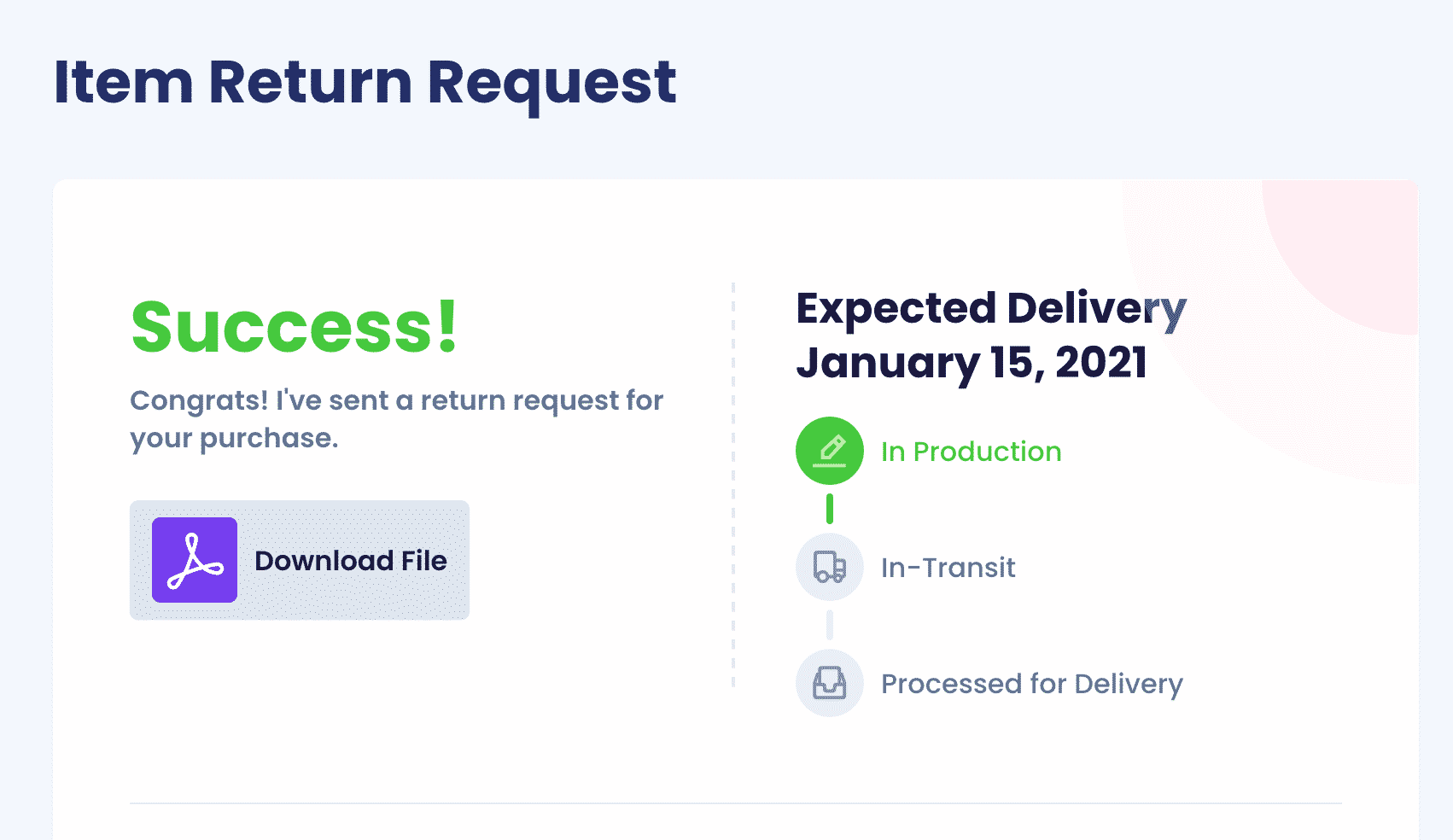 When Can You Expect Your Refund From Visionworks?
Visionworks states that the typical time frame for a refund is 30 days. Keep in mind that the time can vary depending on the type of refund.
Use DoNotPay To Get a Refund in Under Five Minutes
Are you tired of dealing with companies and requesting refunds on your own? We have the perfect solution for you—our AI-powered app can send a refund request on your behalf! You won't have to wait in lines or on the phone for long periods because you can request a refund from the comfort of your home.
Here's how to request a refund immediately:
Log in to DoNotPay
Find the Chargeback Instantly feature and click on Get Protected
Tell us about your purchase
Submit your request
DoNotPay will send your refund request automatically after you complete the steps.
If Visionworks Rejects Your Return or Refund Request, Sue Them With DoNotPay's Help
Another great feature DoNotPay has helps you sue the company that refused to process your return or refund request. If you believe that your rights have been violated, the world's first robot lawyer will help you take the company to court. Here's what we'll do for you:
Collect and fill out the necessary paperwork
File the papers with the court
Create a script you can use at your court hearing
To file a lawsuit using DoNotPay, follow these instructions:
Sign in to DoNotPay
Find the Sue Now product
Enter the amount that the company owes you
Select whether you want a demand letter or court filing forms
Describe the situation and submit any evidence you have
Going Back and Forth With Companies Is a Thing of the Past
Have you been trying to contact the company you want to return your faulty item to with no success? No more—use DoNotPay's nifty product to jump the phone queue of any company's customer service line.
Waiting in any sort of line is dreadful, which is why we can also help you schedule a DMV appointment from the comfort of your home.
There are many more tiresome chores you no longer have to leave your bed to complete:
Make the Most of Your DoNotPay Subscription
Our app comes with a large selection of products—for one low monthly fee, you can use them all to complete dreadful admin tasks in a split second. Check out how you can: