File a Zurich Extended Warranty Claim the Easy Way
Zurich Insurance Group Ltd. is a renowned insurance company based in Switzerland. The company has a great reputation and provides extended warranties for vehicles whose manufacturer's warranty has ended.
In case you need to use your existing warranty with this company, this guide will teach you how to file a Zurich extended car warranty claim without unnecessary trouble.
What Extended Warranty Plans Does Zurich Offer and What Do They Cover?
Zurich has five extended warranty plans:
Powertrain

Standard

Preferred

Comprehensive

Select
The variety of choices enables customers to find exactly what they need without paying for the features they won't use.
The table below shows the main points of the plans' coverage:
Extended Warranty Plan
It Covers

Powertrain

Engine

Drive axles

Transmission

Transfer case

Standard

All Powertrain features

Brakes

Stirring

Suspension

Electrical systems

Heating and air conditioning

Preferred

All Standard features

Cooling system

Exterior and interior damage

Comprehensive

Cosmetic damage and all components except glass, tires, and upholstery

Select
These plans cover almost everything a vehicle owner might need, but they don't apply to:
Shock absorbers

Catalytic converter

Brake drums and rotors

Exhaust components

Throttle body assembly
How Much Do Zurich Extended Warranty Plans Cost?
No one can tell you precisely how much you would pay for a specific extended warranty plan without considering factors like the age, model, and mileage of your car. The best way to determine the expenses is to contact the dealership or visit them and let them assess the situation.
Certain reviews state that the pricing goes from $1,000 to $2,500, but it can get higher depending on the circumstances.
How To Claim Zurich Automotive Extended Warranty With DoNotPay
The easiest way to claim your Zurich extended warranty is to use DoNotPay's AI-based service. Our app can help you claim your warranty without dealing with the company's customer support or going to the dealership and wasting your time waiting.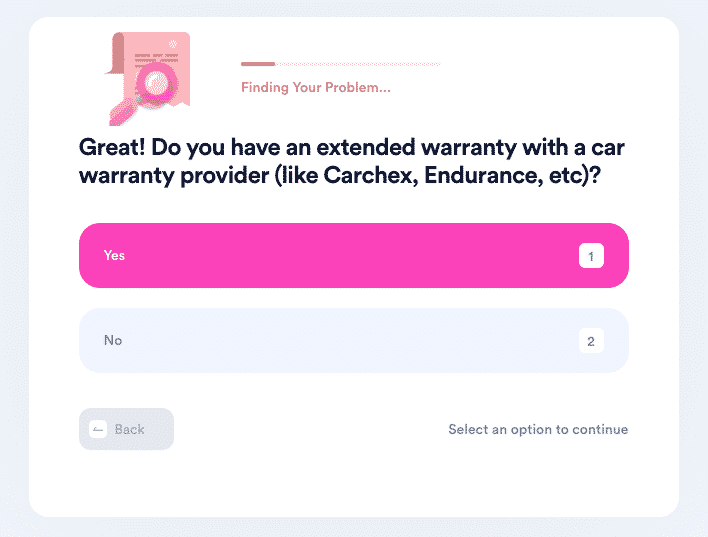 Here's how you should proceed:
Open DoNotPay in your

Choose the

Claim Warranty

section and click on

Car Warranty

Confirm that it's an extended warranty and specify your car model

Explain the vehicle issues

Click on

Submit My Claim
After you follow these steps, DoNotPay will generate a claim and submit it in your stead. The company's representatives will contact you as soon as possible.
This feature may also come in handy when filing any home or car warranty claim. It will even work on extended warranties for used cars.
How To File a Zurich Extended Auto Warranty Claim on Your Own
In case you want to file an extended warranty claim on your own, the only way to do this is to visit a local dealership that offers the Zurich car warranty. Here's how this procedure works:
Take your vehicle to a licensed dealership

Call

800-643-9059

and let the repair shop confirm coverage with Zurich

Obtain an invoice or repair order

Pay a deductible (usually up to $200) and provide Zurich with the invoice
If you do everything right, Zurich will settle debts with the dealership upon receiving the proof of repair.
| | |
| --- | --- |
| Can You Claim Your Warranty With | Yes/No |
| DoNotPay | Yes |
| Email | No |
| Phone | No |
| Letter | No |
| Local Dealership (In Person) | Yes |
Can DoNotPay Help if Your Zurich Auto Warranty Claim Was Denied?
The companies tend to refuse warranty claims using numerous unconvincing excuses. DoNotPay offers another practical feature that can submit an appeal on your behalf if your claim gets denied.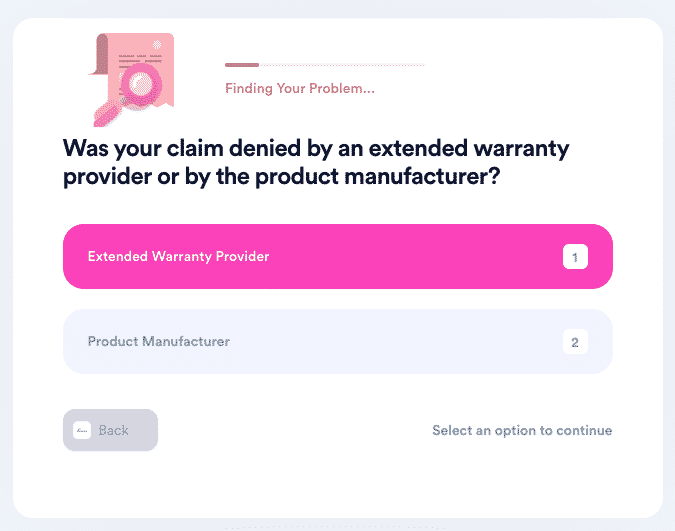 You can use this tool in the following way:
Open DoNotPay and choose the

Claim Warranty

section

Pick the

Appeal a Denied Warranty Claim

option

Specify if you want us to file an appeal against the original product manufacturer or the extended warranty provider

Provide us with a copy of the denied claim and additional details related to the company
Our app will forward your appeal letter to the right hands as soon as possible, and the company should get in touch with you shortly.
Let DoNotPay Help You Get Rid of Other Tedious Chores
Not only can we help you deal with Zurich extended car warranties, but we also have a bunch of tips for filing Mazda, Nissan, Hyundai, Mercedes Benz, or General Motors warranty claims.
Our learning base can help you get familiar with the home warranties in America, the procedure you should follow if a dealer refuses to cancel your extended car warranty, as well as with home warranty reviews.
Our app takes care of all daunting bureaucratic tasks. All you need to do is open DoNotPay in any and let us assist you with:
Appealing traffic fines

Appealing speeding fines