How To Get a University of Tennessee Application Fee Waiver Fast
The University of Tennessee, located in Knoxville, is one of the R1-classified public universities. With an almost 250-year old tradition, ten undergraduate, and eleven graduate colleges, Tennessee is one of the most prominent universities in the U.S. Since UTK's reputation precedes it, many students want to attend this school.
The problem you might come across is finances—the University of Tennessee has a high application fee and even higher college fees. DoNotPay can help you avoid the application fee by providing the best way to obtain a fee waiver.
What Is a College Application Fee Waiver?
A fee waiver is a request form that future students submit to the college admissions or the financial aid office. The purpose of a college application fee waiver is to help students apply to a college for free. You can obtain a fee waiver in various ways, but not all colleges offer them.
If you have already acquired the SAT or ACT fee waiver, the university will probably let you apply for free. In most cases, you need to include your high school counselor's signature as proof of your financial situation.
How Much Is the UTK Application Fee?
The University of Tennessee Knoxville application fee for all applicants is $50. It's not as high as, say, Stanford's application fee, but it can present a financial obstacle for some future students, especially if they intend to apply to more than one college.
You should check if you qualify for a fee waiver, so you can apply to as many colleges as you please without having to worry about finances.
For comparison, the table below shows application fees for the most popular U.S. universities:
What Are the Eligibility Criteria for the UTK Application Fee Waiver?
You might qualify for a fee waiver if your financial situation presents a challenge to your education plans. If you request a fee waiver based on your economic need, you'll need to provide adequate proof. Since UTK allows applications via the Common App, the eligibility criteria are based on the app's guidelines.
Students who meet the following criteria are eligible for a UT Knoxville application fee waiver:
Student is homeless, lives in a foster home, or federal public housing

Candidate has obtained or is eligible to obtain an ACT or SAT fee waiver

Student's family receives income that is below the

USDA Food and Nutrition Service

limit

Applicant participates or is eligible to participate in the free or reduced-price lunch program (FRPL)

Student or their family receive public assistance

They can prove financial need with a supporting statement including a counselor's signature
How Can You Apply for the University of Tennessee Knoxville Application Fee Waiver by Yourself?
When you apply to UTK, you'll be able to submit a fee waiver request using one of these methods:
| | |
| --- | --- |
| Can You Submit the Fee Waiver Request Via | Yes/No |
| DoNotPay | Yes |
| Letter | No |
| Application Form | Yes |
| School Visit | No |
| The Common App | Yes |
| SAT or ACT Fee Waiver | Yes |
Applying for a UTK Application Fee Waiver via the University Application Form
You'll need to complete a Student-Family Financial Questionnaire, which is the request for a fee waiver. Follow the steps below:
Visit the

UTK Undergraduate Admission page

Scroll to the bottom

Click on

Application Fee Waiver Form

Print out the form

Enter the basic information about yourself

Have a parent or a guardian fill out the rest of the request form

Submit the fee waiver request to UTK
How To Apply for the University of Tennessee Application Fee Waiver via the Common App
To apply for a college application fee waiver, complete the following instructions:
Visit the UTK Undergraduate Admissions page

Click on

Apply With the Common App

Tap on

Start Your Application

Create your account on the Common App

Go to your profile

Select the

Common App Fee Waiver

section

Follow the prompts and submit your fee waiver application
How Does DoNotPay Help You Waive Your Application Fee?
We have created a College Application Fee Waiver feature to help as many future students as we can.
Many prospective students need to be certain that they'll enroll in any university, so they apply to multiple schools. Applying for many colleges can cost you a lot—up to $500 if you choose the top universities.
We can help you obtain three types of fee waivers:
New Student Application Fee Waiver

Transfer Student Fee Waiver

Enrollment Deposit Fee Waiver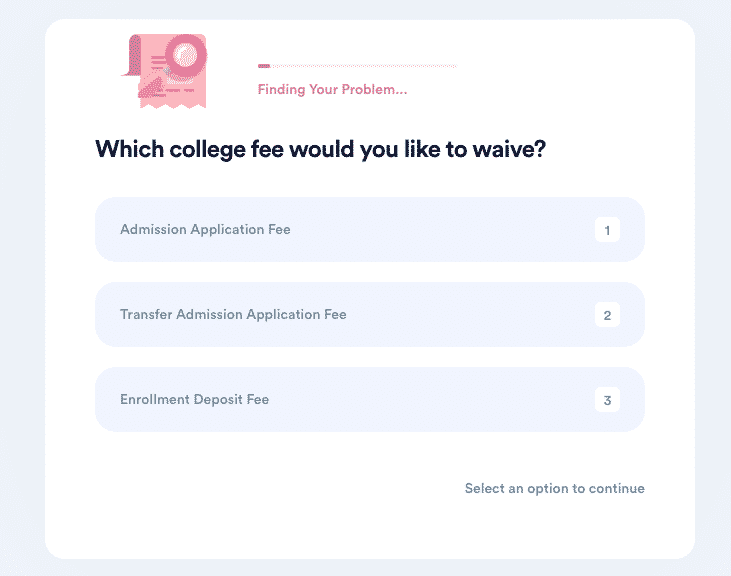 DoNotPay will fill out your fee waiver request form instead of you. After we complete the form, we'll send it to your college's financial aid office. Our service offers the option to send the completed form to your counselor for signing, if necessary.
DoNotPay has an extensive database of all universities in the U.S., so we can submit a request to any college in America.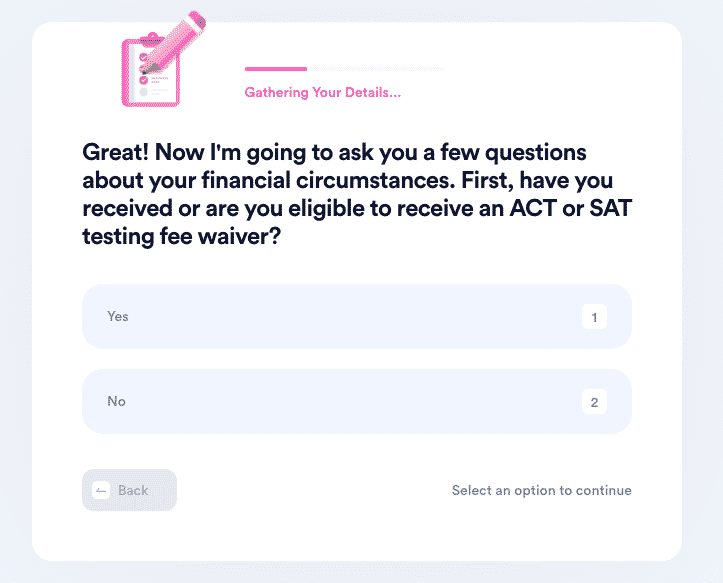 How To Get a UTK Application Fee Waiver With DoNotPay's Help
You can get a UTK application fee waiver by opening DoNotPay in your and following the instructions below:
Access the

College Application Fee Waiver

option from your DoNotPay account

Select one of the fees you want to waive

Provide the chatbot with names of desired universities and information about your financial situation

Select

Yes

if you want us to collect your counselor's signature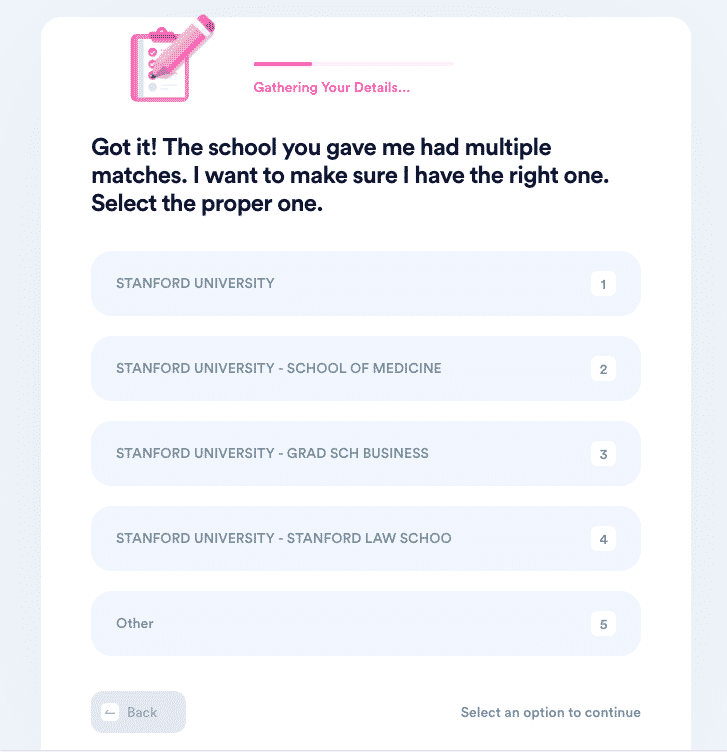 After you click on submit, DoNotPay will fill out the fee waiver request form on your behalf. We will send the form to your counselor for a signature or directly to the university's financial aid office.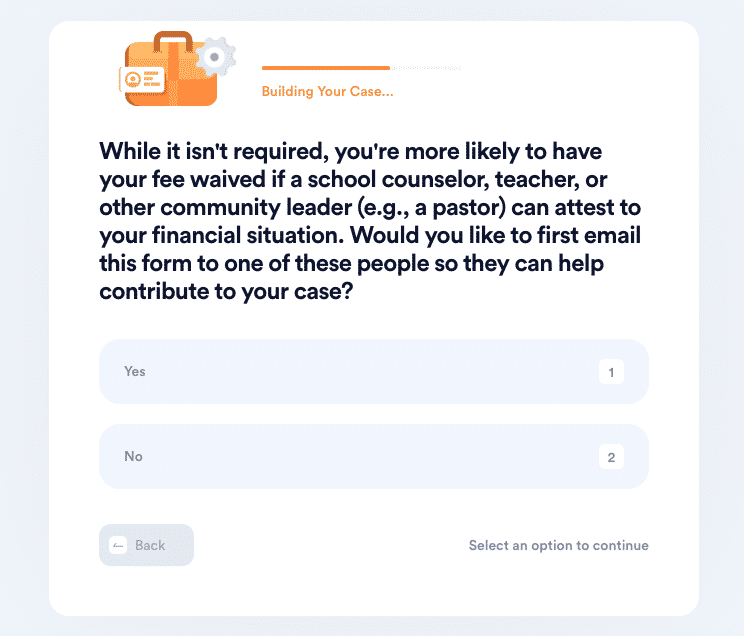 DoNotPay Can Help With Other Problems You Might Encounter as a Student
DoNotPay can help with other college application fees for various colleges such as Columbia, Northeastern, Harvard Law, Stanford Law, Georgetown Law, and many more.
Helping you obtain fee waivers is not all DoNotPay can do! When you start college, free time will be rare and precious, so you might not have the time to go to the gym. ATC Fitness members can easily cancel their subscriptions with a few clicks.
DoNotPay is a resourceful platform that will make your life easier. You can see for yourself by opening our app in any and finding the solutions to your issues.
We can provide assistance with:
Disputing traffic tickets

Appealing speeding citations