How To Find and Apply for University of Michigan Scholarships
Attending the University of Michigan comes with a hefty price, but, fortunately, the school's generous financial aid program can help you reduce it. The University offers a plethora of scholarships and grants for students of every college year, but navigating through the options can be tricky.
This guide will help you find the University of Michigan scholarships you qualify for so that you can apply for them in no time!
University of Michigan—Scholarships You Can Qualify For
Before diving into the scholarships at the University of Michigan, you may want to consider learning about the application fee waiver.
The University of Michigan categorizes available scholarships by the level of study. That means you can apply for:
If you're participating in a study abroad program, you can use the U-M portal to apply for select scholarships.
The University also acknowledges all scholarship checks you receive, so finding external opportunities is vital. DoNotPay can help you find and apply for a variety of external opportunities catering to your qualifications! and browse through a plethora of scholarships that will help you finance your education!
Undergraduate Scholarships at the University of Michigan
The University of Michigan offers a variety of study programs and scholarships in the fields of:
Since the University offers a large number of awards to undergraduates, you will have to contact a financial aid consultant in your school or campus to inquire about available opportunities.
Graduate Scholarships at the University of Michigan
Take a look at the following table to learn more about available graduate scholarships at the University of Michigan:
Award Category
Awards
University of Michigan merit scholarships
The following awards are for students with exceptional academic achievements and immense financial need:

Ernst Scholarship
George Scholarship
Alumnae Council Scholarships

Work experience scholarships
University of Michigan Ann Arbor Scholarships—Students contributing to or working at an Ann Arbor church are eligible for the Iden Scholarship at the University of Michigan. The scholarship requires a separate application
Camp Michigania Scholarship—Students who worked at Camp Michigania can qualify for awards
Nursing and medical scholarships

Mack Scholarship
Robbins Memorial Scholarship

Other scholarships from the Office of Financial Aid

Gavett Scholarship
Harrison Scholarship
Verdier Scholarship Fund
University of Michigan Alumni of China Scholarship Fund

Scholarships students apply for using the My Scholarship Profile

Harrison Scholarship
Culpepper Endowed Scholarship

Scholarships that students need to submit a separate application for

LEO Union Scholarship
Lee (Herbert H.) Scholarship
Study Abroad Scholarships
Students of the University of Michigan can acquire funding to use while they're studying abroad by applying for the following scholarships:
General
Need-based

Adam & Jill Breen Family Fund Scholarship (does not require a separate application)
Helen Curtis Davis Scholarship
Ginns International Scholars Fund (does not require a separate application)
Mary Sue and Kenneth Coleman Student Global Experience Fund
Stein Family Study Abroad Scholarship

Non-need-based

Jerry A. May and Deborah Orr May Study Abroad Endowment Fund
What Happens With External Sponsor Checks at the University of Michigan?
If you're a student of the University of Michigan and you received an external scholarship check, it's your responsibility to report it to the Office of Financial Aid. If the sponsor sends the check directly to you, you may have to take some additional steps for the University to acknowledge it, depending on who it's made out to:
The check is made out to the University—Bring it to the Office of Financial Aid or send it to the University
The check is made payable to you—Report the scholarship to the Office of Financial Aid and apply the resources to your university student account
The check is made co-payable to you and the University—Endorse the check and deliver it to the Office of Financial Aid
The address of the Office of Financial Aid is:
University of Michigan
Office of Financial Aid-Scholarship Unit
2500 Student Activities Building
515 E. Jefferson Street
Ann Arbor, MI 48109-1316
How To Apply for Scholarships at the University of Michigan
To successfully apply for scholarships offered by the University of Michigan, you need to submit:
Additional required documentation through the Wolverine Access portal
If you're seeking other external scholarships, you may also want to prepare:
The University of Michigan scholarship deadline depends on your student status and level of study and is subject to change every year. You should check the University's financial aid page to learn more about the application deadlines.
Attend the University of Michigan Worry-Free With the Help of DoNotPay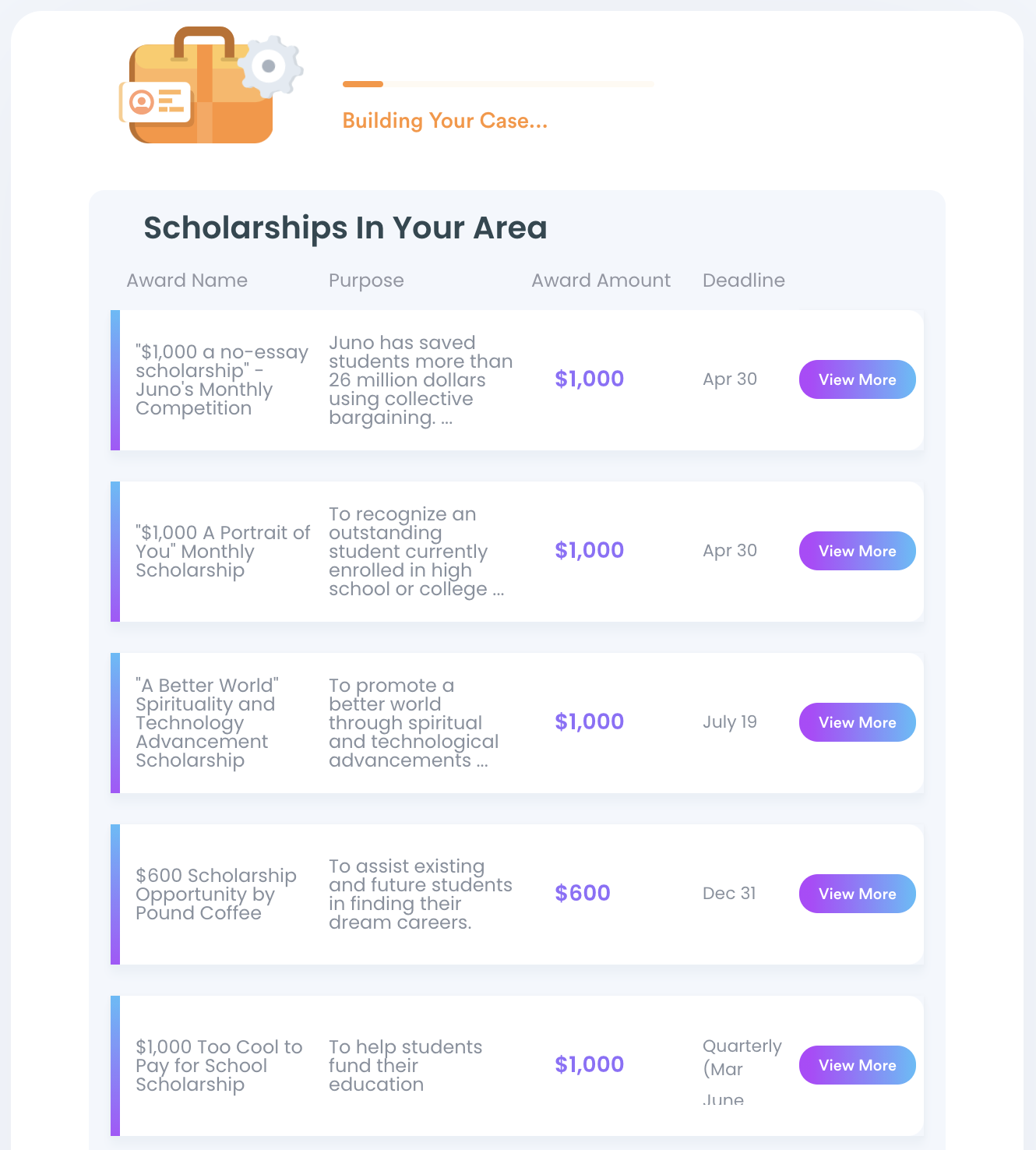 DoNotPay offers a nifty tool that helps students from all categories, such as international students, veteran students, and high school students from freshman to senior year, find the scholarships they need.
All you need to do is:
Search for the Apply for Scholarships product
Answer a few questions, such as what your level of study is or whether you belong to a particular student category
Our app will compile a comprehensive list of all scholarships you're eligible for. You can submit individual applications and let us handle the no-essay scholarship applications to save you precious time and effort.
With our help, you'll never miss an opportunity to receive a scholarship!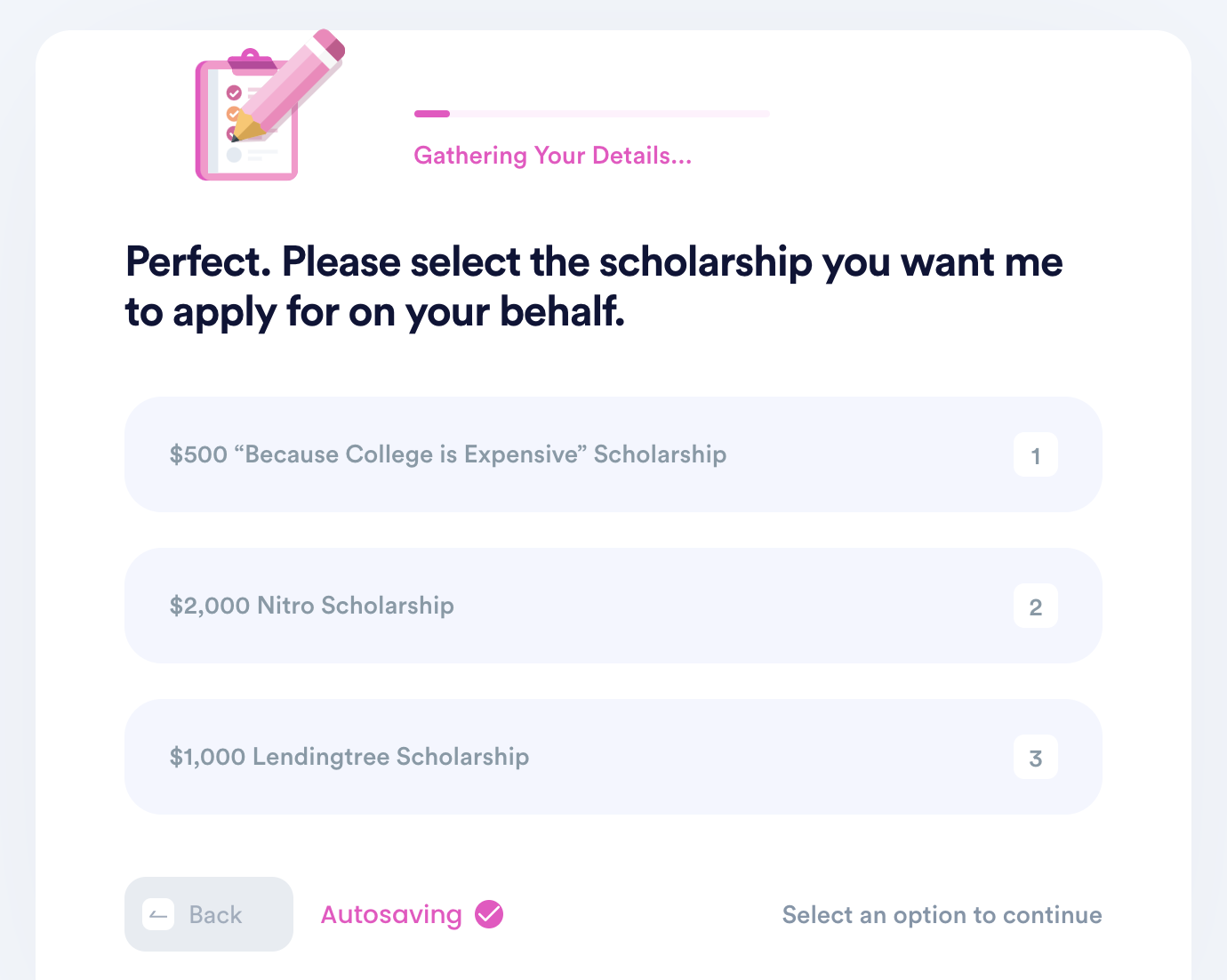 DoNotPay Helps You Run Errands Without Leaving the Comfort of Your Home!
If you're on a tight schedule and you can't afford to spend hours running errands, DoNotPay steps in with a perfect solution! You can skip going to the post office to request an item return or visiting a notary public to get your documents notarized—Our app will help you get it all done without going anywhere!
Visiting your local Walmart to have your passport photo taken is unnecessary since DoNotPay can help you get it at home!
Consult the list below to see what other tasks you can complete using our app:
Unsubscribe From Unwanted Services at Any Time
Companies tend to keep charging their clients monthly subscription fees automatically if they don't end their subscriptions. Stop wasting money on forgotten memberships—DoNotPay will show you how to terminate your subscription in a few clicks!
You can also learn how to sign up for a free trial without getting charged, create a burner phone number or a virtual credit card hassle-free!