Stopping the racist robocall in Florida
In 2020, the Federal Communications Commission (FCC) imposed a $12.9 million fine on a neo-Nazi propagandist called Scott Rhodes for placing thousands of racist robocalls across America.
In 2018, Scott Rhodes started a racist robocall operation during Andrew Gillum's Democratic gubernatorial campaign. The robocall made rounds in Florida between October 20 and October 23, with the goal of increasing Rhodes' website and brand publicity.
The FCC imposed the fine based on Rhodes' violation of the Truth in Caller ID Act.
More on the robocall against Andrew Gillum
When the racist robocall against Andrew Gillum started appearing, some speculations began to circulate that Gillum's gubernatorial opponent Ron DeSantis was responsible for them. These claims were disputed by DeSantis' spokesman Geoff Burgan who strongly condemned the notorious racist robocall.
Scott Rhodes, who has been accused by the FCC for the violation of the Truth in Caller ID Act, used an online platform for manipulating caller ID information. Robocall scammers typically use ID spoofing technology to make their phone numbers similar to their victims'. Based on this fact alone, Rhodes is now facing a $12.9 million fine.
Accessing the Andrew Gillum racist robocall audio
Rhodes' racist robocall recording mocked a black dialect and spread racist messages by including the n-word, and derogatory terms such as monkey, while playing jungle noises in the background.
The Florida racist robocall audio started by saying, "Well, hello there. I is the negro Andrew Gillum, and I'll be askin' you to make me governor of this here state of Florida."
The full racist robocall against Andrew Gillum is available on SoundCloud.
What are robocalls, and how do they work?

A call can be classified as a robocall as long as a person or a company is using an autodialer to reach their customers. Due to major technological advancements, robocallers are now capable of dialing up to one million numbers in a single hour.
To understand the scope of these annoying calls, it is worth mentioning that in the first half of 2020 alone, Americans received more than twenty billion robocalls!
While legal businesses are not allowed to robocall their customers without meeting a number of requirements, malicious spam callers do not abide by these laws.
How do scam robocalls function?
On average, between three to five percent of people who receive spam calls fall for them. For a scam operation to be worthwhile, fraudsters need to make sure that they can reach a vast number of people in the shortest time.
To set up a successful scam robocall operation, one needs to:
Purchase a leads list
Set up a phone network
Autodial millions of people
Operate a phone bank
Convert the income
Leads are cheaper than you think
Scammers can purchase leads lists that contain millions of phone numbers for just a few thousands of dollars. Many businesses sell these lists to other companies and telemarketers, which makes this type of information highly accessible.
Infiltrating America's phone network
Major phone carriers are closely monitored by the FCC and the FTC (Federal Trading Commission), so they are unable to provide phone services to scammers. Small phone providers do not undergo strict controls from the government, and they are more than happy to let scammers into America's phone network for the right price.
Autodialing is the key to success
To make the robocall scam successful, fraudsters use advanced autodialing technology that allows them to reach millions of people per day. Given that a small number of robocall victims take the bait, fraudsters can only increase their conversion rate by dialing millions of numbers each day.
Phone banks are where the magic happens
Pre-recorded messages cannot steal your personal information nor take your money. If you fall for the scam caller's trick and give them a call-back, a real person will pick up the call and try to extort money and information from you.
It is all in the gift cards
To prevent the government from tracking them down, scammers try to convert their income into different forms of money as quickly as possible. Gift cards serve this purpose perfectly.
How to prevent disturbing robocalls
Almost all large phone carriers developed a robocall blocker and offered it to their customers, as did many third-party companies. While DoNotPay may be the most affordable and effective way of dealing with annoying spam callers, there are other alternatives you might want to consider:
Blocking tool

Type of service

$2.99 per month for Android devices
$3.99 per month for iOS devices
Free one-week trial
Great tech support
Answer Bots feature
Includes text spam filtering and customizable spam lists

Free two-week trial
Free for VoIP landlines
Large database of spam numbers
$1.99 per month

Free basic service
$2.99 per month
$14.99 per year for Hiya Premium
User-friendly interface
Ad-free basic version

Free basic service
$5.99 per month for YouMail Plus
$10.99 per month for YouMail Professional
Includes a transcription feature
Somewhat complicated setup
How to block a robocall on a landline
Depending on what kind of technology your landline uses, you will have different solutions at your disposal. Most landlines in America use VoIP (voice-over-Internet) services, but a whopping 11% of American households get their services from copper wire technology.
Blocking robocalls on VoIP landlines
Nomorobo is a third-party app that offers robocall-blocking services to both mobile phone and landline users. While you would have to pay a small monthly fee to use Nomorobo on your cell phone, it is completely free to use for blocking robocalls on your landline.
Nomorobo is compatible with many VoIP carriers such as AT&T, Verizon FiOS, Cox, and many others.
Nomorobo uses the so-called "simultaneous ringing" technology to deal with robocalls. This means that every call you get gets forwarded to Nomorobo as well. If the company picks up the call first and establishes that you are dealing with a scammer, your phone will not ring the second time!
Blocking robocalls on old copper wire technology
If your landline depends on old-school copper wire technology, options are pretty sparse. To be able to block robocalls, you would have to attach some hardware to your phone that can screen out a list of well-known bad numbers. These devices, like the CPR Call Blocker V5000, cost upwards of $100, and come with a limited amount of preloaded numbers.
How to block a robocall on your cell phone
All cell phones nowadays come with a built-in feature to block numbers that are annoying you. Blocking telemarketers' numbers is a legitimate solution, but fraudulent robocallers have a tendency to change their numbers, so blocking them will not stop them from trying to reach you.
Blocking numbers on Android devices
If you use  an Android device, you have the option to block a specific number or all unknown calls!
To block a specific number, you should:
Open the Phone app
Tap on Recent Calls
Tap the number and select block or report as spam
Confirm that you want to block this number
To block all unknown callers, you have to:
Open the Phone app
Select Settings
Tap on Blocked Numbers
Turn on the Block Unidentified Numbers switch
Blocking numbers on iOS devices
iOS device users also have the option to block annoying callers, but they can also silence all unknown contacts whose calls get automatically directed to voicemail.
To block a number on an iOS device, you have to:
Access the Phone app
Select Recents
Tap on the info icon located next to the number you want to block
Select Block this Caller
Tap on Block Contact
To silence unknown contact, you should:
Open Settings
Tap on Phone
Enable the Silence Unknown Callers switch
Robocalls must not be legal, right?
In some cases, robocalls are perfectly legal. Political calls when somebody is running for office and charities asking for donations have always been allowed by law.
What is strictly forbidden is for businesses to robocall you when they do not have your written consent. In addition to that, companies do not have the right to make the written consent a prerequisite for purchasing products and services from them.
Here are all the conditions under which placing a robocall is illegal for businesses:
Placing the call before 8 am and after 9 pm
Calling a person whose number is on the National Do Not Call Registry
Contacting a person without their express written consent
Not providing proper identification
Not offering an opt-out option to the customers
National Do Not Call Registry
Companies are not allowed to robocall people whose numbers are on the National Do Not Call Registry. While many legal businesses abide by this rule, scammers and shady marketers often do not care about it.
To learn more about how to deal with spam calls, you can check out the FCC guide to robocalls.
Mandatory written consent
It is legal for businesses to autodial you only if you have provided them with your express written consent. These consents are defined by the E-SIGN Act, and they can appear in various formats such as electronic signatures or even checking a box on an online form.
If you know that your number is on the Do Not Call Registry, and you are positive that you have not provided a telemarketer with your written consent, but they have still contacted you, you can file a claim against them.
You can learn more about Do Not Call list exceptions and Do Not Call list expiration by visiting FTC's website.
No identification no deal
Another mandatory condition that businesses need to fulfill to be able to place a legal robocall is to provide proper identification. At the beginning of the message or conversation, the caller has to:
Identify himself or herself
Reveal the identity of the company on whose behalf the call is being made
At the end of the conversation, the caller must:
Provide the company's address
Provide the company's phone number
You must be able to opt-out
Companies placing robocalls have to provide their customers with an option to opt-out of these calls. Pre-recorded messages have to allow you to press a certain number to opt-out, or, in case of a voicemail, you should be provided with a toll-free call-back number that you can dial and place yourself on the company's do not call list.
How to report a racist robocall or any other spam call

The Federal Trading Commission opened the National Do Not Call Registry to help Americans fight back against robocalls and businesses that use autodialing technology to contact their customers.
By adding your phone number to FTC's Do Not Call list, companies are not legally allowed to reach out to you unless you have provided them with an express written consent.
The FTC publishes lists of reported phone numbers each business day in an effort to help phone carriers find an adequate call-blocking solution.
If you are receiving disturbing or annoying calls from a particular number, you can report it to the FTC by:
Visiting the Do Not Call website
Clicking on Report Unwanted Calls
Providing information about the number that has been spamming you
Submitting your report
Common robocall scams to watch out for
If you are not using a robocall blocker, you might want to look out for the following robocall scams that have been plaguing America in recent years:
| | |
| --- | --- |
| Robocall scam | How to recognize it |
| IRS scam | The caller usually identifies himself or herself as a legitimate IRS inspector and provides a badge number to prove it. They will tell you that you have an unpaid tax bill that you need to pay for immediately. Most of the time, they will threaten to issue an arrest warrant if you fail to cooperate. The government and the IRS would never approach you in such a way. Either someone would show up at your door, or you would get a notice via U.S. Mail. |
| Government Grants scam | Another dangerous scam involves government grants. The caller will offer you free government money, but you will have to cover the transaction fees in return, or even provide your checking information. Sadly, the grant never reaches your account, and the scammer disappears from the face of the earth. No matter how tempting the offer may be, never provide a suspicious caller with your personal information. |
| Social Security Administration scam | Over the years, there have been many SSA scams. Most of the time, these hoaxes targeted the elderly and stole money from them. This new SSA scam does not pick and choose its victims. The caller will threaten to delete your Social Security Number if you do not pay your overdue bill. |
Taking down robocalls with DoNotPay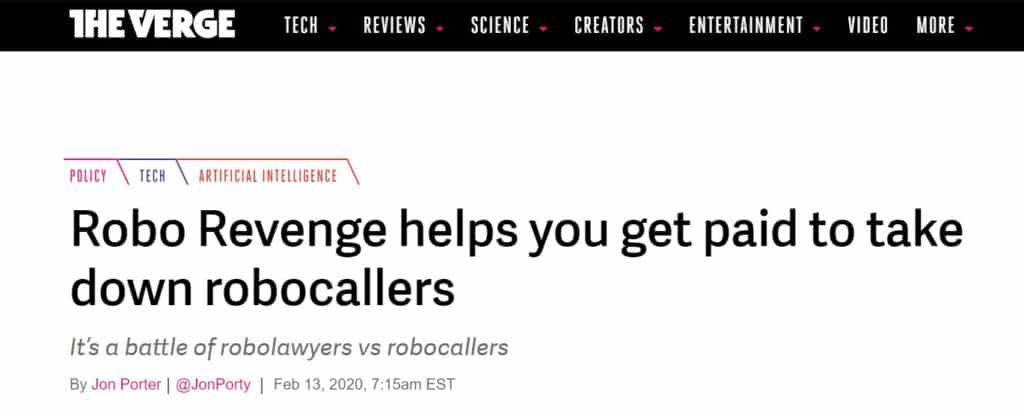 Instead of reporting robocalls to the FTC, you can turn to DoNotPay instead. Our long history of helping people fight bureaucracy and injustice proves how dedicated we are to ensuring justice equality.
Our app's latest feature—Robocall Revenge—can help you sue spam callers and claim up to $3,000 in settlements.
To get access to our services, simply open DoNotPay via a web browser.
To help you understand what our process looks like, let us break it down into a few basic steps:
You get a robocall
The scammer tries to ask you for your personal information or money
You open DoNotPay and select Robo Revenge
We provide you with a temporary virtual credit card
You share the fake card information with the scam caller
Based on the transaction details, we track them down
We write a dispute letter and file a robocall lawsuit
Is the fake credit card necessary?
One way to stop robocallers from stealing your money and personal information is to use a virtual credit card. DoNotPay's Free Trial Card keeps your identity hidden and helps us track down the scammer based on the transaction details.
Note that we can only track down scam callers based in America. To be able to file a claim against a fraudster, we need to know their location, and that information is impossible to acquire with overseas scammers.
DoNotPay puts you on the Do Not Call list
FTC's Do Not Call list has been active since 2003. It was created with the intent to protect Americans from annoying telemarketers and spam callers.
Instead of you having to go through the process of putting your number on the National Registry, DoNotPay does it for you!
Legal businesses that use autodialers will not be able to contact you if your number is on the Do Not Call list. With the new Telephone Robocall Abuse Criminal Enforcement and Deterrence (TRACED) Act, fines for breaking this law will go up to $10,500 per call!
If you are unsure whether your number is already on the Do Not Call list, you can always contact FTC and check.
Everything is possible with DoNotPay
You can finally sit back and relax while DoNotPay does the hard work for you. Fighting robocalls is but a fragment of what we have to offer. Among other things, DoNotPay can help you lower your bills and assist you with paying bills. Our app packs a number of features through which you can:
Fight speeding tickets
Dispute traffic tickets