Dispute University of Central Florida (UCF) parking tickets in 120 seconds!

Money reports that DoNotPay has helped dispute over 160,000 parking citations. To join the thousands of drivers who avoided paying for their tickets, follow these easy steps:
Use the DoNotPay

web app

in any browser.

The AI-powered chatbot will ask you a few questions about the ticket you received.

Upload a picture of your parking ticket.

DoNotPay will generate a script for you to use in your dispute hearing.
Watch how to dispute parking citations in any city
I'm really busy. Is contesting a UCF parking ticket worth my time?

Yes. Disputing your parking tickets is always worth the time, especially if you use DoNotPay. You would need to appeal the citation within ten days of issuance. 
If you're disputing via mail, send all the necessary documents to the UCF Parking and Transportation Services. You can bring the documents to the Parking Services Office in Parking Garage B in person.
If you are not able to attend your dispute hearing, notify the authorities at least 24 hours in advance. Without notice, your dispute will not go through and you'd have to pay all the fines you owe. All decisions of the Appeals Committee are final and binding.
You may find it complicated, but with the help of DoNotPay, you can dispute your parking tickets easily. DoNotPay will generate a script you can use in your hearing and help you gather all the evidence and fill out all the forms you need for a successful appeal!
Here are some of the additional supporting documents that you can provide for additional consideration:
Proof of current registration

Photographic evidence

Data on changes in vehicle ownership (if there are any)
Make sure that all documentation includes your full name, current address, the citation number (if known), and the license tag number.
Access DoNotPay in any web browser to dispute all your tickets fast!
How much time will DoNotPay save?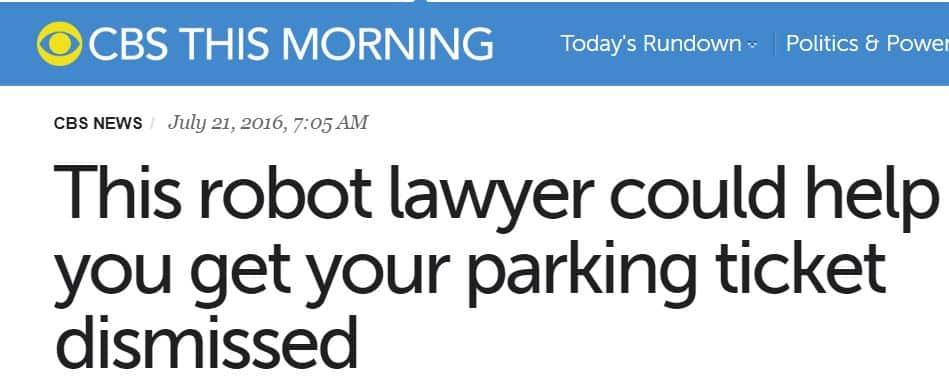 DoNotPay will help you fight the citation in a couple of minutes. If you do everything on your own, you will spend at least half a day gathering all the documentation and writing an explanatory message. DoNotPay helps with these steps and drastically cuts down on the time needed to appeal a ticket.
Access DoNotPay in any web browser!
Will DoNotPay help fight UCF parking tickets issued by a private company?

DoNotPay will not only help people fight government-issued tickets but also parking citations from private companies, including those listed below:
Imperial Parking, aka Impark

SP+, aka Standard Parking

Laz Parking

Towne Park

Ace Parking

ABM Parking Services

Douglas Parking

Lanier Parking
Access DoNotPay in any web browser to dispute all your tickets from private companies too!
Do I need a lawyer to dispute a citation at UCF?

Luckily, the school will not require anyone to hire a legal representative for these citations. Instead of hiring a lawyer, DIY the dispute and download the DoNotPay app. It's the very first chatbot that helps people find dispute their parking tickets.
Despite this, the option to get a lawyer is still open. You will need to do a few things first:
Do your research.

Do your homework on the lawyers that you are considering to hire. You can look into them via the web or ask for viable recommendations from your family or friends.

Check credentials.

Check any previous cases that they have handled to find any similarities to your situation.

Be careful.

Don't fall for a scam! Always make sure to check your lawyer's reputation to avoid getting cheated on.

Think about the cost.

Lawyers are expensive. You need to think about your budget and if their fees can fall under it.

Interview.

Take the time to talk to your lawyer in real life. Nothing beats a one-on-one conversation.
How much would a parking ticket lawyer at UCF cost?

Lawyers can charge a couple of hundred to thousands of dollars per case, depending on the severity. If they need to appear in court, you would be required to pay more.
The good news is that you don't need to have money to contest a parking ticket! Access DoNotPay in any web browser to dispute all your tickets without a lawyer!
I just want to pay and get it over with. How to pay a UCF parking ticket?

Before paying, you should try disputing your ticket first. This way, you will be able to eliminate all the fines! The process can be very daunting and confusing. However, DoNotPay will simplify everything for you. Access DoNotPay in any web browser to dispute all your tickets fast!
However, if you just want to pay, you can do it in three ways:
Online.

You can use

UCF's online payment system

. 

By mail.

You can only do this by sending a check, money order, or cashier's check for payments. Write down the citation number on the check or money order. Do not send cash or credit card numbers through the mail.

 
Walk-In payments.

Visit the Parking and Transportation Services Office and the Visitor and Parking Information Center if you want to pay in person.
Pay or Dispute?
| | | | | |
| --- | --- | --- | --- | --- |
| | Ease | Time it takes | Cost | Benefits |
| Dispute | Easy to do with DoNotPay | Get help in 2 minutes!  | Free | Your parking tickets can be disputed! |
| Pay | Online payments are the most convenient method | Anywhere from a few hours to a whole day | Cost of your ticket plus the cost of transportation and missing school | You don't have to think about unpaid tickets |
I'm a student and don't have much money. Can my fee be reduced?

By disputing your ticket, you will get to reduce or eliminate all the fines. Access DoNotPay in any web browser to dispute all your tickets fast!
For more details regarding parking regulations and possible conditions for the reduction, visit the UCF website.
I'm broke. What happens if I just don't pay for the ticket at UCF?
Initially, your student account will be placed on hold as the school authorities refer you to an external collection agency. Unpaid and ignored citations will carry additional penalties. These are as follows:
Late fees will be charged

You may not be able to register for classes

Your car can be towed
Will parking infractions affect my driving record?
Fortunately, you will not have anything on your record if you get parking tickets. However, you will get additional fees added on top of your citation if you don't pay for the tickets. UCF may charge you additional fines, or the DMV may suspend your driver's license. They can also reject your car registration renewal application.
In addition to this, your credit score will decrease once the case reaches a collection agency.
What if I got an infraction, but someone took it off my car?
If you never saw the ticket on your windshield because someone took it off as a joke, or the wind blew it away, you will still be notified via mail. Check out this thread talking about the issue.
Can a ticket increase my car insurance?
Auto insurance companies such as General Insurance do not add to premiums just because of parking tickets. However, the DMV may refuse to renew your registration, which means that the insurance company will not be able to insure your car.
Avoid this situation. Access DoNotPay in any web browser to dispute all your tickets fast!
I'm not even a student here! Do I need to pay for a parking ticket if I'm not from UCF?
As a licensed driver in the US, you are expected to follow the traffic and parking rules and regulations. UCF will not accept any excuses, such as claims of being unaware of the regulations because you are not a student. 
You should not worry, though. You will still be able to contest a ticket despite not being a student at UCF. Access DoNotPay in any web browser to dispute all your tickets fast!
Can I get a ticket if I'm still in the car?
Yes. An officer can still issue a ticket for you even if you are in the car as long as you are parked improperly. There are certain situations where you would need to stop somewhere to take calls or to respond to something urgent via text. Be aware of the street signs and regulations to avoid getting a ticket.
Do I have to pay parking citations I got while driving a rental car?
You are responsible for all the tickets that get, even in a rental. Companies such as Enterprise Car Rental will pay for the citation and ask for reimbursement from you through the credit or debit card you used to book the vehicle.
Access DoNotPay in any web browser to dispute all your tickets fast!
How much income does UCF generate from parking tickets?
According to this article, UCF parking services issued about 43000 citations in 2016 amounting to total revenues of 1.25 million in fines. According to the school administration, the revenue from parking citations goes towards paying off large sums of annual debt for various constructed student parking garages.
The school also reserves some of the money for employee salaries as well as other miscellaneous expenses.
DoNotPay helps users fight and beat tickets in any city
DoNotPay helps users fight parking tickets in every city in the US and UK. Here are a few cities we've helped users dispute the most tickets in:
Fighting Administration Is Easier With DoNotPay
Bureaucracy is a disease of the modern world, and we finally have a cure. Thanks to artificial intelligence, DoNotPay knows how to handle numerous rules and regulations and make your life so much easier.
Our bots ask you a few questions, gather the necessary info, and off they go! Filing warranty and insurance claims, requesting property tax reductions, getting access to public records, or claiming unclaimed funds under your name—you can deal with these bothersome tasks from the comfort of your home and within minutes!
If you need to get in touch with customer service representatives to ask for refunds or contact airline companies regarding compensation, our platform will make the process painless and care-free.
Don't hesitate to put our app into service if you need to contest parking tickets or avoid long lines at your local DMV!
How Else Can We Help?
Not only does DoNotPay handle bureaucracy, but it also saves you money in the process. Whether you're looking for the best learning materials for government tests or planning to comb through and cancel streaming subscriptions you don't use, DoNotPay can give a helping hand.
Our platform grows every day and comes with user-friendly features that will help you manage unpaid bills, stop copyright violation, or solve problems with credit cards faster than ever!
Summary for UCF Parking Tickets
| | |
| --- | --- |
| DoNotPay is the cheapest, easiest, and quickest option for disputing | You can get help in just 2 minutes! |
| DoNotPay can help contest tickets issued by the campus parking police. | But also the ones issued by private companies! |
| You can get your fines reduced | Just by disputing your ticket, you can avoid all payments! |
| You are responsible for all the parking tickets you receive. | Not being a student at UCF is irrelevant. The same rule applies if you're driving a rental car or if someone else to the notice off your windshield.  |
| Your insurance will not increase due to parking tickets. | If the DMV declines your renewal, your insurance company has the option not to cover your car. |
| DoNotPay will not only help you dispute parking tickets.  | It can also help you sue companies in small claims court |