Want To Save on Your UGA Application Fee? Learn How To Get an Application Fee Waiver
The University of Georgia is one of the oldest and most renowned public universities in the U.S. It offers a wide range of programs, student organizations, and research resources. The University of Georgia also qualifies as one of the most selective universities, with an acceptance rate of 49%.
Applying for most universities includes paying an application fee. Whether you are keen on entering UGA or would like to keep your options open, you should find a way of diminishing your application costs. Applying for a fee waiver can be one of the ways of achieving that. We are here to explain what fee waivers are, why you should apply for one, and what the easiest way of doing so is.
What Are College Application Fee Waivers and Why Are They Important?
Applying for a college is an expensive task. There are more expenses than most parents consider at the beginning. Some of the most common ones are:
Traveling for on-campus visits

Paying an application fee

Paying for advice and support from a College Financial Aid Advisor

Preparations for admission tests

Taking standardized tests

Sending the results to colleges and universities
Application fees differ from one university to the next. Some of the more selective schools charge around $90 for applying, while some let you apply for free. Considering that most students apply for multiple colleges, the expenses pile up and can set you back for hundreds of dollars.
A fee waiver will reduce those costs significantly and will also enable you to apply to more colleges. Most universities allow students with financial problems to avoid paying a fee, but some have additional conditions. You can always search the university's site to find out if it has any special requirements for obtaining a fee waiver.
Who Is Qualified for an Application Fee Waiver?
Many factors can make you eligible for a college application fee waiver. A student who wants to apply for a college fee waiver has to satisfy at least one of the following conditions:
Receive public assistance

Be an orphan or a ward of the state

Participate in a free or reduced-price lunch program at their high school

Live in a foster home or public housing

Be a military veteran or on active duty in the U.S. Military

Fall within the Eligibility Guidelines established by USDA Food and Nutrition Service

Belong to one of the programs designed to help low-income families, such as Upward Bound, Educational Talent Search, or TRIO
Students sometimes cannot afford to pay an application fee, but none of the categories apply to their situation. That doesn't mean you shouldn't try applying for a fee waiver. The best course of action is to talk to your guidance counselor. Most universities will allow you to apply for a fee waiver if you write a brief statement about your specific situation and have the guidance counselor confirm your story.
How Much Is the University of Georgia Application Fee?
The application fee for the University of Georgia is $70 for US Citizens and $85 for international students. The regular admissions deadline is January 15th, and the early decision deadline is October 15th. You can apply for admission via the official UGA website, Common App, or CoalitionApp.
UGA is one of the universities with the most expensive application fees. Here is a table of some of the other high-profile colleges and universities with a high application fee price:
How Can You Get the UGA Fee Waiver on Your Own?
You can get an application fee waiver at the University of Georgia by:
Since taking the SAT or ACT with a fee waiver grants you a college application fee waiver automatically, you only need to present the desired school with the document that proves it. If you don't qualify for an automatic fee waiver, you have to use the NACAC form or Coalition App to request it. We will show you a guide for both methods.
Getting the UGA Fee Waiver Using a NACAC Form
Here is a step-by-step guide to getting an application fee waiver with a NACAC form. You should:
Download the

NACAC form

on your computer

Access the

Student

section and type in the required information

Go to the

Economic Need

section and check the boxes next to the statements that apply to you

Type a few sentences in the

Other Requests

section
A school official should fill in the Authorized Official section and verify the student's claims, then send the document to the UGA Undergraduate Admissions Office.
Getting the UGA Fee Waiver Using the Coalition App
This is how to apply for a fee waiver by using the Coalition App:
Create an account

Access the

Fee Waiver

section on your

Profile

Indicate the reason for a fee waiver

Check all the colleges on the list that accept Coalition App
The app will waive your application fee for those colleges based on your responses.
International and transfer students are not eligible to apply for a fee waiver at UGA.
How To Get UGA Fee Waiver by Using DoNotPay
We are aware of the difficulties students go through while applying to college. Our app can help you relieve the financial burden with an easy and straightforward way of getting a fee waiver.
The process requires no effort on your part—DoNotPay will fill out the form and mail it to your school counselor or your university's financial aid office.
There are three types of fees you can waive with our help:
New Student Application Fee Waiver

Transfer Student Fee Waiver

Enrollment Deposit Fee Waiver
Obtaining an application fee waiver is simple. You only have to:
Access DoNotPay from your

Navigate to the

College Application Fee Waiver

feature and choose the type of fee you would like to waive

Select the

University of Georgia

and answer a few questions

Point out if you would like to get a counselor's signature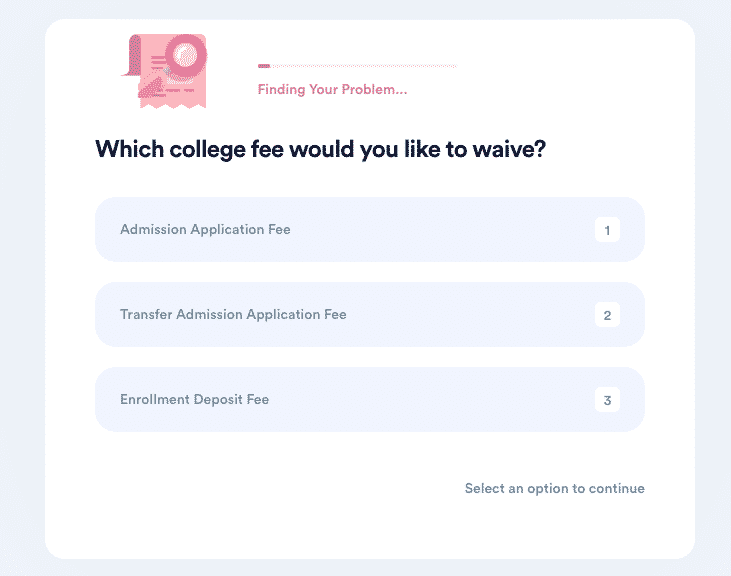 What Else Can DoNotPay Do for You?
DoNotPay can provide assistance with all kinds of tedious administrative issues. If you are struggling to pay for your light bill in Georgia, DoNotPay will help you get an extension in no time. We can get you out of paying your parking tickets in Savannah and Atlanta.
In case you want to find out if sending unsolicited emails is illegal in Georgia and how to stop receiving them, we offer a solution. We provide a time-saving way of canceling various subscriptions and memberships, like for the Atlanta Journal-Constitution.
Open DoNotPay in your , and you can get assistance if you want to:
Contest speeding tickets in different states

Dispute traffic tickets