Everything You Should Know About Twilio Phone Verification
Twilio is a cloud communications company that uses an application programming interface (API) to provide various forms of communication and phone verification. It is a nifty tool for people who need backup or multiple numbers, as well as growing businesses. If you are reluctant to disclose your phone number to a company or service you are signing up for, Twilio may be able to solve this problem for you.
We'll go over how to use Twilio, which services won't accept a Twilio number, and suggest solutions so that you can land on the best one!
How Does
Twilio Verify
a
Phone Number
?
Twilio doesn't only create new phone numbers, but it also verifies discarded numbers that go through extensive screening and testing from network providers.
It can generate various phone numbers:
Local

Mobile

Toll-free

National
Why Companies Request Phone Numbers From Users
It is a well-known practice that most websites, services, and apps require phone numbers upon registration or soon after. This has left more than 80% of Americans concerned about their privacy online.
Numerous data breaches and leaks have happened so far, even to household names such as Yahoo, Instagram, and Facebook. Despite these slip-ups, companies downplay asking for your phone number by saying it will:
Verify your identity

Prove you are not a robot

Make resetting your password easy

Be used to recover a compromised account

Stop spammers from creating multiple accounts

Prevent potential hacking and suspicious activities
Can I Use
Twilio
To Bypass
Phone Number Verification
?
Twilio lets you buy phone numbers to bypass phone verification on various platforms.
The problem with Twilio is that the created number will only be accepted if the platform allows voice or call verification. If you need to receive SMS or code via text, Twilio will not work.
The issue is that many companies have blocked the service because they don't consider Twilio numbers real phone numbers. Some of the companies that blocked it are Skype, Facebook, and Google Voice.
How Can I
Verify
a
Phone Number
Using
Twilio
?
For companies that provide call or voice verification, you can use a number you bought on Twilio. Prices range from $1 per number and up to $15 for a monthly service, depending on the type (local, toll-free, etc.), how many numbers you need, and what you are using them for (SMS, Voice, or Fax).
Follow these steps to generate a Twilio phone number:
Sign up or sign in on Twilio

Select

Numbers

in the upper part of your screen

Click on

Buy a Number

Choose the

Local

or

Toll-Free

option

Enter your area code and hit

Search

Tap on

Buy

next to the number you like

Click on

Buy This Number

to confirm

Hit

Set Up Number

Change the

Voice Request URL

by adding the phone number

Tap on

Save Changes
When, for example, a company like YouTube calls this number to verify it, the call will be forwarded to your real number.
How Else To Bypass Phone Verification
Since Twilio doesn't successfully bypass every phone verification, it's wise to be familiar with other options. Check out the pros and cons of each method:
Methods
Advantages
Disadvantages

Download fake phone number apps

Use it for online dating and phone verification

Receive forwarded calls and messages on your phone

Paying for auto-renewing subscriptions

Signing up with your real number

Paying for fake numbers that could be blocked

Link Google Voice To Your Number

Get a fake number for free

Choose a number based on your state and area code

Revealing your real phone number to Google

Using a fake number that many services block

Search fake phone numbers

Find numerous fake number websites with ease

Choose a number free of charge

Browsing fake numbers on shady and dangerous websites

Getting unreliable phone numbers that may not work or could be used by other people

Buy a burner phone

Bypass phone verification without a hitch

Use it as a backup phone

Make and receive phone calls from people who don't know your real number

Spending a ton of money

Having two or more phones

Receiving unwanted calls either way
DoNotPay—The Best App for SMS Verification

When all else fails, DoNotPay is a foolproof way to get you that verification code that's standing between you and your account.
DoNotPay is:
A source of reliable

temporary phone numbers

A burner phone without the additional device

A fake number app that is more convenient and affordable

A tool that keeps you safe from phone number leaks
How Does DoNotPay's Burner Phone Feature Operate?
DoNotPay's Burner Phone feature is designed to streamline the process of getting a fake phone number. Complete the following steps to create a number and code for phone verification:
Open DoNotPay in a

Choose the

Burner Phone

feature

Fill in the name of the service requesting a verification

Tap on

Create a Temporary Number

Hit

View My Text Message

once you get the phone number
The code and number you get from DoNotPay are active for ten minutes. During this time, you can verify one account with ease. If more services are requesting phone verification, repeat the steps to create a new number. Unlike Twilio, DoNotPay lets you create multiple phone numbers with no added cost.
DoNotPay can save you from revealing your personal phone number on Yahoo, Twitter, Snapchat, and many other online platforms.
Want To Protect Your Credit Card, Too? Use DoNotPay!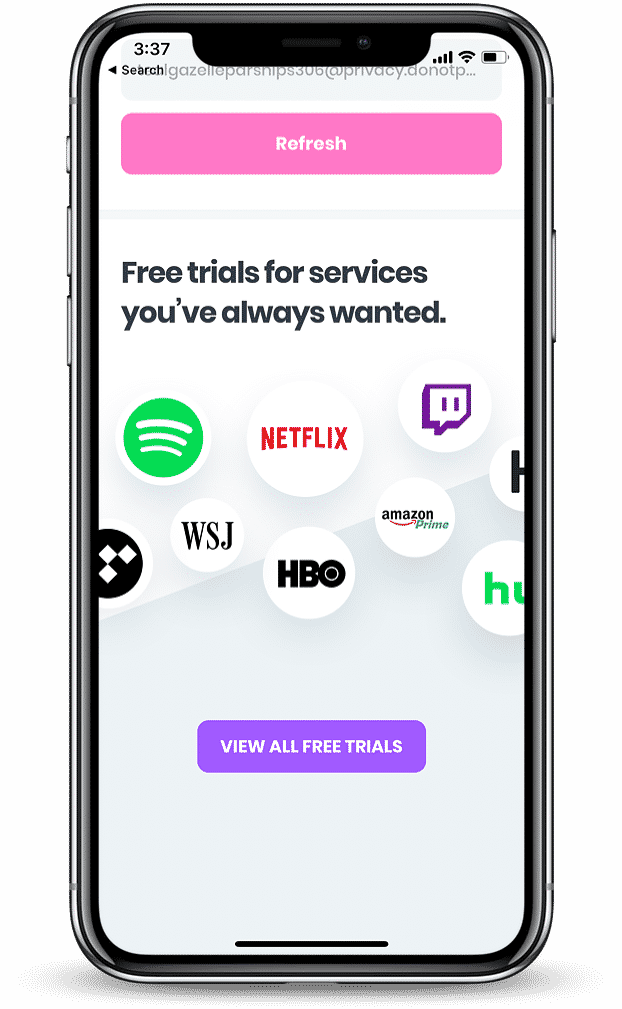 Even more important than protecting your phone number would be keeping your credit card info secure. Similarly to numerous companies demanding phone number verification, most services offering free trials request credit card info.
DoNotPay is here to make sure you don't reveal your credit card when enjoying a free trial. How can we do that? DoNotPay's virtual credit card generator will produce a free virtual credit card, a fake name, and an email address. You can use this data to sign up for any free trial safely. Our virtual credit card with no deposit will protect you when the free trial expires, and the company tries to charge you. Since it won't be able to take money from you, it will terminate your account.
Tackling Admin Issues Has Never Been Easier Thanks to DoNotPay

In these fast-paced and often stressful times, people have become accustomed to dealing with all sorts of pesky problems—legal, financial, and others. With DoNotPay, you won't be alone in dealing with issues. As your virtual sidekick, we can help you deal with reporting consumer cellular robocalls, fighting online sexual harassment, or blocking spam email on Android.
Our area of expertise doesn't end there!
Open DoNotPay in your , and see how easy it can be to:
Contest your traffic tickets

Fight your speeding tickets