The Ins and Outs of the Toyota Extended Warranty
The famous car manufacturer—Toyota—offers deals for prolonging the protection of its customers' vehicles. We can tell you all about Toyota's warranties and the best way of claiming them.
Toyota Extended Warranty Protection Plans and Coverage
All cars within three years and 36,000 mi are considered new Toyota vehicles and can have a Vehicle Service Contract. The protection of your vehicle begins when you use it for the first time.
Once your vehicle's factory warranty ends, Toyota offers three protection plans to extend the existing protection. These are some of the components they cover:
What's Covered
Platinum
Gold
Powertrain

Electrical system

Brakes

Heating

AC

Fuel system

Suspension

Manual transmission

Automatic transmission

Engine

Steering

Breaks

Electrical

Cooling system

Suspension

Fuel system

Hybrid fuel

Axle assembly

Engine

Manual and automatic transmission
With each plan, you get 24/7 roadside assistance and vehicle service by factory-trained technicians. The original owner can transfer the Platinum Protection coverage to another individual without cost. This can be done only once, and dealers are excluded from the transfer option.
How To Claim a Toyota Extended Warranty by Yourself
To claim a Toyota extended warranty, you will need to get approval from Toyota first. You may do so by contacting the company over the phone. You can reach them Monday through Friday between 7 a.m. and 7 p.m. On Saturdays, Toyota's customer service is available from 8 a.m. to 1 p.m. Follow these instructions:
Call

1-800-228-8559

Inform the customer support rep that you want to file a warranty claim

Tell them what's wrong with your car

Give them the warranty and purchase info

Follow further instructions
You need to show your Vehicle Service Agreement when you're requesting service at a repair or dealer facility. You should also keep any receipts you get during the process (including any dining or lodging receipts).
Claim an Extended Warranty for Toyota With DoNotPay
If you'd rather skip the lengthy process of waiting in a phone queue to reach Toyota's customer support, you can use DoNotPay! Our app deals with the warranty claiming procedure easily. Access DoNotPay from a , and follow these simple instructions:
Click on the

Claim Warranty

feature

Pick the

Car Warranty

option

Inform us that it's an extended car warranty

Type in your vehicle's Make and Model or choose one of the warranty providers

Tell us what's wrong with your car
When an original manufacturer is the one you're dealing with, DoNotPay will make a maintenance appointment for you with the local dealership.
We can help you deal with extended warranties for used cars as well. You shouldn't stress if a dealer refuses to end your extended warranty—we have the answers on what to do in such situations.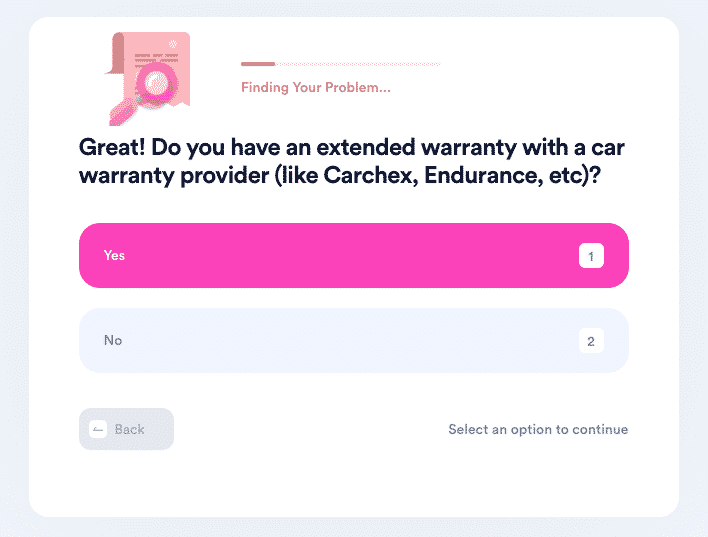 Appeal Rejected Warranty Claims Easily With DoNotPay
Companies tend to reject warranty claims the first time you file them. If you want to improve your chances of claiming a warranty when Toyota already rejected you once, you should file an appeal with DoNotPay. You'll only need to follow these four simple steps:
Open the

Claim Warranty

feature

Select the

Appeal a Denied Warranty Claim

category

Let us know all the details about your warranty claim
Once we send the appeal letter, you should wait for Toyota's response and see what's going on with your case.
DoNotPay also helps you appeal home warranty claims. We have the info on your home warranty options in America and all the reviews in one spot.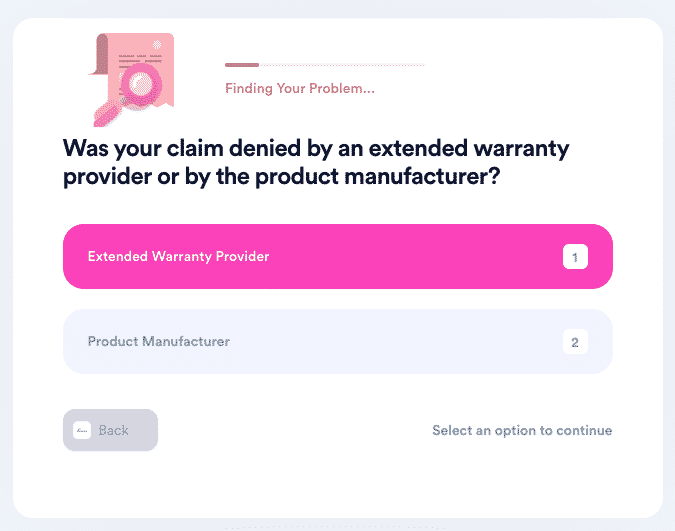 Steer Clear of Administrative Issues With DoNotPay
DoNotPay can help you deal with extended car warranties from other companies such as Jeep, Honda, Nissan, or Mercedes-Benz.
Our helpful features do not stop at car-problems—we can simplify so many other bureaucratic tasks for you. Open DoNotPay in any and allow your virtual assistant to help you with:
Appealing traffic tickets

Contesting speeding tickets