A Guide to Claiming a Toyota Prius Battery Warranty Easy and Quick
Toyota is a car manufacturer famous for its reliable and durable vehicles. The company's cars and car parts can last a long time, so if something happens, their short-term warranties will not be able to cover the cost of repairs. This is why many users have to buy an extended warranty. These car warranties don't have great coverage either, so investing in a battery and tire warranty is also recommended.
Claiming a warranty by yourself is often a time-consuming task. Car manufacturers like Toyota often deny warranty claims. If your battery is at its limit or any damage has occurred, we can help you claim the Toyota Prius battery warranty and save you time and money.
What Does a Toyota Prius Warranty Cover?
Toyota offers a warranty for its Prius model, which begins on the vehicle's in-service date—the first date a vehicle is delivered to the buyer. The basic warranty covers repairs and adjustments for defects in workmanship or materials of any car part.
The warranty has six models, which include:
Basic warranty

Hybrid system warranty

Hybrid battery warranty

Powertrain warranty

Restraint systems warranty

Corrosion perforation warranty
Check out the details for each model:
| | |
| --- | --- |
| Warranty Type | Coverage Time |
| Basic warranty | 36 months/36,000 miles |
| Hybrid system warranty | 96 months/100,000 miles |
| Hybrid battery warranty | 120 months/150,000 miles |
| Powertrain warranty | 60 months/60,000 miles |
| Restraint systems warranty | 60 months/60,000 miles |
| Corrosion perforation warranty | 60 months/unlimited miles |
The warranties do not include damage resulting from:
Accidents or fire

Negligence or misuse

Faulty repairs

Alterations made to the vehicle or any part

Water contamination

Natural forces

Normal wear and tear
The hybrid battery is also covered with Toyota's certified used warranty, lasting for eight years or 100,000 miles.
Toyota's warranty coverage can automatically be transferred at no cost to a succeeding vehicle owner when the car is resold.
What Is Included in the Toyota Prius Hybrid Battery Warranty?
The Prius hybrid warranty used to last for eight years or 100,000 miles. Now, it covers the battery for ten years or 150,000 miles. Three components are included in this warranty:
Hybrid battery control module (battery voltage sensor)

Hybrid control module (power management control module)

Inverter with converter
This battery warranty covers other car models besides the Prius. It applies to plug-in hybrid vehicles and fuel cell vehicles. The warranty covered models are:
Plug-In Hybrid Models
Fuel Cell Models

Prius

Prius Prime

Camry hybrid

Corolla hybrid

RAV4 hybrid

Highlander hybrid

Avalon hybrid
Toyota's hybrid models have relatively long battery coverage. But nothing lasts forever. If you are having problems with a Toyota hybrid battery, we can help you claim the warranty!
Use DoNotPay To Claim Your Toyota Prius Battery Warranty
Claiming your Toyota Prius battery warranty is an easy task with DoNotPay. The necessary information is often difficult to find, and you can end up losing precious time while your car isn't working. We can help you claim any warranty, including the Toyota Prius battery warranty.
Follow the instruction below to claim your warranty:
Open DoNotPay in your

web browser

Go to the

Claim Warranty

section

Click on

Car Warranty

Provide your vehicle's make and model

Type the necessary information about your problem
When you click Submit, we will generate a warranty claim in your name and send it to Toyota. They should reach out to you in the near future regarding your warranty claim and schedule an appointment.
Besides a battery warranty, we can also help you claim a used car warranty and resolve problems with a dealer who refuses to cancel an extended warranty.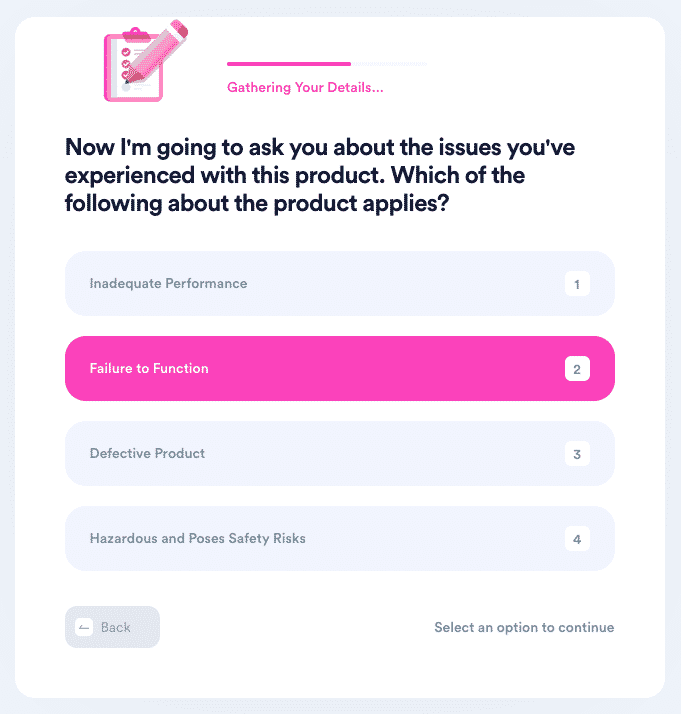 If Your Warranty Claim Gets Rejected, File an Appeal With DoNotPay
Companies have a practice of rejecting warranty claims, especially if it's your first try. Do not get disappointed and give up, since this will only stop you from getting the outcome you deserve. You can file an appeal with DoNotPay and get another chance to claim your warranty.
Here is how you can use our app to appeal a rejected claim:
Open DoNotPay in any

web browser

Click on the

Claim Warranty

feature

Choose the

Appeal a Denied Warranty Claim

option

Provide the details about your rejected claim and the name of the company

Click on

Submit
This is all you have to do for our app to generate an appeal letter in your name. Even if you don't have all the information about your warranty, we will use applicable laws to create the appeal letter. Expect the company to contact you soon regarding your claim.
Our app can also help you find reputable home warranty reviews so you can choose the best home warranties in America. Claiming a home warranty has never been easier with DoNotPay!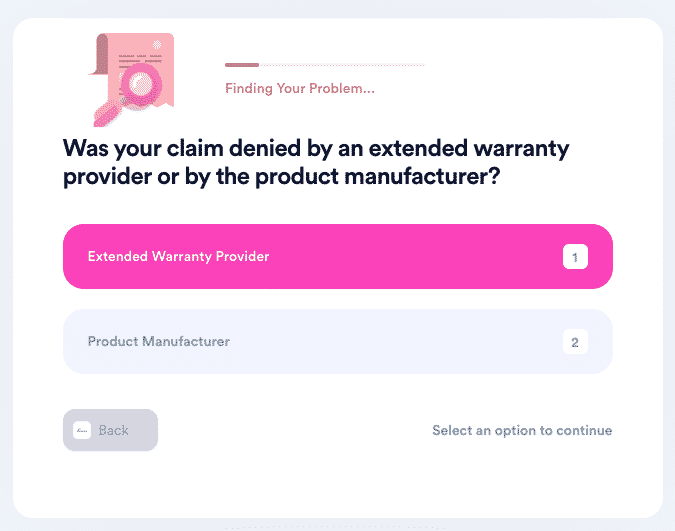 DoNotPay Breaks Down Communication Barriers
Communication and new technologies walk hand in hand, and DoNotPay can smooth out any bumps on that road. On our platform, you can find useful tools for avoiding phishing emails and text messages, sending faxes online, stopping annoying robocalls, or signing up for new services without phone verification.
Contacting customer support is no party, but DoNotPay can make the process so much easier, whether you need to request a refund, demand compensation for a canceled flight, or file a warranty claim.
You can even use our platform for locating your loved ones in prison and sending them letters the proper way!
Can Your Virtual Assistant Do This?
Hey, Siri! Make me ready for my upcoming small claims court appearance. No luck? Ok, Google! Prepare a DMCA notice for that website that uses my photos without authorization. Still nothing?
DoNotPay is the virtual assistant that won't back away from issues that require legal expertise. Our lawyer bots work around the clock to get you due date extensions for utility bills, reduce your property taxes, or stop stalking and harassment before it gets ugly.
The world's first robot lawyer will provide assistance even with securing compensation for victims of crime!