How To Locate Your Sprint Lost Phone
If you're looking for the quickest way to find your Sprint lost phone, check out DoNotPay's services. Whether you've left your phone in an Uber or dropped it at Disneyland, we can help you with your search. Double your chances of locating the device by !
What To Do if You Lost Your Sprint Phone?
If you've lost your Sprint phone, don't sweat it—the company provides guidelines for finding it. The standard procedure for locating missing devices is as follows:
Submitting an online lost Sprint phone slip
Asking Sprint to terminate your services
Filing a police report
File a Lost Sprint Phone Report
To initiate the search for your lost Sprint phone, you'll need to fill out an online form. You can generate the lost items report by completing the following steps:
Visit the official Sprint website and open the Support page
Select the option to Report a Lost/Stolen Device
Log in to your MySprint account
Find the device you wish to report (e.g., Samsung Galaxy S21 5G) and click on the icon
Go to Options and click on Report Lost/Stolen Device
Follow the on-screen instructions
Keep in mind that the portal is somewhat slow, so it may take a while for the report to load. Your lost Sprint phone slip should be ready in approximately 30 minutes. If it isn't—reload and start again.
Another way to notify Sprint about your missing phone is to use the Live Chat feature on their website.
Suspend the Service
It's advisable to ask your provider to block the device and pause the service to prevent possible account abuse. You can block the lost Sprint phone by contacting the company's customer support team.
Dial the following numbers to reach a Sprint customer service representative:
For new users: 888-211-4727
For long-standing customers: 1-866-866-7509
If you decide to suspend the line as a precautionary measure, note that:
Only the contract holder can pause the services
The suspension is effective immediately
Sprint won't restore your services until you put in a formal request
The company will still charge you your monthly fees
Contact the Local Authorities
Consider filing a missing phone report with your local police precinct, especially if you suspect the device was stolen. Before you visit the station, prepare the following information:
Details about the manufacturer and model
The IMEI number (you can get it from Sprint)
If your lost Sprint phone is never recovered, the police report can be used in your insurance claim.
In 2020, Sprint officially became part of the T-Mobile conglomerate. Since the merger, the company's insurance policy has been powered by:
Keep in mind that the steps to finding and replacing a lost T-Mobile phone are different.
How To Activate a Lost or Stolen Sprint Phone and Find It on a Map
You can also try searching for your lost Sprint phone with a locator app. All iOS and Android models have built-in features that enable you to remotely activate and locate the device.
Take a look at the table below for a step-by-step breakdown of the process:
How To Track a Lost iPhone
How To Locate an Android Phone
The integrated Find My app allows users to track down their Apple devices. Apart from iPhones, the feature also works with:

Here's how you can use it to find your Sprint lost iPhone:

Launch the iCloud web app with your browser
Sign in to Find My iPhone
Select your phone from the list of connected devices

Your phone's location will then appear on the map. If the device is offline, you won't be able to find it this way

Android phones also come with a Find My Device feature. You can activate it by completing the following steps:

Sign in to your Google account
Go to the official Android platform
Find your phone on the list of connected devices and click on it
Look at the map to get an approximate location

The Find My Device app can only function if both your phone and location services are on
DoNotPay Can Track Down Your Lost Sprint Phone With Speed and Efficiency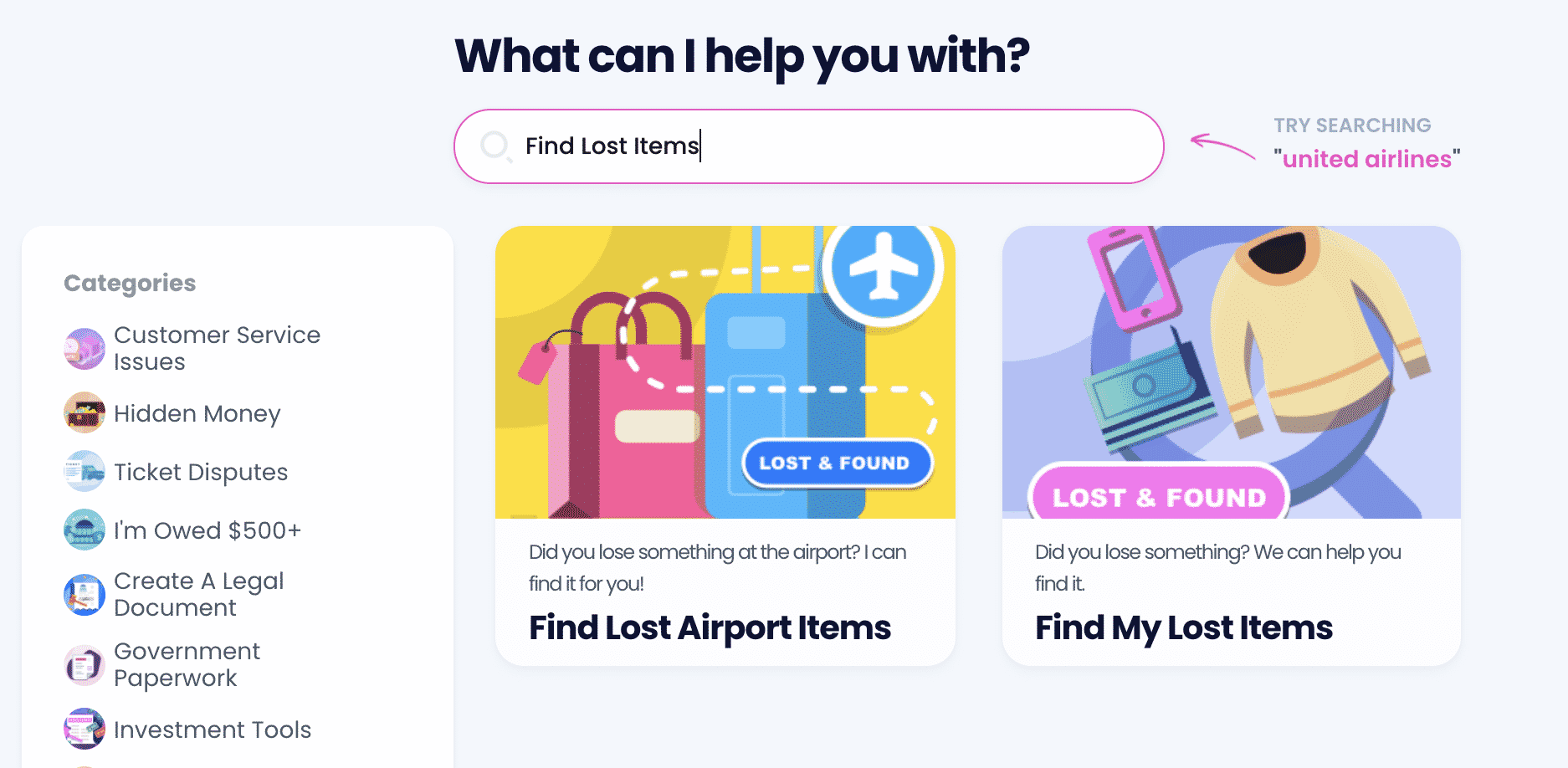 Apart from being a major inconvenience, losing your phone is also potentially harmful. You never know who can get their hands on your personal data, so speed is of utmost importance. If you want to find your lost Sprint phone before someone else does, !
The Find My Lost Items service can be activated with these easy-to-follow steps:
Go to DoNotPay and open the Find My Lost Items product
Tell us where you lost the phone
Provide an in-depth description of the item and focus on any identifiable features (wallpaper, phone case, etc.). If you have any photos at hand, upload them as well
Specify the date and time when you lost it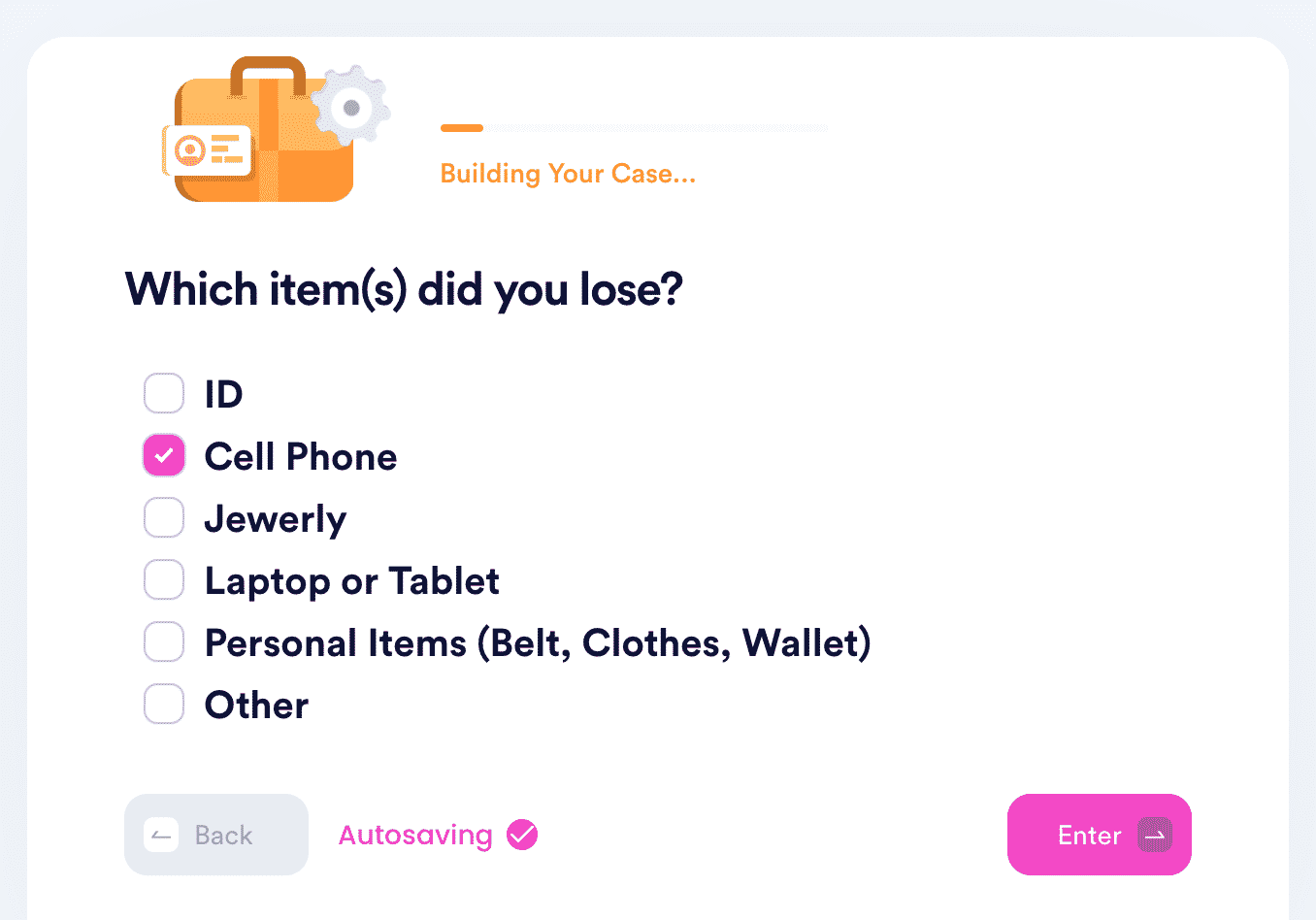 Once you've answered all the questions, our AI-operated app will forward the missing item report to Sprint. As soon as your phone is located, someone will contact you for further instructions.
DoNotPay can help you with your search for other lost items as well. From car keys to wallets, we'll make sure you're reunited with your belongings in no time. Our services cover various locations throughout the United States, including but not limited to:
Rely on DoNotPay and Get Rid of Administrative Issues
Are you tired of returning items, canceling subscriptions, fighting parking tickets, and mailing letters? We can help you fast-track all these tasks and more! Do you need help reaching customer service, fighting workplace discrimination, submitting defamation demand letters, or filing HR complaints? Use DoNotPay and solve any issue without a hitch.
Feel free to also use our app to study for government tests, apply for scholarships, appeal low financial aid offers, and request college fee waivers.
Do you need help paying bills? DoNotPay can assist you in lowering your property taxes, getting gift card cash back, entering sweepstakes and giveaways, and getting refunds.
With us, you'll be able to both earn and save money!
Say Goodbye to Spammers With DoNotPay's Assistance
Getting spammed on the daily? Our app can put an end to this annoying issue! Block spam emails, text messages, and robocalls in a few clicks. We can even help you deal with stalking and harassment.
Thanks to our Burner Phone product, you'll get a temporary phone number that you can submit when registering on different platforms and protect your privacy.
Another way to keep your privacy intact is using DoNotPay's virtual credit card. Signing up for free trials without hidden charges and revealing your contact details has never been easier!