Spirit Airlines—Lost Luggage Problem and How To Solve It
Losing luggage after a flight is a stressful experience. In case you want to solve your Spirit Airlines lost luggage issue, you've come to the right place! We'll show you the most effective ways to track your luggage and help you find it easily.
What Should I Do After Losing My Luggage?
To retrieve your lost luggage after flying with Spirit Airlines, you can:
File an online claim
Contact Spirit Airlines customer service
File an Online Claim
The first step you need to take is to report the incident at the airport and receive a File ID for your lost luggage, which you need to submit with the claim. Keep in mind that you need to report the issue within:
Four hours of arrival if you were traveling to Puerto Rico or the United States Virgin Island
21 days of arrival if you traveled internationally
Once you report the missing luggage and receive a File ID, you need to complete an online form by visiting the Spirit Airlines bag claim webpage. To complete the form, you need to:
Enter your last name and File ID
Hit Create Online Claim
Follow the prompts and insert your personal information in the designated fields
Upload the required documents, such as:

Proof of purchase for claimed items
Government photo identification (e.g., driver's license or passport)

Click Submit
If you fill out the form correctly and submit all the required documents, your claim will be processed within 30 days.
Contact Spirit Airlines Customer Service
If you'd rather talk to a customer service representative instead of filling out online forms, you should dial 1 (855) 728 3555. You can also call 1 802 308 3254 and press five after you get connected so you get transferred to one of the Spirit Airline agents.
DoNotPay Turns Reporting Lost Luggage Into a Breeze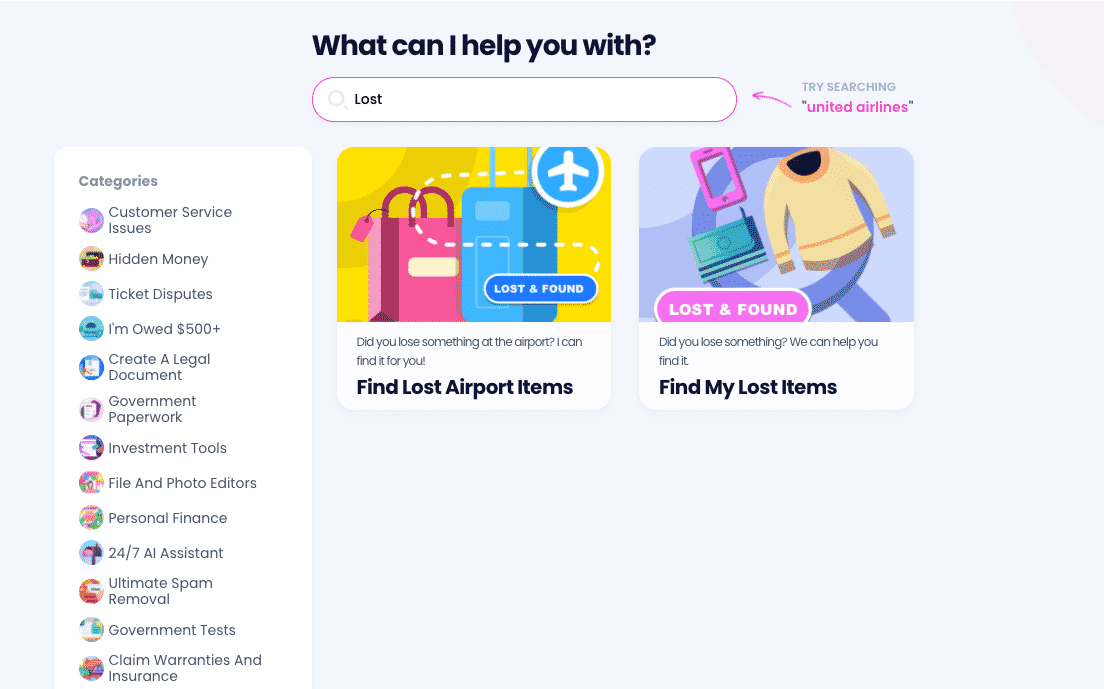 Filling out online forms is a tiring process, and talking to customer service representatives can draw out the search for your lost luggage. DoNotPay should be your go-to choice if you want to:
Report your missing luggage or any other item you lost in an airport (including a phone, wallet, glasses, or car keys) on short notice
Contact the airline in question without talking to multiple customer service representatives
Avoid describing your luggage every time you contact an office or fill out a form
Get compensated for any canceled or delayed flights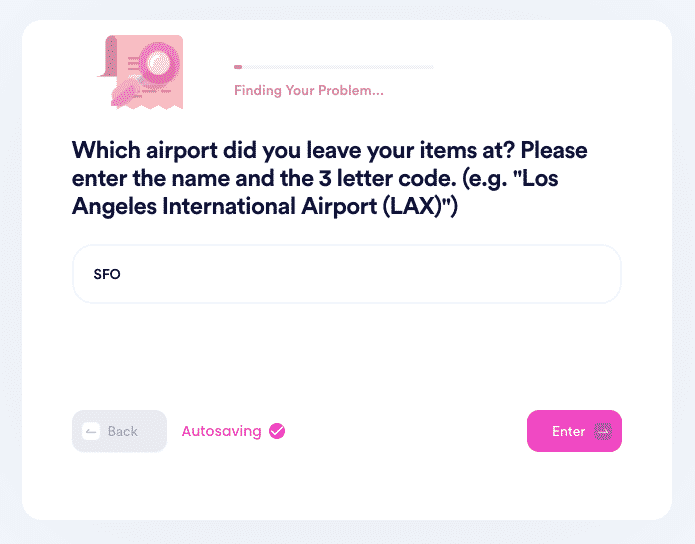 Our AI-powered app will do all the work for you. Here's how it works:
Select our Find Lost Airport Items tool
Answer our chatbot's questions
We will process your request in a snap and contact Spirit Airlines in your stead to help you find your baggage or any other lost item.
Can You Get Compensated From Spirit Airlines for Damaged Luggage?
If your luggage arrived in a damaged condition, you need to get a verifiable estimate of repair from a local luggage repair shop and submit it with the claim to get compensation. In case your luggage is worth $50 or more and cannot be repaired, you also need to submit documented proof of purchase.
Note that Spirit Airlines doesn't take any responsibility for overweight, overpacked, or oversized luggage.
How To Lower the Chances of Losing Luggage in the Future
Check out the table below to learn how to avoid losing your luggage again:
Tip
Details
Get a brightly colored suitcase
Having a suitcase that is pink or yellow will make it stand out during baggage claim and easier to track down in case it's lost
Attach name tags to your luggage
Buy a personalized luggage tag containing your name and contact info and attach it to your bag before your check-in
Get a tracking device
A GPS or Bluetooth tracking device can help you locate your bags at any time if you connect the device with your smartphone. Some of the options you can choose from are:

Trakdot
LugLoc
PocketFinder
What Else Does DoNotPay Have in Store?
Our user-friendly platform provides solutions for all your bureaucratic problems and tiresome tasks. Once you sign up for DoNotPay, we can help you demand refunds from airlines and other companies, get compensation for late deliveries, and submit item return requests. The app also allows you to send online faxes, use our mailing services, and convert files to dozens of formats!
If you are unhappy with the situation at work, DoNotPay can file anonymous HR or work discrimination complaints in your stead. Discover how to generate legal documents such as divorce agreements and powers of attorney and have them notarized without heading to the notary's office!
Our App Reduces Education-Related Costs
Do you find it difficult to cope with college-associated expenses? DoNotPay sends help your way! Get ready to make your education journey simpler by:
If you believe that educating your child at home would be a less pricey option, we help you compose a customized notice of intent to homeschool in no time!