Everything You Should Know About
Special Warranty Deed in Texas
Are you buying or selling real estate in Texas? Property transfer can be complicated and involve a lot of paperwork. If you want to make a safe property transfer, you should get familiar with special warranty deeds and how they differ from the general ones.
What Is a Special Warranty Deed in Texas?
Special warranty deeds provide protection to real estate buyers. With a special warranty deed, the seller guarantees that he or she is the owner of the property. The owner also guarantees that he or she has not had any title issues while the property was in his or her possession. In Texas, special warranty deeds are usually used when the owner:
Transfers real estate to a trust or business

Sells a commercial or residential property

Does not want to be responsible for any prior title problems
The downside of special warranty deeds is that the person transferring the property cannot be held responsible for any issues created before he or she acquired the property. Since the warranty is limited, you won't be able to take legal action against the current seller of the property if you experience any title issues caused by previous owners. 
Texas Special Warranty Deed Language
Special warranty deeds use particular language that involves a lot of complicated structures and legal terms. They have to be written to cover all points that make a deed a special warranty deed. If you are buying a property, it would be wise to hire an attorney to go over the contract. The attorney can search the contract for any hidden information about the property and its title.
Special Warranty Deed vs. General Warranty Deed in Texas
These are the main differences between a special warranty deed and a general warranty deed:
Special Warranty Deed
General Warranty Deed

Limited—covers only the ownership period of the seller

Does not guarantee that previous owners had no title problems

Not limited—refers to previous owners as well

Allows you to see the full history of the property and any title issues previous owners had
File a Warranty Claim Fast and Easy With DoNotPay
Do you want to file a home warranty claim? DoNotPay can help you claim a home warranty in minutes! The process is simple—all you need to do is:
Access DoNotPay from any

Select

Claim Warranty

Choose the

Home Warranty

option

Give the information about your home warranty and the issue you are experiencing

Click on

Submit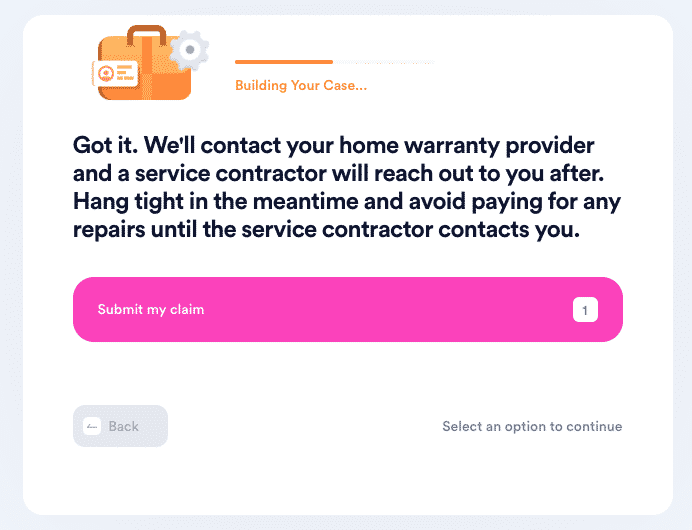 When we receive your request, we will get down to writing a claim letter. Our app will send the letter to your warranty provider directly, and they will contact you with the details about your claim.
If you want to know more about home warranties, check out our home warranty reviews and find the best home warranties in America or home warranty companies in Texas. 
How To Appeal a Denied Warranty Claim With DoNotPay
In case your warranty claim gets rejected, don't give up on it! Use DoNotPay to appeal the warranty provider's decision. We can compose a strong appeal letter and increase your chance of winning the case!
You can make an appeal by following these steps:
Log in to DoNotPay in any

Choose the

Claim Warranty

feature

Select

Extended Warranty Provider

Provide the details about your denied claim

Tap

Submit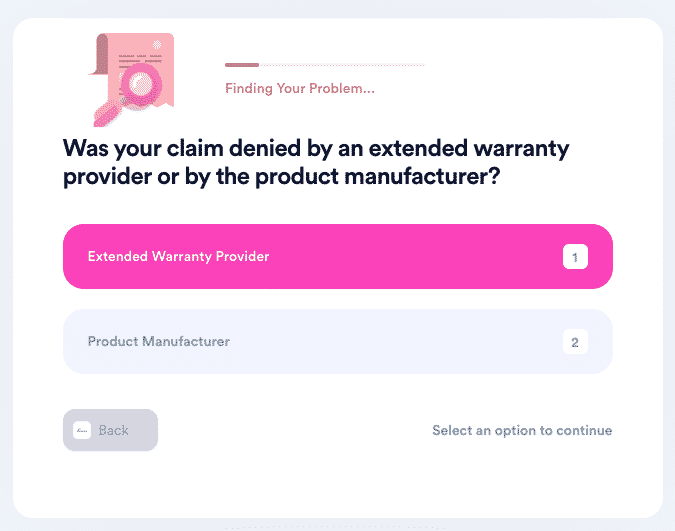 After we file your appeal, your warranty provider should contact you directly and tell you the results of your case.
DoNotPay Can Manage Your Everyday Administrative Tasks
With DoNotPay, you can claim other kinds of warranties, such as product or car warranties. Our award-winning app can also give you information about extended warranties for used cars and what to do when a dealer refuses to cancel your extended warranty.
We can assist you with other nerve-wracking bureaucratic tasks! DoNotPay can help you renew your license or pay electric bills in Texas. You can also use our app to wave your college application fees for Texas A&M University and The University of Texas at San Antonio.
Open DoNotPay in any and check out what we can assist you in:
Appealing traffic tickets

Fighting speeding tickets