What Are the Best
Home Warranty Companies in Texas
?
Aside from the Home Warranty of America, there's an array of companies that offer home warranties in Texas. You can't always rely on home warranty reviews to find the best company for you—some research is necessary. 
This article presents the most popular home warranty companies in the Lone Star State. Whichever company you choose, DoNotPay will help you claim the home warranty the easy way. The best part is that DoNotPay works on a car, manufacturer, and other warranty types.
The Most Popular
Home Warranty Companies in Texas
When choosing a home warranty, you have to be careful about what the company offers. For making such a decision, it's necessary to look at the positive and negative sides of a company's business.
In the table below, you'll find the top five home warranty companies in Texas, including their pros and cons:
Company
Positive Sides
Negative Sides

You can choose the technician

They guarantee repairs for as long as the plan lasts—up to three years

Members get additional benefits

You have to wait for 30 days for the servicing to start

They charge more for services that involve pools, stand-alone freezers, and sump pumps

This plan is the least affordable

They don't have a coverage limit for heat systems, the AC, and ductwork

You can get coverage for appliances and systems that weren't installed properly

You can't choose the technician

Customers have to wait for 30 days before the plans allow servicing

You have to pay extra for pool and refrigeration services

You can fill your warranty claim online or via phone—24/7

They offer two plans

Service calls are affordable

They charge extra for service regarding pools and septic systems

Coverage limits are lower for some categories

You can't choose the technician 

You can customize the coverage

The company ensures customer service 24 hours a day, seven days a week

They provide generous coverage limits on specific systems and appliances

They're not available in Alaska

You can't choose the technician

You can get a discount if you pay in advance

You don't have to pay for coverage that you don't need—you can customize it

Their plans have affordable prices for additional servicing of pumps or lawn sprinklers

You pay extra for servicing of the pool, stand-alone freezers, pumps, etc.

You have to wait 30 days before your servicing begins

They don't cover small items like doorbells, smoke detectors, etc.
How To Claim Your
Home Warranty in Texas
With DoNotPay
DoNotPay created a warranty claim feature to fight companies that avoid providing warranty-covered services at all costs. These companies usually ask for additional paperwork and prolong your case as much as possible so that you give up.
You don't have to worry about these energy-consuming processes because DoNotPay will do most of the work for you. All you need to do is access DoNotPay from any web browser and follow these steps:
Open the

Claim Warranty

feature

Select

Home Warranty

Choose your warranty provider and explain what issues you're dealing with

Click on

Submit My Claim
DoNotPay will generate a warranty claim letter and submit it for you. The service contractor will get in touch with you to make an appointment.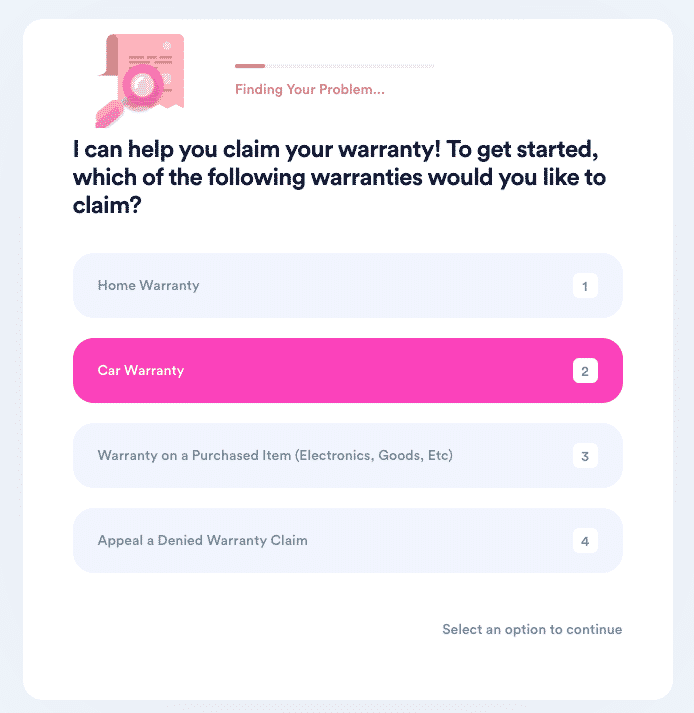 How To Appeal a Denied Warranty With DoNotPay
DoNotPay has one more amazing feature for you—appealing denied warranty claims. You won't have to go through this time-consuming process by yourself. You can file an appeal within minutes and improve your chances of claiming your home warranty.
To appeal a denied warranty, do the following:
Sign in to DoNotPay

Click on

Claim Warranty

Select

Appeal a Denied Warranty Claim

Choose the

Extended Warranty Provider

or a

Product Manufacturer

Attach the denied claim and provide details about the company, then click on

Submit
We will use all the information you gave us to submit the appeal letter for you. The company should contact you directly.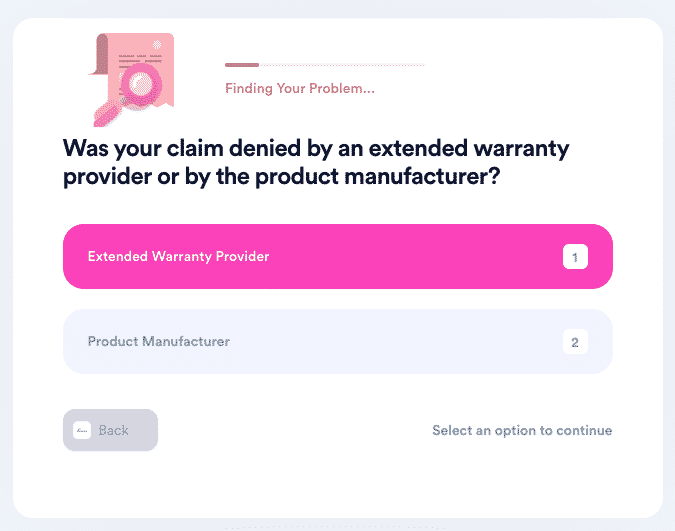 Everything's Bigger on DoNotPay—We Can Help You Solve Other Issues
DoNotPay is a personal virtual assistant you need by your side. We can tell you what to do when your car dealer refuses to cancel an extended warranty and take care of your extended warranty for used cars.
If your current residence is in Texas, DoNotPay offers additional services—our app will help you with paying electric bills in Texas, avoiding parking tickets in Houston, renewing your driver's license, and even finding clinical trials in your state. With DoNotPay, you can find out more about stalking penal codes in Texas. 
These examples are a drop in the ocean of possibilities that DoNotPay has to offer. Find out what else we can do for our users by opening our app in any web browser.
We will gladly help you with:
Contesting your speeding tickets

Appealing your traffic tickets