Is the Burner Phone App Free?
People spend around 140 minutes on social media every day. We spend such a large chunk of our lives online that we may have forgotten to put our privacy first. More and more people worry about their personal information leaking online. This is why they turn to burner phones and fake phone number apps to try to keep their information safe.
One of these apps is Burner. We'll go over the app's pros and cons and suggest other ways you can protect your privacy.
Our Burner Phone App Review
Burner provides its users with temporary phone numbers. These numbers can be used for calls, texts, and phone verification for various services.
Unlike the physical burner phone you purchase using cash without a contractual obligation, the Burner app offers a paid subscription.
Here are some of the pros and cons of using Burner:
Benefits
Drawbacks

Allows calling, texting, and picture messaging

Reroutes calls and texts to your main number

Is useful for phone verification, online dating, business calls, traveling

Offers multiple burner numbers that you can get rid of anytime

Renews automatically

Requires your real number

Has too many unnecessary features

Creates multiple fake numbers at the same time, which may be overwhelming

Makes you forget which number you use for what

Doesn't stop spam calls and texts anyway—just reroutes them

Has

negative reviews

for bad customer service and bugs in the app
Can You Get the Burner Phone App for Free?
Burner offers a seven-day free trial. You can download the app to your iPhone or Android for free and use the Sample Burner until it expires. Other options include prepaid burners and paid subscriptions.
Check out some of Burner's options and their prices:
Burner Option
Price
Features

Three-line monthly subscription

$14.99

Unlimited calls, texts, and picture messages

One phone number per billing cycle

Three-line yearly subscription

$139.99

Unlimited calls, texts, and picture messages

One phone number per month

Unlimited Burner

Eight credits

Unlimited minutes and texts

It auto-burns in 30 days

Sample Burner

Free

20 minutes and 40 texts

It auto-burns in seven days

It is available only once
Prepaid burners must be bought through in-app purchases using credits:
8 credits—$4.99

10 credits—$5.99

15 credits—$7.99

25 credits—$11.99
Use DoNotPay and Bypass Any Phone Number Verification

Buying an actual burner phone as an additional device is unnecessary when all you want is to sign up for a service. Downloading Burner or similar apps still forces you to reveal your main number. Both options can be too expensive, especially if you only need a one-time phone number.
Luckily, all else pales in comparison to DoNotPay!
DoNotPay is the way to go if you want to:
Escape bothersome

robocalls

Block

spam text messages

Stay protected from phone number leaks

Bypass phone verification for numerous apps, services, or subscriptions

Safeguard against

harassment

and

stalking

on social media and dating websites
You can use our temporary phone number to bypass phone authentications. It gets deactivated ten minutes after we provide you with the verification code.
Our subscription lets you get multiple fake phone numbers, and you don't need to give us your phone number. As a bonus, you can also reap the benefits of other nifty features DoNotPay has to offer, such as the virtual credit card generator.
How DoNotPay's Burner Feature Works
DoNotPay is straightforward and user-friendly. Take the following steps to create a fake phone number:
Visit DoNotPay in a

Select the

Burner Phone

feature

Enter the name of the company or service that's requesting your phone number

Click on

Create a Temporary Number

Tap on

View My Text Message

once you see the phone number
When you click on the text message, you'll see the verification code you can enter to verify your account on Twitter, Instagram, Facebook, or other apps or services that require it.
You Don't Want To Reveal Your Credit Card Information? Use DoNotPay!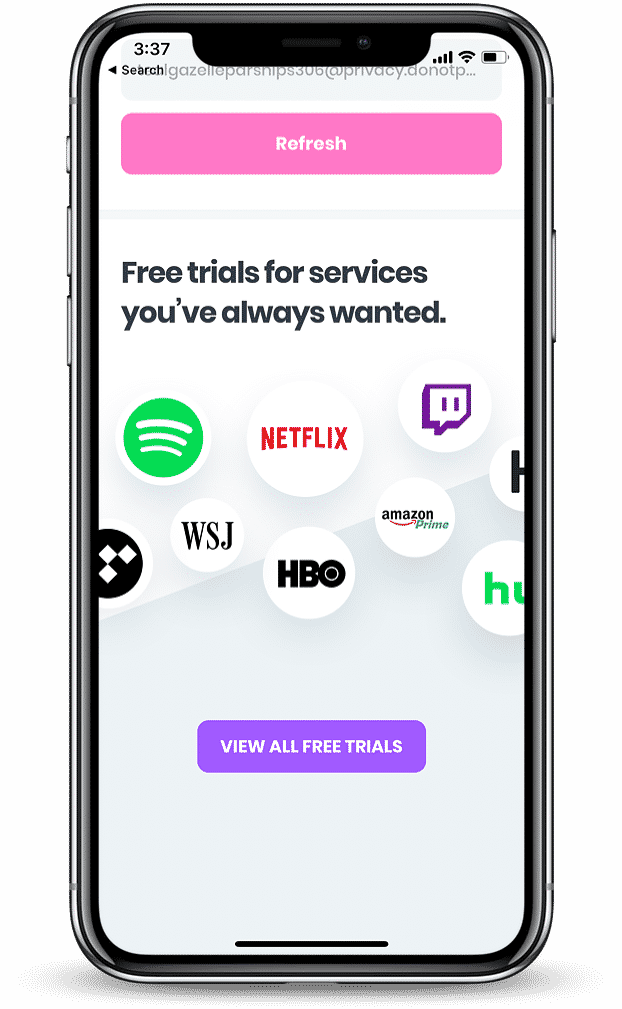 Another feature you can enjoy by using DoNotPay is our free virtual credit card. You can use our free card to avoid revealing your credit card info to any service or subscription that offers a free trial.
DoNotPay's virtual credit card is a series of numbers randomly generated to look like a set of real credit card numbers. When you use our virtual credit card with no deposit, companies are unable to track you down or charge you. Once they realize they can't charge you, they'll cancel the subscription or service themselves.
This way, you will never have to worry about unknown charges or revealing your credit card numbers again. You can finally enjoy free trials free of charge!
Don't Let Burner Burn a Hole in Your Pocket

If you've already signed up for one of Burner's subscriptions and you wish to cancel it, we've got your back!
Since Burner automatically renews, you could forget you have it and still get charged regularly. Numerous users have complained about not being able to cancel and reaching out to its customer services to no avail.
Not to worry⁠—DoNotPay can help you cancel Burner in a few clicks:
Open DoNotPay in your

Select

Find Hidden Money

Enter

Burner

as the service you wish to cancel

Tap

Submit
Why Do Companies Ask for Phone Verification?
We are all aware of how much of our personal information is at the fingertips of many corporations. We keep seeing ads for services we like and the items we talked about, and it doesn't stop there. Many companies require providing a phone number when you register or soon after creating an account.
Check out the reasons that companies use to justify asking for your phone number:
Helping you recover a compromised account

Putting a stop to hacking and suspicious activities

Proving you have a phone number shows the company you are not a robot

Setting up phone number authentication helps you reset your passwords with ease

Adding a phone number makes it hard for you to have multiple accounts on one service
Don't Burn Yourself Out With Admin Tasks—Count on DoNotPay for Help

DoNotPay is adept at dealing with numerous legal, financial, and administrative issues. With our assistance, you'll be able to report harassing phone calls, stop your ex from stalking you, make money off robocalls, and block spam email on Android, among other things.
Access DoNotPay in your , and we'll help you:
Fight your traffic tickets

Contest your speeding tickets