Read the Fine Print: Everything You Need To Know About the Printful Return Policy
Printful offers on-demand printing and order fulfillment services for customers and merchants alike. As such, return requests for defective items should be directed to Printful, not the store. If this sounds like a hassle to you, has got you covered. Our app's Return My Purchase feature can solve this issue in a matter of minutes, and we will show how.
Before we get to that, take a look at how the Printful return policy works so you know what to expect.
The Printful Return Policy in a Nutshell
If the product you ordered is misprinted or damaged, you can file a claim within four weeks of receiving it. The same applies to lost packages, which you can report no later than a month after the estimated arrival time has passed.
Double-check with your postal service before filing a report for lost goods. If there is a mistake with your address, edit it and inform the seller immediately so they can report to the Printful support and charge you with the re-shipping fees. In case your order is marked as "delivered," check the notes left by the courier. Your package might be given to a family member or dropped in a particular spot.
Printful will cover all expenses if the error is on their part but will not respond to claims made out of buyer's remorse.
Do you like the product, but the size or color isn't right? You can ask for an exchange, but this may cost you extra as Printful will charge the merchant an additional production fee.
While most Printful products are eligible for a return in case of errors, sealed goods like face masks or underwear will be disposed of immediately due to health and safety reasons. You won't get compensation or a replacement for those items.
How To Send a Return Request to Printful
All return claims and complaints can be sent via your Printful account. Here are the steps you should take:
Click on the Orders page from your dashboard
Search your purchase using the order number
Select the order to open its transaction summary
Hit the Report button to open the pop-up form
File your report (include relevant receipts and images when applicable)
Proceed with your claim by clicking on Report problem
Package your item and send them back to the fulfillment facility that processed your order
The seller will be notified once your item reaches Printful's facility. Printful will decide whether your goods are eligible for a refund or an exchange.
If the merchant fails to claim your returned item within a month, it will be donated to charity, and you will not be refunded.
Where To Send a Damaged Printful Product
The facility where your goods were ordered and processed is the default address set for returns. Below is the table of all locations:
Fulfillment Centers
Addresses
The U.S. and Mexico
11201 Ed Brown Rd, Charlotte, North Carolina, 28273
Canada
3500 Laird Rd, Mississauga, ON L5L 5Y4 Canada
Spain
Travessía Prat de la Riba, 91-95, 08849 Sant Climent de Llobregat, Barcelona, Spain
Latvia
Plienciema 5, Marupe, Marupes novads, LV-2167, Latvia
Japan
817-3 Komiyaji, Shinhwa Machi, Amakusa City, Kumamoto Prefecture, 8630101 Japan
Australia

Apparel goods: 40 Tanimbla Street, Kedron, Queensland 4031, Australia
Non-apparel products: 338 Albert St, Brunswick VIC 3056, Australia

Brazil

Apparel and mugs: Rodovia Santos Dumont, 4791 (Antigo KM 3,5), Armazém 111, Galpão 02, Empreendimento Caxias Park. Parque Paulista. CEP 25251-460. Duque de Caxias - RJ, Brasil
Non-apparel items: R. João Ferreira de Camargo, 714 - Jardim Mutinga. CEP 06460-060. Barueri - SP, Brasil
You can also return the damaged item to the seller's address directly, but Printful won't be liable for any error that happens during the reshipment process.
It's important that you use the provided address to return products only. Printful will not accept correspondence like letters or notices that are meant for the seller as they are not legally allowed to open them.
File a Return Request With Printful in No Time Using DoNotPay!
Requesting a return from Printful can take a long time due to the back-and-forth between the seller and the fulfillment facility.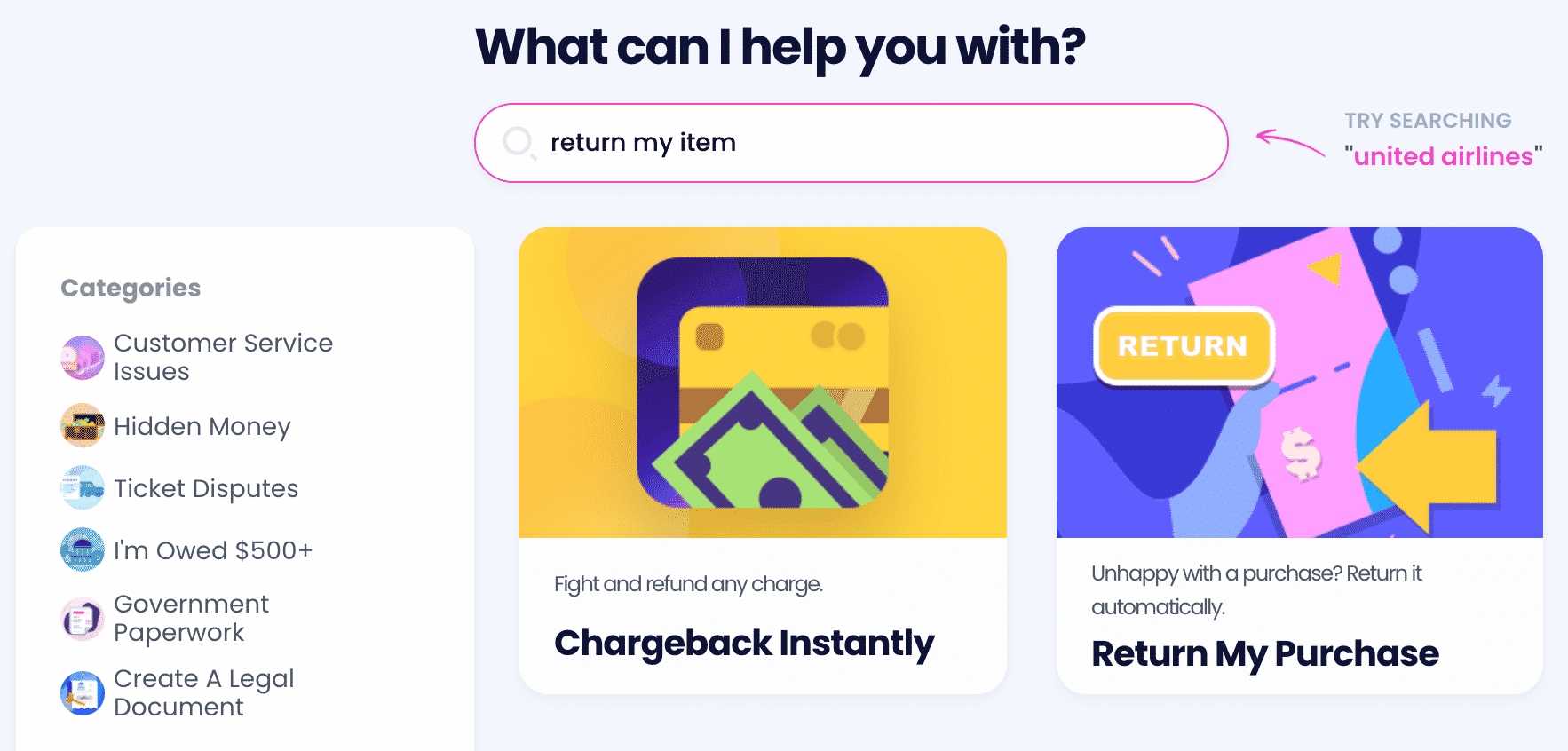 With our app, you can draft a Printful return request letter in a fraction of the time required to file it by yourself. Here's how:
Access your from any browser
Type Return My Purchase in the search bar
Provide some details about your purchase to the chatbot
Sign the document with your electronic signature and send the form
You can demand a refund or a replacement, and you'll receive a shipping label to return items for free.
All item return requests come with a date estimate that lets you track the progress of reshipment.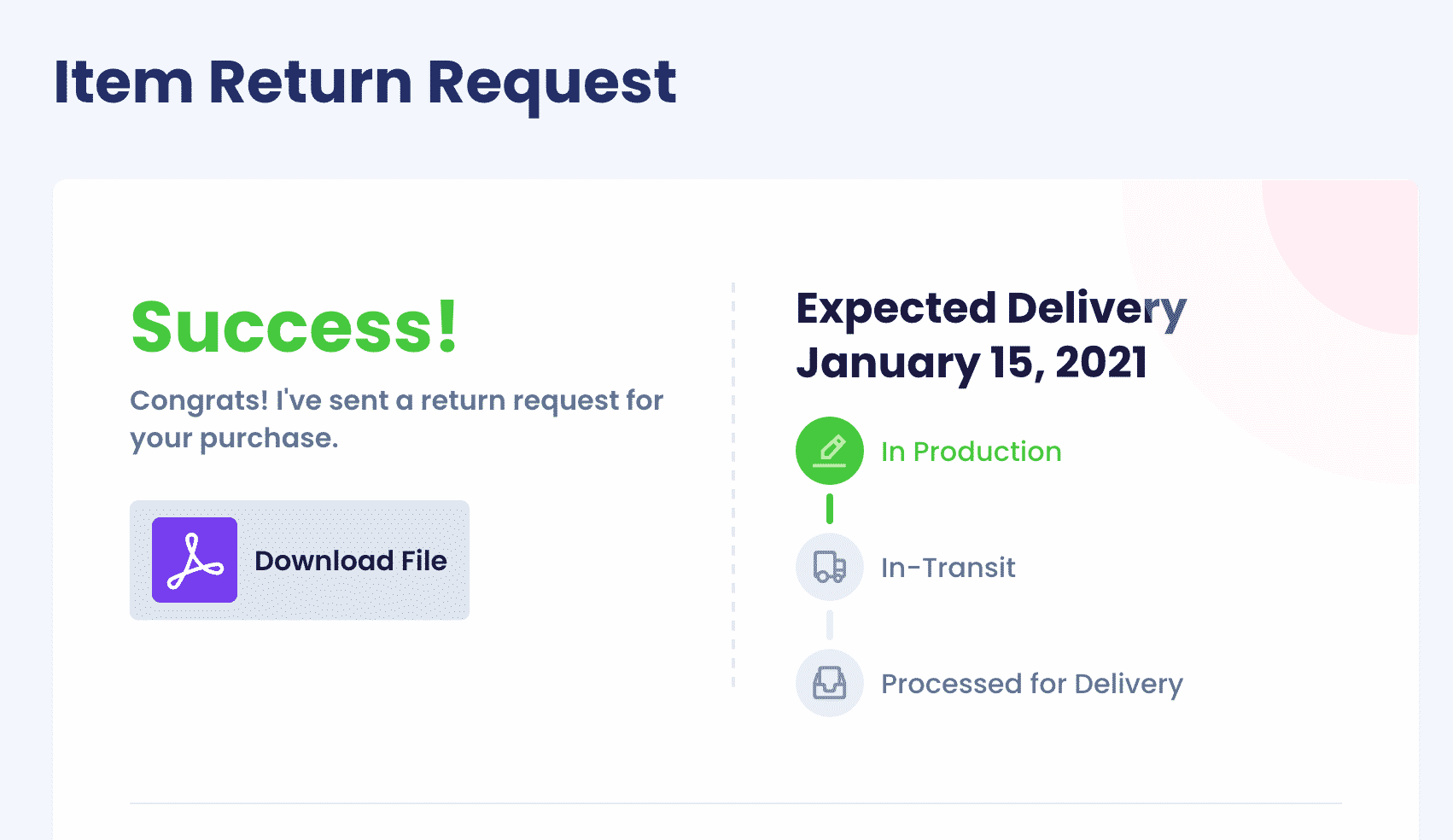 Wish To Return Unwanted Goods to Other Stores? DoNotPay Can Help!
Our robot lawyer can also file return requests for items ordered from various companies, including:
DoNotPay Is a Master at Getting What's Rightfully Yours
Are you dealing with a company that refuses to approve your return? Once we submit a refund request in your stead, we can also prepare all the paperwork you need to sue the merchant in small claims court and win your case.
Need a legal document for the lawsuit? Draw it up with our handy tool. Want to get any document notarized and fax it to someone? We have products that can do that for you as well.
Has an airline rescheduled your flight, or is your package damaged or missing? Demand compensation with DoNotPay!
Do you believe that you may have some unclaimed assets? Count on us to find and get them for you.
It Doesn't End There!
Use DoNotPay whenever you need to tackle any sort of mundane task. If you're sick of wasting your time in long phone queues or the ones at the DMV, we'll help you skip them. Do you want to apply for a college fee waiver or clinical trial? Are you looking to enter a sweepstake or get a passport photo or a tourist visa? We'll do it all in your stead!
If you want to send a letter of warning to a persistent harasser or loud neighbor or want to get compensation for victims of crime, workplace discrimination, or robocalls, let us know and we'll tackle the issue momentarily.