A Complete Guide to the Pep Boys Return Policy
If you find yourself ready to give up on a refund because the Pep Boys return policy seems overwhelming, signing up for DoNotPay can be just the solution you're looking for. Our guide is here to simplify the return process and help you get your money back in a flash!
Everything You Need To Know About the Pep Boys Return Policy
If you received a product that is faulty or damaged, the Pep Boys return policy allows you to return most items within 90 days. To be considered eligible for a refund, items must be in resalable condition and returned in their original packaging.
Some Pep Boys products don't qualify for returns, including:
Clearance merchandise
Motorized transportation, generators, and power equipment products—these are regulated by individual manufactures
Test equipment, specialty tools, and Traxxas cars that have been opened or damaged
Performance accessories, electrical items, electronics, sound items, and tire chains if they have been installed
Items With Return Limitations
Before attempting to return your unwanted product, keep in mind that the Pep Boys return policy outlines items that have strict limitations on where or how they can be returned. Some of these items include:
Items purchased online and picked up in person can only be returned to a store
Liquid items can only be returned to a store—the returns processing center is unable to process them
Cores containing fluids—such as power steering stumps and air conditioning compressors—must be drained before you return them
Pep Boys Return Policy—How To Return Unwanted Products
Depending on where you made your purchase—either online or in store—there are two methods you can use to send your Pep Boys return:
In-store returns
Mail-in returns
Pep Boys Return Policy—In-Store Returns
You can return in-store or online purchases to any Pep Boys store near you. Make sure to bring the original receipt or the invoice that was included in your online shipment when making your return. Once a store associate approves and processes your refund request, you will receive a full refund or an exchange.
Can You Return an Item Without a Receipt?
If you misplaced your receipt, Pep Boys allows you to return your item for in-store credit with a valid government-issued ID. Refunds for items returned without a receipt will only be issued at the lowest selling price in the last 30 days. If the item went on sale for 60% off in the past three weeks, you will receive 60% of the original price.
How To Return Pep Boys Items via Mail
Here are the steps you need to follow to complete your return online:
Visit the Pep Boys website and open the Order History page
Fill in the order number and your email address
Click on View Order Status and follow further instructions
Before you send in your return, double-check that you are following the shipping and packaging requirements of the carrier. You alone are responsible for including the Return Form containing the item's Return Authorization Number and handling any returns with prepaid shipping labels. Failure to adhere to these requirements will lead to delays and, in some cases, prevent your return from being processed.
Insuring Your Shipment
When returning orders more expensive than $100, you may want to consider insuring your shipment. Pep Boys are unable to process returns for items that have been damaged while in transit. Keep in mind that you will not receive a refund for the cost of insurance.
Shipping Charges—Will You Be Refunded?
If you paid hefty shipping fees when you made your purchase and decided that you didn't want the item, you will not be refunded. Instead, the amount charged for shipping will be deducted from the refund or credit.
If you paid for shipping for a defective item or if Pep Boys made an error, you will receive a full refund for shipping charges, and you will not have to pay to ship your return.
How Long Does It Take for Pep Boys To Process Returns?
Pep Boys returns are processed in the order that they are received. The average time that it takes is 3–5 business days. Keep an eye on your email—this is how they will inform you that your return has been processed.
If you paid for your product via check, the processing will take longer—Pep Boys will not be able to accept your return until 15 days after the date of purchase.
Take the Stress Out of Your Pep Boys Return With DoNotPay

If the Pep Boys return policy seems too complicated or you feel like there are just too many rules to keep track of, you don't have to go through the process alone. Leave the inconveniences behind and subscribe to DoNotPay to simplify your Pep Boys return with our Return My Purchase tool.
Here's what you need to do to get started:
Search for the Return My Purchase tool
Provide the required information and upload photos if necessary
Click Submit
That's it! With just a few clicks, our user-friendly, AI-powered app will generate and forward a personalized return request letter to Pep Boys on your behalf. The letter will include a deadline by which Pep Boys should respond and process your return. DoNotPay will also send you a return label free of charge to make shipping your package a breeze.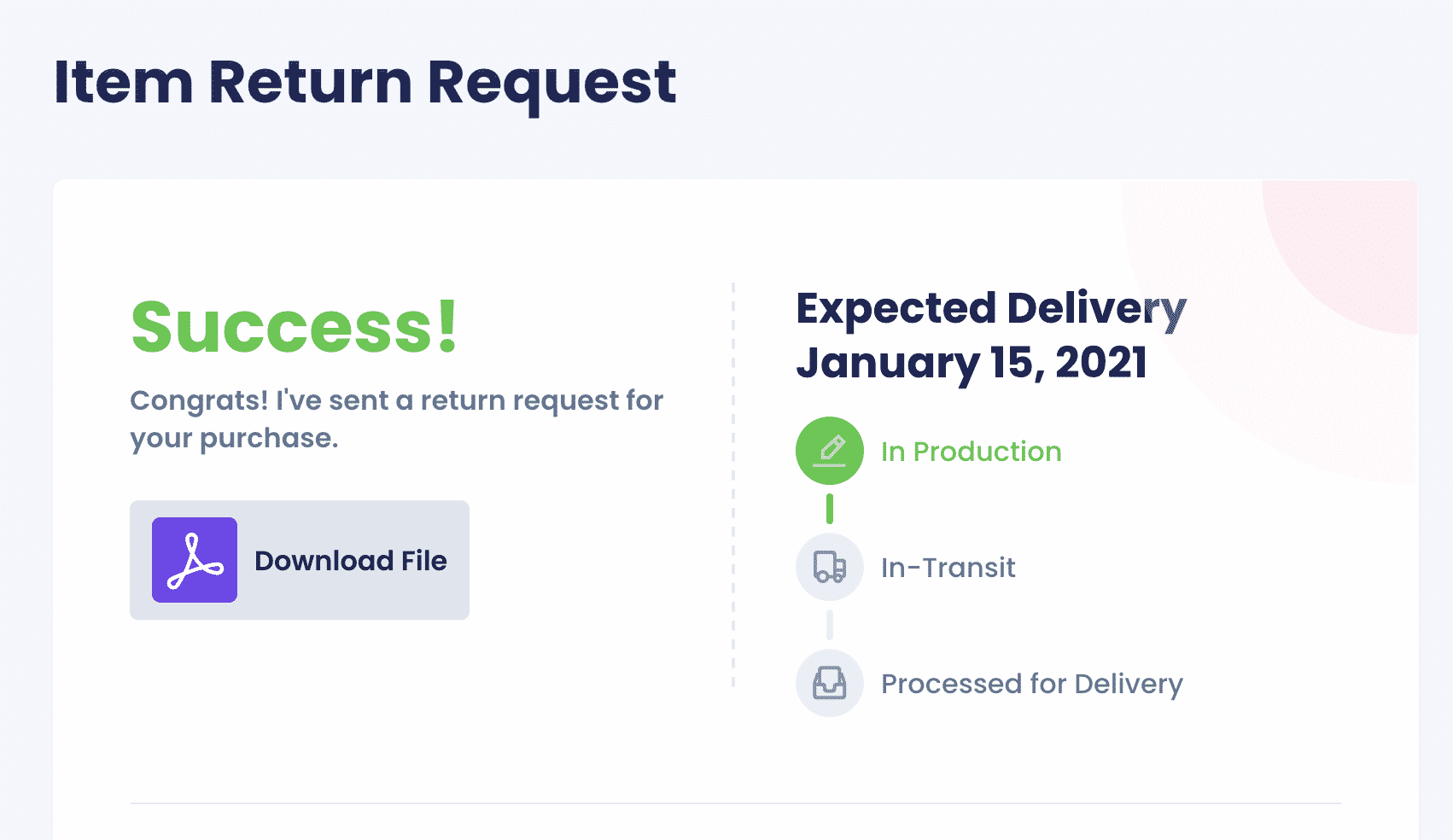 Pep Boys is not the only company DoNotPay can help you request returns from. DoNotPay provides a plethora of guides that can help you understand the return policies of many popular companies. Here are some of the guides that you can find in our learning center:
Wasted Your Money on a Non-Returnable Purchase? There Are Other Methods To Earn It!
Don't feel down if the item you got isn't returnable—DoNotPay has many more tricks up its sleeve that will help you earn some money!
From helping you enter sweepstakes, decrease your property taxes, and lower your utility bills to assisting you in earning off email or text spammers and robocalls, waiving your college application fees, submitting a college financial aid appeal letter, and getting a refund from any company or airline, we can do it all!
DoNotPay Is Always at Your Disposal
Our app's mission is to take everyday admin and legal tasks off your plate so you don't have to waste any of your precious time. If you want to appeal your parking tickets, draw up a legal document, get any agreement notarized, get a tourist visa, keep a sex offender at bay, mail anything without waiting in line, or get in touch with a loved one in prison, DoNotPay will resolve any of these with ease.
Too busy to track your memberships? You don't need to worry about canceling your free trial on time before it turns into a paid subscription if you use our virtual credit card.
With DoNotPay, you can tackle any otherwise annoying chore stress-free.