Book an Online Notary in Williamsport, PA, in a Jiffy!
Even though it's not always required, it is preferable to have paperwork notarized. If you decide to get your documents notarized, we know how to make the procedure super easy. Remote online notarization is now available in nearly 30 states, including Pennsylvania, and, with our help, you can make the most of it.
to bypass in-person notarization by finding an online notary in Williamsport, PA!
The Benefits of Remote Online Notarization
Notaries public perform remote online notarization (RON) by using digital stamps, digital signatures, and government-approved audiovisual communication technologies. For many people—especially those that are not tech-savvy—RON can seem too complicated at first, but it actually requires less time and effort than the traditional notarization method.
In the table below, you can find some of the benefits of remote online notarization:
Benefits

Description

Speed

Unlike standard notarization that can take several days, sometimes even weeks, getting documents notarized using RON is done within minutes

Availability

Most online notaries public offer their

notary services

24/7, regardless of the day of the week or holidays

Safety

RON allows you to avoid physical contact that standard,

mobile

, and

electronic notarization

methods entail, which is vital during the COVID-19 pandemic. You can forget about traffic and public transportation since you don't have to go to the notary's office

Flexibility

Online notarization enables you to schedule a virtual appointment with a notary regardless of their location and working hours. The best part is—you can do that from your laptop or smartphone

Ecofriendliness

Most states allow remote online notarization of documents in both tangible and electronic form, thus reducing paper waste
Use DoNotPay To Schedule an Appointment With a Notary in Three Steps!
There is no easier way to schedule an appointment with an online notary than DoNotPay! With our Notarize Any Document service, you can set up a virtual meeting in three steps— and follow these instructions:
Choose the

Notarize Any Document

product

Upload the document that you need to get notarized

Enter your email address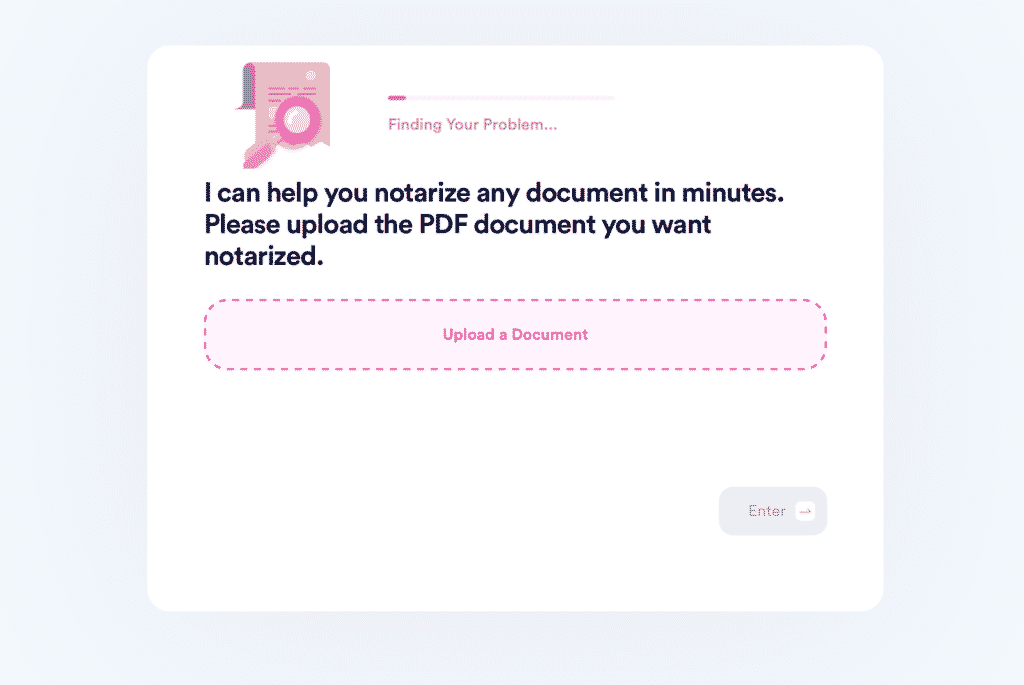 You will receive a link that you should follow to confirm the details of your appointment with an online notary.
Why Choose DoNotPay Over Other Online Notary Platforms?
Besides the time-saving and easy-to-use service, DoNotPay offers help in resolving other paperwork-related issues. Once you sign up for DoNotPay, you can get access to our other exceptional products, such as the Standardized Legal Documents tool, which enables you to create your own legal documents, such as:
Child Care Authorization Form

Prenuptial Agreement

Parenting Plan (Child Custody Agreement)

Independent Contractor Agreement

Lease Agreement

Intent To Purchase Real Estate

Bill of Sale

Quitclaim Deed

Estoppel Certificate

LLC Operating Agreement

General Business Contract

Non-Compete Agreement

Non-Disclosure Agreement

General Affidavit

Promissory Note
What To Expect From a Notary in Williamsport, PA
The Revised Uniform Law on Notarial Acts (RULONA) authorizes notaries public in Pennsylvania to perform the following notarial acts:
Taking

acknowledgments

Witnessing signatures

Certifying

copies

or depositions

Administering oaths and affirmations

Protesting notes of negotiable instruments

Taking verifications on oaths or affirmations (including

affidavits

)
Regardless of the method, during notarization, the notary will:
Confirm your identity by checking your ID (or another government-issued identification document) or by consulting a credible witness

Ensure you are not under coercion

Determine whether you are sane and sober

Witness the signing of the document

Create a notarial certificate, which includes:

Date of the notarization

Place of the notarization

Name of the signer

Notary's stamp
Different Ways of Finding a Notary in Williamsport, PA
If you opt for in-person notarization, you can find a notary:
How To Find a Notary Online
Besides checking out the first-page results on Google, you can try your luck on some of the more notary-specific websites, such as:
Which Public Places in Williamsport, PA, Offer Notary Services?
Finding a notary this way requires more time and labor. We recommend starting with the following places:
What Are the Fees for Notarial Acts in Pennsylvania?
Notary fees in Pennsylvania are set by the Department of State. These fees are definitive, meaning that no notary public can charge more than the state-defined maximum for a notarial act, which you can see in the following table:
Notarial Act

Fee

Taking acknowledgments

Administering oaths and affirmations—per individual taking of an oath or affirmation

Taking verification on oath and affirmation—regardless of the number of signatures

Witnessing or attesting a signature—per signature

Certifying or attesting a copy or deposition—per certified copy

$5

Noting a protest of a negotiable instrument—per page

$3

Taking acknowledgment—each additional name

$2
Keep Your Data Safe With DoNotPay
Do you love free trials but are reluctant to disclose your credit card details, phone number, or email address?
Our app lets you try out different subscriptions in a risk-free way!
Use DoNotPay's Burner Phone feature to sign up for services without providing your phone number! We'll make sure robocall scammers and text spammers cannot harass you!
With our virtual credit card, you can sign up for any free trial and not worry about canceling it! Since the card is not linked to your bank account, no one will be able to charge you once the trial expires. An additional perk is that the card comes with a free email address, which means no spam emails from the company.
DoNotPay Helps You Fight for Your Consumer Rights
Did you know that companies often reject first-time warranty claims?
You're probably familiar with how complicated the process of appealing parking tickets is. Trying to get a refund for an unsatisfactory purchase or a delayed flight has likely made you mad at least once.
Not anymore! DoNotPay makes all these issues go away in less than five minutes, and that is not all we can do for you!
You don't have to deal with customer service reps of any company on your own anymore—we do it all for you!
DoNotPay bypasses any bureaucratic obstacle for you—scheduling DMV appointments, delaying bill payments, getting in touch with your incarcerated loved ones, filing lawsuits in small claims courts, and claiming insurance policies.