Book an Appointment With a Notary in Tucson in No Time
Getting documents notarized can be challenging for people who do not do it often. You may be unsure about what notary services you need.
You should not fret—DoNotPay provides information if you are looking for a notary in Tucson.
We can help you get your documents notarized in a few clicks regardless of whether you are from Arizona or some other U.S. state.
What Notary Services Can a Notary in Tucson Perform?
You can pick from a variety of notary services available in Tucson. Depending on your needs and preferences, you can select one of the following:
Notarization

Explanation

Regular (paper) notarization

You can book an appointment with a notary public and get your documents notarized in his or her office

Electronic notarization

Electronic notarization includes all elements of a regular notarization except that during electronic notarization documents are:

Notarized in electronic form

Signed with an electronic signature

Mobile notarization

A notary in Tucson can also come to you if they provide mobile notarization services. Mobile notaries can charge higher fees since they need to cover their travel expenses. They will also charge an emergency fee in case you need their signature urgently

Online (remote) notarization

You can have your documents notarized through an audio-visual call instead of physically visiting a notary's office
Use DoNotPay's Safe and Convenient Remote Notarization Services
DoNotPay provides a fast and efficient remote or online notary service. You can save your time and money on driving and parking and go through the whole process from the convenience of your office, home, or any other place.
To get your documents notarized, and:
Select the

Notarize Any Document

feature

Upload the document(s) you would like to notarize

Provide your email address
That's it! The only thing left for you now is to head to your email and click on the link we sent you. The link will direct you to a notary's schedule, where you can set up an online appointment.
Not only can we help get your documents notarized remotely in Tucson, Arizona, but we can also provide the same service in other U.S. states, including:
What Notarial Acts Is a Notary in Tucson Authorized To Perform?
A Tucson notary can perform the following notarial acts:
Executing jurats

Taking

affidavits

Making copy certifications

Performing acknowledgments

Administering oaths and affirmations
A notary from Tucson can do a remote notary service for a person from another country as long as the notary is located within the state of Arizona (e.g., if on vacation in another state, an Arizona notary cannot perform a notary service).
One of the ways you can search for a notary is by using the Arizona Secretary of State search tool.
Tucson Notary's Fees
The Arizona Secretary of State sets the fees that notaries public charge for their notary services. To get a better understanding of the various notary costs, here is a list of maximum fees a notary may charge you in Arizona:
Jurats

—not more than $10 per

notary signature

A copy certification

—up to $10 per certified page

Oaths or affirmation

—maximum $10 per notarial act

Acknowledgments

—not more than $10 per notary signature
A notary in Tucson or anywhere in Arizona can charge you no fee or one that is lower than the above-listed state-set maximum one.
What Does a Mobile Notary in Tucson Charge?
How much a mobile notary in Tucson will charge you depends on the distance and time. You can expect a travel fee of $60–$80. Notarization fees should be the same as when visiting a notary's office.
What To Prepare for a Notary Public in Tucson, AZ
Once you have found a notary, you need to do the following:
Prepare and complete all the documents you want to get notarized

Take a valid photo ID, such as your driver's license, military ID, or passport

Make sure the witnesses (if required) bring their photo IDs

Pay the agreed notary fees and bring proof of payment

Show up at the arranged time and place
You should not expect a notary public to clarify or provide any help with the preparation or interpretation of any documents. If you need assistance with creating a contract or other legal documents, consider:
Consulting a lawyer

Using DoNotPay's

Standardized Legal Documents

feature
DoNotPay Provides Help With the Preparation of Documents
Do you need to prepare an agreement for an upcoming project? DoNotPay can help you create contracts and documents to meet your personal or business needs without visiting expensive lawyers.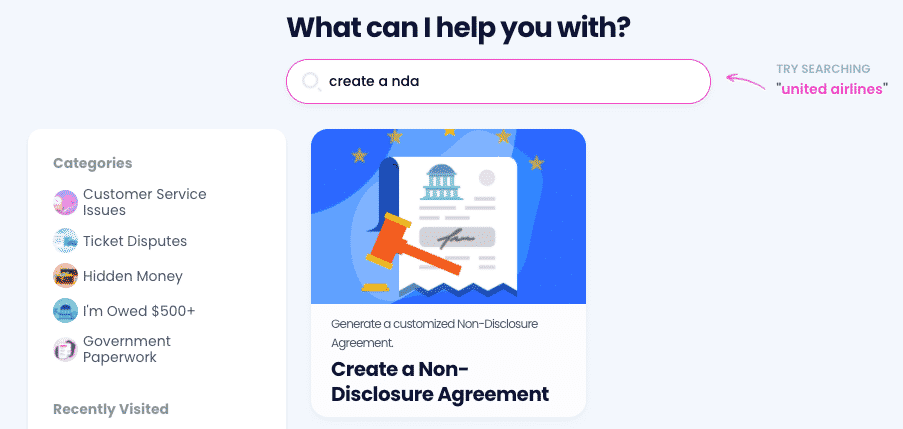 Our Standardized Legal Documents feature is integrated with the Notarize Any Document product, so you can first prepare a document and then get it notarized in a few clicks!
Here are some documents we can generate for you:
Documents
Steps To Take To Receive a Document

Lease agreement

Quitclaim deed

Non-disclosure agreement

Independent contractor agreement

Bill of sale

General business contract

Intent to purchase real estate

Non-compete agreement

Estoppel certificate

LLC operating document

Promissory note

Prenuptial agreement

Type in the name of the document you want to prepare

Provide answers to some simple questions

Receive the contract tailored to your specific requirements
How Else Can DoNotPay Help You Find and Save Cash?
Our Missing Money feature helps you find any unclaimed assets in your name in any state. An additional perk is that you can claim your money right in the app—no need for further research!
We can also make sure you don't pay for any unfair parking citations and get the rightful compensation from airlines for any canceled or delayed flight.
Don't let big companies scare you into not claiming your warranties or insurance. DoNotPay helps you file these claims and appeal any rejections in minutes, which brings you closer to getting your money.
We can also delay your bill payments, get your college fees waived, or sign you up for paid clinical trials to earn some extra cash!
DoNotPay Keeps the Spammers Away
Whether you're dealing with email spam, text scammers, robocalls, or severe harassment, DoNotPay can help.
Use our virtual credit card or the Burner Phone feature to sign up for free trials safely—without revealing your real info. DoNotPay will make sure that no company can reach you when you use our tools.
We provide a fake email address, credit card info, and phone number that are in no way connected to your real data.
We can also help you cancel services or request a refund without you having to contact the company directly.