Find a Notary Public in NH, and Get Your Documents Notarized in Five Minutes!
Document notarization is necessary for many situations, but it can be stressful and time-consuming to get it done in person. We're here to show you an easier method that will allow you to schedule a meeting with an online notary public in NH and be done with it in five minutes.
, and learn how to get a document notarized and get a notary signature within minutes. We will direct you to an online notary who offers remote notary services no matter the state you live in.
Notarization in New Hampshire Explained
Notarization sounds complicated, and it often is, so getting informed about the basics in your state can't do any harm.
The main job of a notary public is to prevent forgery and fraud. A notary public is appointed by the government after fulfilling all the requirements of their application:
New Hampshire notaries public must be NH residents

They have to be 18 or older

They have to sign a statement under oath that they were never convicted

A registered voter of NH and two notaries public have to endorse the application for appointment

The applicant has to complete a criminal record release authorization form
After becoming a notary public, a person can provide notarial services, which are mainly:
Confirming signers' identities

Witnessing the signing of documents

Administering oaths or affirmations

Making attested document copies
How To Find Notary Services in New Hampshire
Using the services of an in-person notary is still the only method of notarization most people are aware of, but it is outdated, complicated, and time-consuming. First, you need to find a notary public, gather all the documents in paper form, and then visit them in person. Scouring these websites may help you locate a notary in NH:
Remember that you can also get notary services in various public and business institutions, such as:
Public libraries

Police departments
Online Notarization in New Hampshire
Remote online notarization in New Hampshire was legalized on March 23, 2020, by Emergency Order #11, signed by Governor Sununu. Documents signed before this date cannot be notarized remotely.
The only requirement for remote notarization is the existence of a stable internet connection with video and audio transmission between the notary and the user of their services. It is also recommended that the notary public records the procedure and saves it as proof.
After the signing, the signer should send the document to the notary, who then adds their signature and seal.
Electronic Notarization in New Hampshire
An electronic notary process is not to be mistaken for remote notarization. "Electronic" refers to the form of the document, and electronic notaries provide services in the physical presence of the client, not remotely. The notary signs the document in digital form, e.g., a PDF or Word document.
Mobile Notarization in New Hampshire
A mobile notary is the next best thing if you can't use a remote online notary service. Mobile notaries are authorized to travel and notarize documents at any location, e.g., at your house or office. They charge differently than in-person notaries because they are free to add their mileage fee to the total.
Acquiring the services of a mobile notary public during COVID is not the best idea due to the health risks, so take the necessary precautions if you opt for this method of notarization.
How Much Does Document Notarization Cost in New Hampshire?
New Hampshire notarization fees are on the higher end compared to some other states. The notary signature on the most common documents, such as acknowledgments and jurats, will cost you $10 in NH.
For comparison, New York notaries can charge only $2 for the same service. If you count in additional costs of notarization, like extra signatures or the travel fees of a mobile notary, expect to pay $50 or so per notarization.
Use DoNotPay for a Five-Minute Document Notarization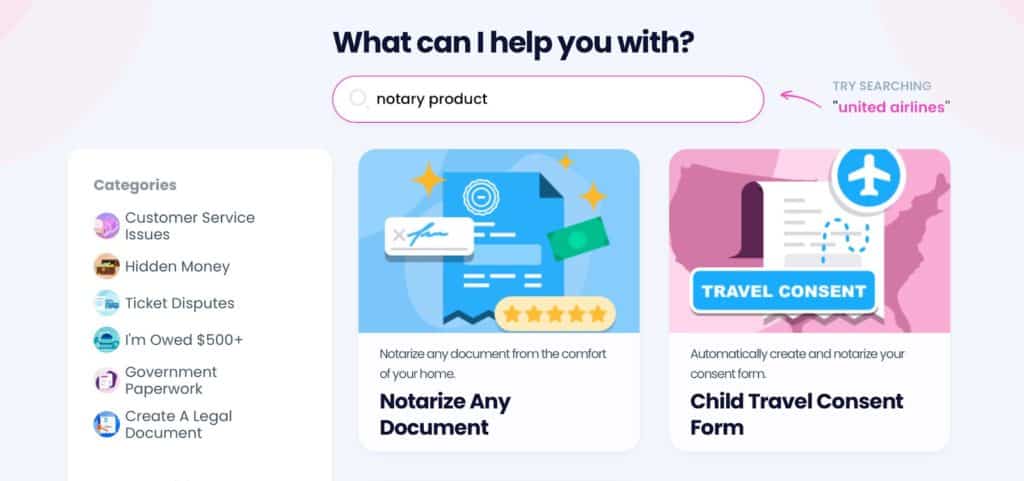 Getting a document notarized with DoNotPay only takes five minutes or less. After you , you'll be able to use many of our useful products, including the one for remote notarization. Here's how it works:
Click on the

Notarize Any Document

product

Attach the documents you need notarized

Enter your email address
You'll quickly receive a link with our notary timetable. Follow it and schedule an appointment with a notary in a minute. The best part is that our notary service is available 24/7, every day of the year.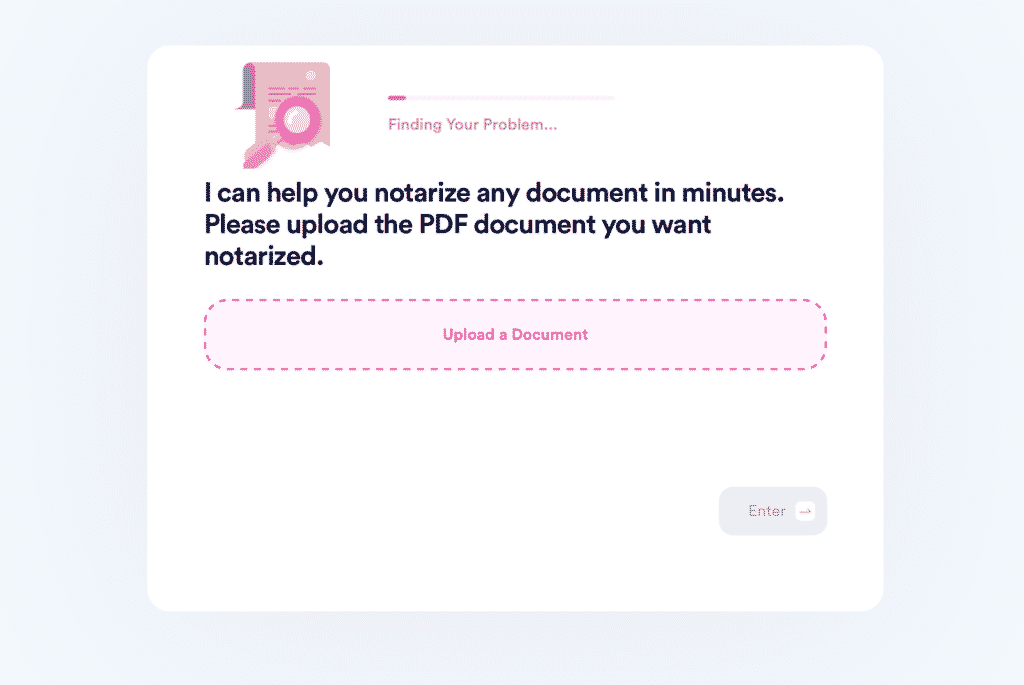 Create a Legal Doc and Get It Notarized All in One!
Getting any document notarized with DoNotPay is a cakewalk—whether it is an affidavit, a will, or a contract—but did you know that DoNotPay can help you draft legal documents as well? Here are some examples:
| | |
| --- | --- |
| Business Documents | Other Documents |
| Bill of Sale | Estoppel Certificate |
| Independent Contractor Agreement | Residential Lease Agreement |
| LLC Operating Rules Document | Quitclaim Deed |
| Non-Disclosure Agreement | Parenting Plan |
| Non-Compete Agreement | Promissory Note |
| General Business Contract | Prenuptial Agreement |
DoNotPay Has the Most Convenient Solution to Most of Your Problems
Whether you want to cancel subscriptions, request refunds for services, purchased items, or late delivery, or enjoy free trials without being charged, DoNotPay has a product for you.
We strive to help you users solve their issues as quickly and effortlessly as possible. With us, you can enter various raffles and sweepstakes, claim warranties or insurance, report copyright infringement, and reduce your property taxes in less than five minutes.
Protect Your Privacy With DoNotPay
Protecting your privacy can be challenging nowadays since most platforms require your phone number and email address upon registration. DoNotPay is here to ensure your personal info stays as secure as possible. Choose our Burner Phone product to register for services without phone verification or our virtual credit card if you want to use a randomly generated email address and payment details.
By using a fake phone number and email address, you can also avoid receiving annoying spam emails, text messages, and shady robocalls. DoNotPay can even make correspondence with inmates safer. If you don't feel comfortable sharing your address with an inmate, DoNotPay can receive the letters for you, scan them, and forward them to you risk-free.