Have Documents Notarized Without Going to a Notary Public in McAllen, TX
Many people find getting documents notarized tiring and annoying. Choosing a notary public, setting up a meeting, and going to the notary's office takes too much time and energy. Notarization doesn't have to be such a hassle if you opt for the right notary service, such as an online notary.
If you want to learn how to get documents notarized without visiting a notary's office, to set up a virtual meeting with a notary public in McAllen, TX.
What Tasks Does a Notary Public in McAllen, TX, Perform?
A notary in McAllen, Texas, is a public official that witnesses the signing of a document and verifies the signer's identity, but that is not their only role. Notaries in Texas perform numerous notarial acts and have other responsibilities, which you can see in the following table:
What Notarial Acts Does a Notary Public in Texas Perform?
What Must a Notary Public Do During Notarization?

Administering oaths

Taking depositions and

acknowledgments

Protesting instruments—that the law permits to be protested

Verifying

copies

—that are not recordable in the public record

Verify the identity of the signer

Make sure that the signer knows what they are signing

Check for the signs of coercion

Ensure that the signer is not under the influence and mentally unstable

Create a notarial statement, including the notary's seal and

notary's signature
What Does the Traditional Notarization Entail?
When you have to get a document notarized—be it a will, car title, or affidavit—the first solution that probably pops to your mind is the standard in-person notarization. You might want to consider other options since the traditional notarization process can get quite inconvenient. Here's what you have to do to get paperwork notarized the standard way:
Find a notary in your neighborhood

Set up a meeting

Prepare the documents

Bring an ID, passport, or driver's license

Go to the notary's office

Wait for the notary to carry out notarial acts

Pay the notary fees set by the state

Wait for the notary to make a notarial statement or certificate
How Else Can I Get Documents Notarized in McAllen, Texas?
Did you know that you can get a notary to come to your home? Every notary public in Texas is allowed to carry out mobile notarization, which means that you can schedule an appointment at your home or other location you prefer.
If the document you have to get notarized is in electronic form, seek an electronic notary service. Texas notaries perform eNotarization by using electronic stamps and signatures, but you still have to go to their office.
If you're wondering what the best notary service is, we are here to provide some answers!
Online Notaries Explained
Online notarization is by far the most convenient way of having documents notarized. Not all states allow online notarization, but fortunately for you, Texas does!
Remote online notarization (RON) enables you to find a notary public, make an appointment, and get the document notarized from your home. Remote notaries use government-approved audio-video platforms to virtually meet with the signers and perform notarial acts.
Finding the right online notary can be a challenge, especially if you don't want to pay the earth for a single notarization. If you choose DoNotPay, you won't have to spend time on the research and worry about finding reliable notaries—we'll handle everything for you!
Use DoNotPay To Schedule a Meeting With a Notary Public in McAllen, TX
DoNotPay created a practical online notary service that helps the signers find and make virtual appointments with notaries across the U.S. Our Notarize Any Document tool is easy to use and budget-friendly!
To make an appointment effortlessly, you should follow these steps:
Select the

Notarize Any Document

product and upload your document

Add your email address

Wait for the email we'll send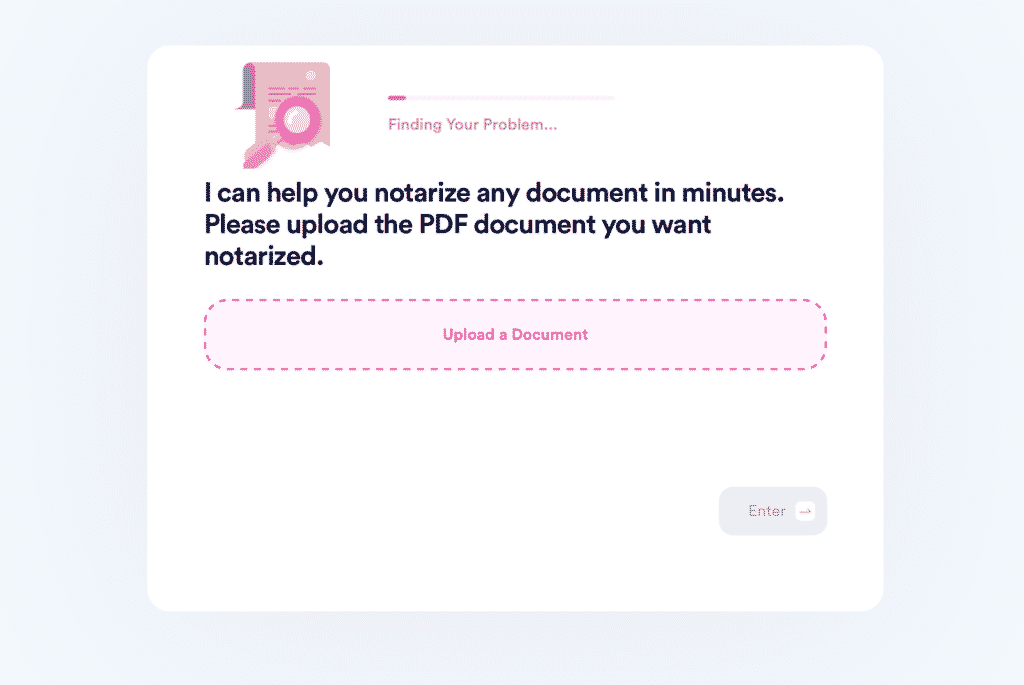 Once you receive the email, you should click on the link to confirm your virtual appointment with a notary public.
Do you need help with other paperwork-related issues? DoNotPay is at your service! We can help you avoid the hassle with administration in several ways. You don't need to pay attorneys when you can create numerous legal documents with our Standardized Legal Documents tool. Besides drawing up legal documents, we can help you send them to your business partners or the notary using our Online Fax product.
Where To Look for a Notary Public in Texas on Your Own
Besides browsing Google for notaries in your area, you can try looking for a notary public on one of these websites:
Another option is to visit these public places, as they often offer notary services:
Public libraries

Police departments

Courthouses

Insurance agencies

Real estate agencies

City and county clerk offices
DoNotPay Helps You Fight for Your Consumer Rights
Did you know that companies often reject first-time warranty claims?
You're probably familiar with how complicated the process of appealing parking tickets is. Trying to get a refund for an unsatisfactory purchase or a delayed flight has likely made you mad at least once.
Not anymore! DoNotPay makes all these issues go away in less than five minutes, and that is not all we can do for you!
You don't have to deal with customer service reps of any company on your own anymore—we do it all for you!
DoNotPay bypasses any bureaucratic obstacle for you—scheduling DMV appointments, delaying bill payments, getting in touch with your incarcerated loved ones, filing lawsuits in small claims courts, and claiming insurance policies.
Keep Your Data Safe With DoNotPay
Do you love free trials but are reluctant to disclose your credit card details, phone number, or email address?
Our app lets you try out different subscriptions in a risk-free way!
Use DoNotPay's Burner Phone feature to sign up for services without providing your phone number! We'll make sure robocall scammers and text spammers cannot harass you!
With our virtual credit card, you can sign up for any free trial and not worry about canceling it! Since the card is not linked to your bank account, no one will be able to charge you once the trial expires. An additional perk is that the card comes with a free email address, which means no spam emails from the company.