The Most Convenient Way of Finding a Notary Public in Harlingen, TX
You can go on a search for a notary public in Harlingen, TX, on your own if you don't appreciate your time and energy. In case you want to get your legal document notarized fast and easily, you should use DoNotPay. Our app can help you find an online notary in a matter of minutes!
Ways To Get Legal Documents Notarized in Harlingen, TX
If you are looking to get a document notarized in Harlingen, TX, you have a few options at hand:
Visiting a notary's office in your vicinity

Making an appointment with a

mobile notary

Using online

notary services
Standard Notarization in Harlingen, TX
The traditional way of getting documents notarized requires you to go to a notary's office. You can usually find notaries in banks, insurance agencies, money transfer stores, etc.
Standard in-person notarization is not the best choice because of many inconveniences you'll stumble upon trying to get the notary's signature—for example, you need to spend money on gas or expose yourself to the risk of catching COVID-19.
Mobile Notarization in Harlingen, TX
Mobile notaries notarize documents by coming to the signer's house or office. If needed, they can also visit jails or hospitals. It is a more convenient option than traditional notarization, but it comes with an issue of its own. Mobile notary services are expensive because the signer needs to cover the notary's travel costs. You might need to set aside up to $50 for these services.
Online Notarization in Harlingen, TX
Texas is one of the 28 states that allow permanent online notarization.
Online notaries notarize legal documents during a virtual meeting. This means that the signer can be in any city in Texas or even another state while the notarization process takes place. An online notary can perform all the notarial acts as other types of notaries.
They will ask for proof of identification and several questions to ensure the signer is who they claim to be.
Remote Online Notarization Perks
Online notarization is the best choice for getting documents notarized for multiple reasons. Here are some of them:
You can stay in your house to handle the notarization process

You don't need to worry about travel costs (neither yours nor the notary's)

It is much easier to find a time and date for your appointment

The notary will use an encrypted digital signing certificate, which makes it easy to detect fraud

You will comply with social distancing recommendations and keep yourself and others safe from catching COVID-19

The notary needs to record the notarization process, which adds to the safety of the procedure
To enjoy all of these benefits of online notarization, you only need to find an online notary. The easiest way to do so is by using DoNotPay!
DoNotPay Is the Easiest Way To Get Documents Notarized
Need a reliable notary during a weekend or a holiday? We got you! DoNotPay can set up a meeting for you at any time of the day, 365 days a year. If you want to handle the notarization process effortlessly, you only need to complete these simple steps:
in any web browser

Locate and choose the

Notarize Any Document

product

Upload the document that you want to get notarized

Type in your email address in the provided text box
Once you're done with the questionnaire, you will receive an email with a link to confirm your notary appointment!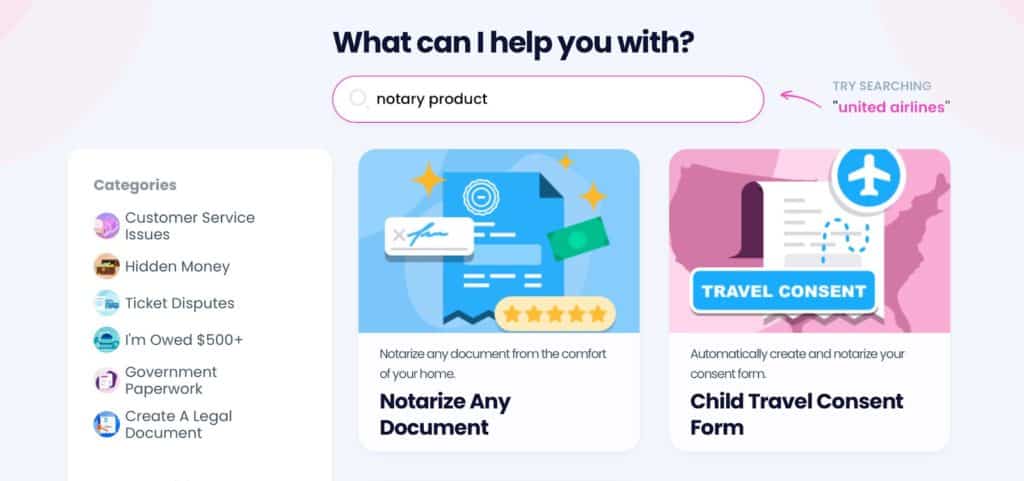 Prior to getting a will, affidavit, or a business contract notarized, you need to create that document. Don't worry if you don't want to risk going through the process on your own—DoNotPay can help you with this task as well!
Draw Up a Legal Document With DoNotPay in a Matter of Minutes
If you want an airtight legal document that will ensure the safety of your interests, you should to create one. The database of the documents you can create with our help keeps on growing. These are the currently available choices:
Business Agreements
Real Estate
Other

Bill of Sale

Non-Disclosure Agreement

General Business Contract

Non-Compete Agreement

LLC Operating Agreement

Independent Contractor Agreement

Quitclaim Deed

Residential Lease Agreement

Intent To Purchase Real Estate

Estoppel Certificate

General Affidavit

Parenting Plan (Child Custody Agreement)

Promissory Note

Prenuptial Agreement
Other Notarization Questions You Might Have
In case you have any other dilemmas when it comes to the notarization process, you are welcome to read through our guides and inform yourself:
Say Goodbye to Administrative Issues—Rely on DoNotPay
Are annoying procedures—such as canceling memberships, disputing parking tickets, filing warranty and insurance claims, requesting refunds for purchased products or services—giving you headaches? Do you dread calling an airline's customer support to request a refund and compensation for a canceled flight? You're not alone! The good news is—DoNotPay can help you solve these issues stress-free!
You can use our app to prepare for your driving test or other government exams and schedule an appointment with the DMV in minutes.
Are you wondering whether you're paying too much for your property taxes? Make sure to try out our Property Tax feature and learn about the best way to reduce your property tax bill.
Annoyed by Spammers? DoNotPay Can Help!
With DoNotPay, you can get rid of spam emails and text messages and report robocalls in one fell swoop. Our Burner Phone feature will generate a fake phone number that you can provide upon registration for any service!
Besides helping you enjoy free trials without the risk of being charged, DoNotPay's virtual credit card has another advantage. It will provide a random email address you should use when signing up for a free trial. That way, you'll avoid pesky marketing emails and email notifications.