If You Need a Notary in Oceanside, Use DoNotPay!
Don't be fooled—getting documents notarized remotely is possible in California. The catch is that you need the services of an out-of-state notary. Luckily for you, DoNotPay is the best platform for remote notarization you can find. , and you won't have to visit a notary in Oceanside ever again!
That's not the only thing we can do for you. We can also teach you how to get a document notarized, point you to an online notary providing service on weekends, and get you a notary signature and stamp in a flash.
Types of Notarization in California Explained
Currently, 28 states allow remote notarization permanently, but sadly, California is not among them. That means that notaries public operating from within the state can't provide online services to their clients. Bear in mind that out-of-state notarization is legal across the U.S., which means that you can use online notarization even in California. Every type of notarization is available to you in Oceanside.
Online Notarization in Oceanside
Remote online notarization (RON) is the most efficient and safe method of notarization due to the ongoing COVID pandemic. Visiting a notary public in person is outdated anyway, even without the unnecessary risk to your health.
RON is simple:
You schedule an online meeting with a notary public

They witness the signing of a document using an audio-visual conference platform

They add a stamp and signature to your document digitally
Electronic Notarization in Oceanside
You should know the difference between a remote online notary and an e-notary. Electronic notarization only refers to notarizing documents in digital format and getting digital notary signatures and stamps on them. An eNotary is a regular notary public, but they have the authorization to verify a client's digital signature if the client brings digital docs with them instead of physical ones. The meeting still must happen in person.
Mobile Notarization in Oceanside
A mobile notary in Oceanside provides California notary services on demand, door to door. They save you a lot of time on waiting in lines, but there's a catch. Most of the time, mobile notaries are expensive.
They add travel expenses to their notary fees. Their travel fees depend on the distance and can get unreasonably high.
Notary Signing Agent in Oceanside
A notary signing agent is not so different from your regular notary public. They have the authorization to notarize and handle loan documents. That's why they are usually hired by banks and other financial institutions that lend money. The duties of notary signing agents include:
Meeting the signers

Printing loan documents

Instructing the borrowers

Notarizing the signatures

Returning the notarized documents to the bank for processing

Closing loan deals
Find In-Person Notary Services in Oceanside
Even though in-person notarization is not recommended due to COVID-19, you can still get it done. Many financial and public service establishments offer notary services. Most of the time, the notary services are reserved for the clients of the establishment.
You can find notaries public in:
Courts

Libraries

Police departments
If you'd rather look for in-person notarization online, here are some helpful websites to get you started:
Let DoNotPay Help You With Document Notarization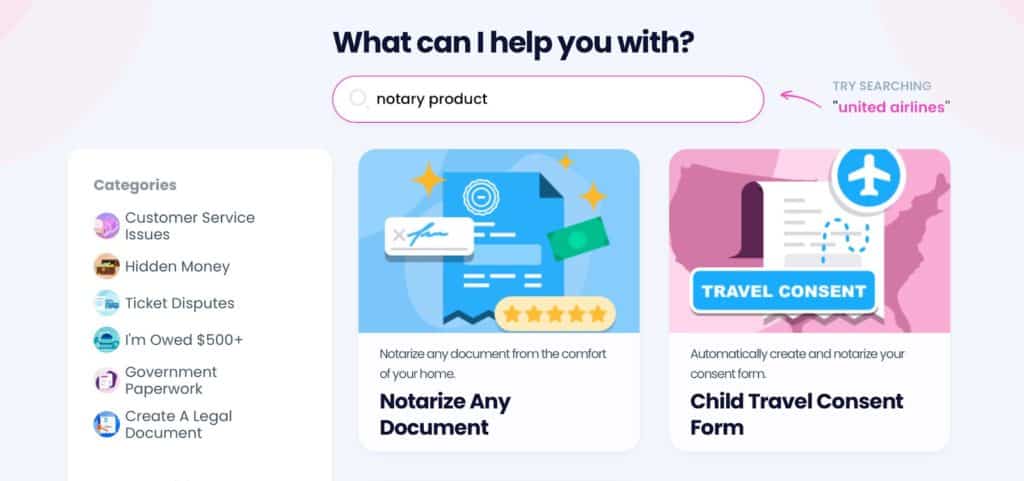 Do you wish to find a notary public from the comfort of your home? DoNotPay can help you do that within minutes. It only takes three steps, like this:
and use the

Notarize Any Document

feature

Upload the documents you need to get notarized

Enter your email address where we can reach you
Our bot will message you quickly, sending you a link to schedule a meeting with our notaries online. Pick a time that suits you, and get that document notarized hassle-free. It's worth mentioning that our notaries are available 24/7, even during the weekends.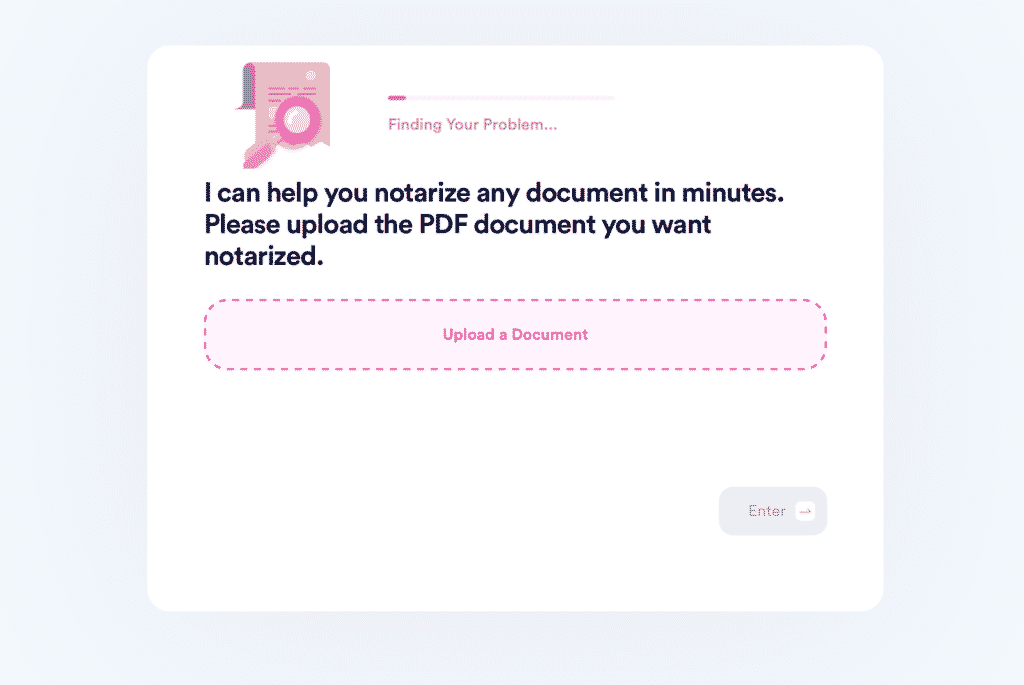 Is Document Notarization Expensive in Oceanside?
Big time! California is among the most expensive states in terms of notarization cost. Here's a table with individual notarial act costs (per signature) in Oceanside:
| | |
| --- | --- |
| Notarial Act | Notary Cost |
| Notary journal line item | $0.30 |
| Jurat | $15 |
| Power of attorney certificate | $15 |
| Acknowledgment | $15 |
| Deposition | $30 |
If you're lucky, your notary won't charge the maximum fee for their services. They can't go over the values stated in the table, and they can even lose their license if someone reports them for overcharging.
Create a Legal Doc and Get It Notarized ASAP!
DoNotPay can assist with much more than notarization. We can also help you draft many documents, such as:
Residential Lease Agreement

Bill of Sale

Non-Compete Agreement

Non-Disclosure Agreement

Child Custody

Independent Contractor Agreement
Once you draft the needed document with our app, you can notarize it in a jiffy, all in one place, without waiting or paying absurd mobile notary fees.
DoNotPay Can Help You Solve Pesky Issues Stress-Free
Dealing with everyday issues can become overwhelming, especially if they include bureaucracy. DoNotPay can help you handle numerous problems in a few minutes. With us, you can schedule your DMV appointments, get documents notarized remotely, and create various legal documents—including child travel consent statements and demand letters for neighbor complaints—in a snap.
Do you need help paying your bills, disputing parking tickets, or getting cash back for your gift cards? Once you register for DoNotPay, you'll be able to manage all of these and many more issues in no time.
What Else Can You Use Our App For?
Besides helping you handle tedious administrative hurdles, DoNotPay can do much more for you! You can use DoNotPay to:
With us, you can send online faxes or mail letters from the comfort of your home. Do you have friends or family members who are serving time? We can help you connect with inmates in a flash by enabling you to locate them and send them letters.