There's No Need To Look for a Notary in Mesa, AZ
Gone are the days when we had to wait in lines and handle all of our bureaucratic tasks in person. Nowadays, you don't need to go to a notary in Mesa, AZ, to get a document notarized. If you , you'll be able to find an online notary the easiest way!
How Does Remote Notarization Work in Mesa, AZ?
Remote online notarization (RON) is the best option to get your documents notarized, especially in times of a global pandemic. Arizona is one of the states that allow permanent remote notarization. Here is how the process works:
You get in touch with an online notary or a RON service provider

You upload your document onto the RON platform

The notary verifies your identity according to the requirements set in Arizona Administrative Rules

You and the notary communicate via allowed audio-visual technology

You and the notary sign the documents electronically

The notary affixes an electronic seal

The notary makes an electronic journal entry and records the notarization
Notaries in Arizona are allowed to perform remote notarization for individuals who are located outside of the state, as long as the notary is physically in the Copper State.
Other Notarization Types Available in Mesa, AZ
If you live in Arizona, you can choose between three other types of notarization:
Why Is RON the Best Way To Get Documents Notarized?
There are many reasons why RON reigns supreme over other notarization types. If you choose to get an online notary's signature, you will:
Avoid crowds and human contact that exposes you to the risk of catching a deadly virus

Save time on traveling to the notary's office

Save money on mobile notary's travel expenses and after-hour fees

Get the notarization from the comfort of your home
DoNotPay Can Help You Find an Online Notary in a Flash
The search for online notaries can be a time-consuming task if you are handling it by yourself. When you use DoNotPay instead, you'll be done with the notarization process in the blink of an eye. To get to use this neat feature, you only need to follow these four simple steps:
in a web browser you normally use

Choose the

Notarize Any Document

product

Attach the document that you need a notary's signature for

Type in your email address in the provided text box
DoNotPay collaborates with notaries who are at your service 24/7, every day of the year. This is especially great if you are in a hurry during holidays or weekends!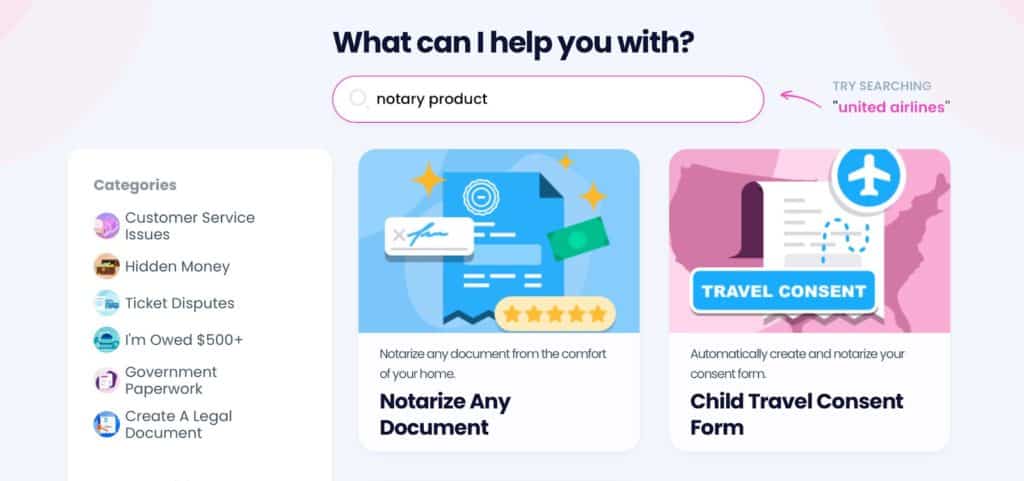 What Do You Need for Remote Online Notarization?
Another great part of getting documents notarized online is that the requirements for the process are easily attainable. Here is what you'll need:
A computer—You should use one that works properly and has a web camera

Stable internet connection—It should allow the meeting to run without any interruptions

A room with good lighting—You can use any room in your house as long as the notary can see you properly and no one distracts you

A document you need to get notarized—It should be in electronic format

Proof of identification—You should show your ID or another document with your photo to the notary
If the notarization of your document requires another witness, that individual should be in the same room as you during the virtual meeting with a notary.
How Do Online Notaries Ensure the Safety of the Process?
Online notaries must make sure all parts of the notarization process are done in accordance with the rules and regulations set by the government. These requirements involve:
Notifying the responsible authorities prior to performing online notarization

Using only the permitted audio-visual technology

Checking the signer's identity by asking for ID proof and posing several questions

Recording the entire meeting

Saving the recording for at least five years

Ensuring the signer is of sound mind

Making sure the signer is signing the document of their own free will
How Much Can Arizona Notaries Charge for Notary Services?
Arizona notaries must charge the same amount for traditional, electronic, and remote notary services. The maximum charge per notarial act is $10. These notarial acts include:
Jurats

Oaths and affirmations

Acknowledgments

Copy certifications
What Documents Should You Get Notarized?
Getting documents notarized is sometimes a crucial step in making sure your interests are protected. For certain documents, this action may not be necessary. Here is a table that can help you with any dilemmas you might have:
Documents That Require a Notary's Signature
Documents That Might Need To Get Notarized

Trusts

Consent forms

Real estate deeds

Loan documents

Business contracts

Employment contracts
Use DoNotPay's Features to Your Advantage!
DoNotPay offers a myriad of helpful services you can use to resolve your everyday hurdles.
Do you need help paying bills or finding and claiming missing money? Are you interested in applying for clinical trials in your area? We can help you solve these and many more issues in no time!
Here are some other problems you can handle effortlessly with our help:
Hiring a Lawyer Can Cost a Small Fortune—Rely on DoNotPay Instead
If you're on a tight budget and can't pay a lawyer to help you create legal documents, file a claim in small claims court, or handle stalking and harassment, DoNotPay has a solution for you.
Our app will help you create various documents, including child travel consent forms and complaint letters for a problematic neighbor.
Are you a victim of a crime and need help applying for reimbursement of your crime-related expenses? You can sign up for DoNotPay and allow us to handle your crime victims compensation on your behalf.
DoNotPay can also connect you with an online notary and enable you to get your documents notarized from the comfort of your home.