Get Your Documents Notarized Effortlessly With a Notary in Lake Charles
Some documents have to get notarized to be valid. If you want to get a legal document notarized in Lake Charles, you have many viable options.
DoNotPay will answer all your questions about getting a notary in Lake Charles and help you get your documents notarized the easy way!
What Can I Expect From a
Notary Public in Lake Charles, LA?
A notary is a public official whose job is to verify signatures on legal documents. To ensure that everything is in order, a notary public in Lake Charles has to follow a specific procedure when notarizing a legal document, including:
Confirming the signers' identity

—An individual must provide a valid government-issued ID or have two credible witnesses swear and confirm his or her identity

Witnessing the signing

—The document has to be signed in front of the notary

Determining the signers' state of mind

—The signers have to prove that they are aware of the document's content and that they are signing it of their own free will

Providing a signature and stamp

—A

Louisiana notary

is not required to put a seal on the document but can do so for convenience
If a notary suspects that any foul play is taking place, they will refuse to notarize the document.
What Is a Notary in Lake Charles Authorized To Do?
A notary in Louisiana is authorized to perform the following notarial acts:
Certify

copies

Notarize

wills

Make protests, conveyances, and matrimonial contracts

Take

acknowledgments

Administer oaths and affirmations

Hold family and creditor meetings

Make partitions, inventories, and appraisements

Create

affidavits

and corrections

Affix and raise the seals upon the effect of the succession of a deceased individual
Where Can I Find a Notary in Lake Charles?
You don't have to go through the phone book or google local notaries in Lake Charles. Check out convenient ways of finding a notary service in your area:
Methods of Finding a Local Notary
Details
Why It's Convenient

Searching via online databases

Online notary-search databases provide all necessary contact information of notaries public in your vicinity.

You can narrow down your search depending on the type of notary you're looking for. Some databases even show customers' reviews, which can help you make a decision

Visiting a local business

Most businesses on the list have an in-house notary. Banks typically offer free notarial services to their clients.

You only need to call ahead and check if the business in your area has an on-site notary and if they can notarize your specific document
Types of Notarial Services in Lake Charles
You can pick one of three ways to get a document notarized in Lake Charles:
Visiting a local notary's office

Hiring a mobile notary

Using an online notary service
Traditional Way of Notarizing Documents in Lake Charles
If you choose the traditional method, you are required to:
Schedule an appointment with the notary

Prepare your ID and the documents you want to have notarized

Visit him\her at the agreed time

Pay a

fee

Get the notary's signature and stamp
Visiting a notary in person is considered outdated for many reasons. If you opt for this method, you will likely spend a fair amount of time waiting for an appointment. Since notaries public rarely work on weekends, accommodating their schedule can be a challenge.
Hiring a Traveling Notary in Lake Charles
Mobile notaries are typically available 24/7 and will come to you at an agreed time. To obtain the traveling notary's services, you must:
Schedule an appointment

Meet them at your home, office, or any other place that suits you

Sign the document in their presence
While traveling notaries are a convenient method, they are quite pricey. Mobile notaries add their travel expenses to the standard notarization fee.
Notarizing Documents via an Online Notary
Louisiana has enabled permanent online notarization, along with 28 other states. After scheduling an online appointment, you will:
Meet the notary via a video call

Upload your document and e-sign it while the notary witnesses the signing

Get the document back with a digital signature and stamp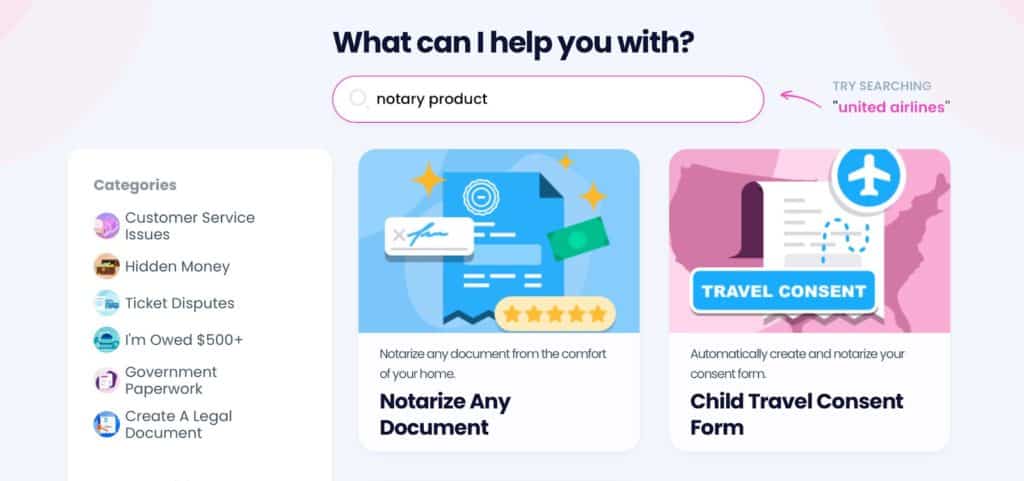 With an online notary, you will get your documents notarized much quicker and without leaving your house—especially convenient during the COVID-19 pandemic.
and have your documents notarized online in double-quick time!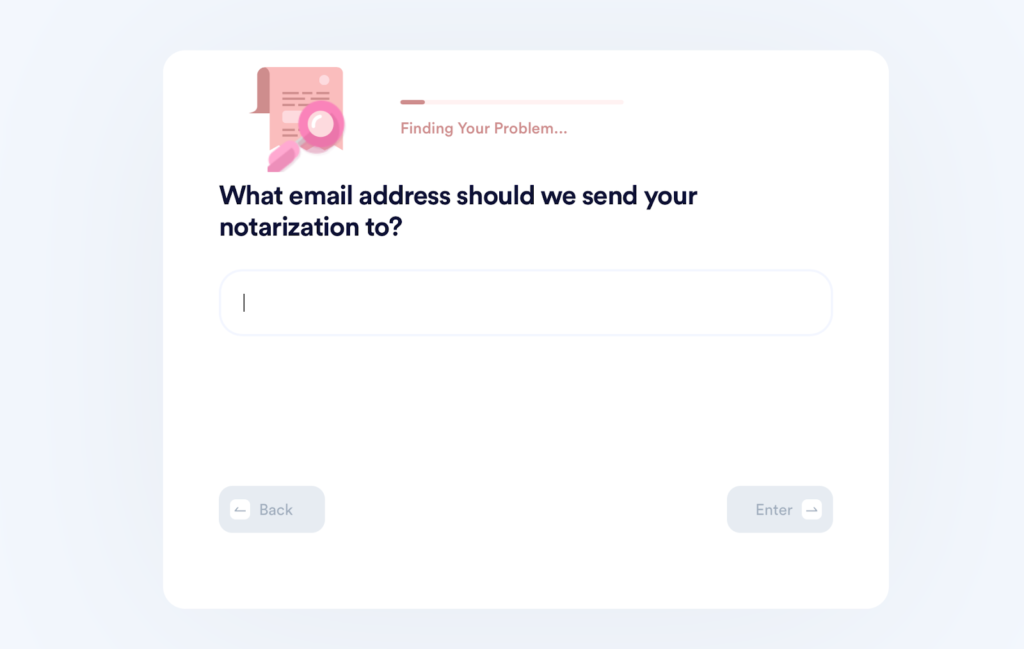 Let DoNotPay Connect You to an Online Notary in Lake Charles
Our app simplifies online notarization even further. We will help you schedule an appointment with the notary in minutes! You only have to and:
Find our

Notarize Any Document

feature

Submit the document you want to have notarized

Type in your email address
We will send you a link via email. By clicking on it, you will be able to schedule an appointment with an online notary in record time.
DoNotPay doesn't stop there! Our app allows you to use other integrating features and save time and money in the process. Access our Standardized Legal Documents tool and Online Fax product to create, notarize, and fax contracts from the same platform!
DoNotPay Keeps Your Privacy Intact
DoNotPay can help you surf the web safely and securely. No need to provide your personal information to every company whose service you'd like to take for a test drive. Our Virtual Credit Card and Burner Phone products shield your data from prying eyes and dishonest merchants.
Feel like subscribing for a free trial? Make it truly free and avoid automatic membership renewals with our card. It can also help identify spammers and potential scammers who send bothersome robocalls and robo texts your way. As soon as they act on the virtual card number, DoNotPay will unmask them and demand compensation!
DoNotPay Can Help You Bring Any Business to Justice
Should a company refuse to grant you a refund or compensation, our app will help you take them to small claims court!
We'll help you cancel the service in question to avoid any future charges, and we'll call their customer service so you can get info on your denied request. We'll draft the relevant court documents for your jurisdiction and give you instructions on filing them.
More Nifty Features That'll Make Your Day
You may not have breach of privacy issues or reasons to bring someone to court, but you surely have ample motivation to save or earn a few dollars here and there—especially if we catch you unawares!
DoNotPay can show you how to reclaim funds that you didn't know were under your name or make a denied warranty appeal to any company. We streamlined the processes of requesting refunds, college fee waivers, airline flight compensation, parking infraction dismissals, as well as applying to clinical trials that pay!