No Need To Look for a Notary in Escondido! Online Notarization Is the Key
The times of going to a notary's office should be left in the past. Technology has improved so much that we can handle bureaucratic tasks from our homes. You don't have to visit a notary in Escondido or any other city in California—DoNotPay can help you get documents notarized the easy way.
Ways of Getting Documents Notarized in Escondido
As a city in California, Escondido falls under the notary laws of the Golden State. The notarization options in Cali are the following:
Standard notarization—You have to visit a notary to get a document notarized

Mobile notarization

—The notary needs to visit you to notarize the document

Out-of-state online notarization—Neither you nor the notary has to leave the house/office
California Rules Regarding Online Notarization
Even though California cannot pride itself on being among the states that permit online notarization, it does leave you a handy option. Citizens of the Golden State can employ out-of-state online notaries. The procedure is as simple as it gets—you need to:
Find a state that allows online notarization

Find an online notary in that state

Schedule an online meeting

Show up for the meeting with the document you want notarized
The notary will make sure that everything is done in accordance with the law and that there is no fraud involved.
The Pros and Cons of Online Notarization
Are you not convinced online notarization is a good enough option for you? Take a look at the table below to see the advantages and disadvantages of getting documents notarized online:
Pros
Cons

Not having to leave your house

Not having to spend money on bus tickets or gas

Avoiding potential traffic jams

Choosing the time and date during the week that suits you

Avoiding the risk of catching COVID-19

Wearing sweats or pajamas during the meeting (save the appropriate clothing for the upper part that's seen on the screen)

Requiring a digital copy of the document that should be notarized

Needing a scanner to scan a document and send it to the notary public

Worrying about privacy issues and online data breach
When you compare the benefits and downsides of online notary services, the answer is clear. All of the cons are easily fixed.
When you have a reliable notary who follows all the notarization rules and regulations, there is no need to stress about personal info being stolen. The official requirements online notaries need to meet make the process even safer than the standard notarization—their work is closely monitored by the state authorities.
You don't have a scanner at home? No need to worry—most modern smartphones can help you with scanning and sharing your documents without any hassle.
What Do You Need for Online Notarization To Run Smoothly in Escondido?
If you opt for out-of-state remote online notarization, you will need a few things to make sure you sail through the procedure. Here's a short list of the requirements:
Good internet connection—Ensures there are no bugs and other technical issues during the meeting

A web camera—It is important so that you and the notary can see and hear each other during the live call and make the notarization valid

The document you want to get notarized—Make sure you have the agreement or the contract ready for the meeting

Your ID or another proof of identification—You need to prove to the notary you are who you claim to be

Visibility—Make sure you have good lighting so that the notary can see you properly
What Are the States That Allow Online Notarization?
So, where can you find online notaries? There are currently 28 states that have realized how important online notarization has become. Many others are joining due to the COVID-19 pandemic.
Some of the states where you can find an online notary in the U.S. include:
Hawaii

Maryland

Michigan

Iowa

Nebraska

North Dakota

Missouri

Kentucky

Ohio

Alaska
Finding an online notary in another state can be challenging. Don't stress because there is a simple solution to this problem—DoNotPay!
Find an Online Notary With DoNotPay in a Matter of Minutes
You don't need to go on a search for online notaries on your own—DoNotPay will gladly help you with the task! Our app can match you with a notary who can help Californians right away. You only have to follow four simple steps:
in any web browser

Find and select the

Notarize Any Document

product

Attach the document you want to get a

notary's signature

on

Type in your email address in the provided text box
The notaries we work with are at your service at any time. This means that you can get a document notarized if you are in a hurry, even during weekends or holidays. You can also choose the time of the day that works best for you—no need to leave work early!
Still struggling with that scanner? Try the Online Fax service that is included in your DoNotPay subscription to snap a photo of your document and send it securely to your notary.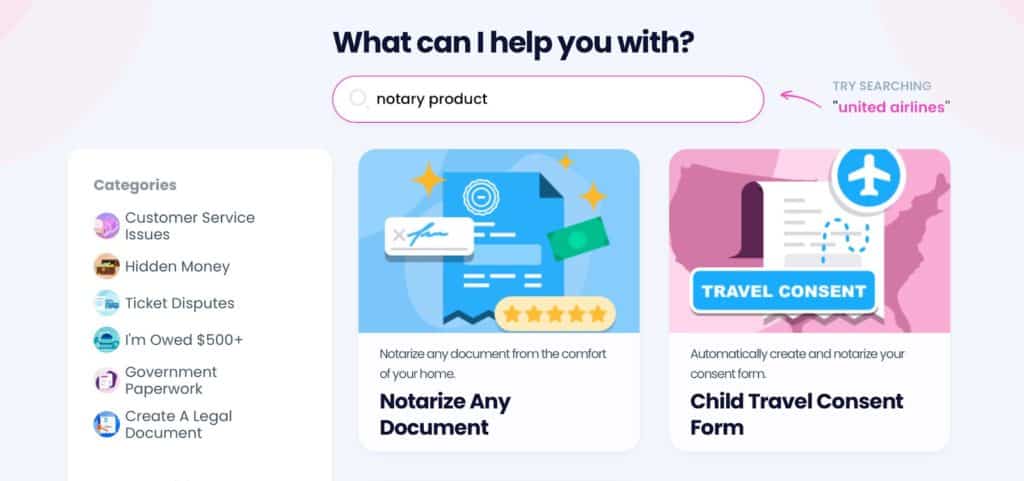 Not only can DoNotPay help you get wills, affidavits, or employment contracts notarized, but we can also assist you with creating legal documents!
What Legal Documents Can You Make Using DoNotPay?
You can draw up numerous contracts and agreements with help. Here are some of the available options:
Non-Disclosure Agreement

Bill of Sale

LLC Operating Agreement

Independent Contractor Agreement

Prenuptial Agreement

Parenting Plan (Child Custody Agreement)
Say Goodbye to Administrative Issues—Rely on DoNotPay
Are annoying procedures—such as canceling memberships, disputing parking tickets, filing warranty and insurance claims, requesting refunds for purchased products or services—giving you headaches? Do you dread calling an airline's customer support to request a refund and compensation for a canceled flight? You're not alone! The good news is—DoNotPay can help you solve these issues stress-free!
You can use our app to prepare for your driving test or other government exams and schedule an appointment with the DMV in minutes.
Are you wondering whether you're paying too much for your property taxes? Make sure to try out our Property Tax feature and learn about the best way to reduce your property tax bill.
Annoyed by Spammers? DoNotPay Can Help!
With DoNotPay, you can get rid of spam emails and text messages and report robocalls in one fell swoop. Our Burner Phone feature will generate a fake phone number that you can provide upon registration for any service!
Besides helping you enjoy free trials without the risk of being charged, DoNotPay's virtual credit card has another advantage. It will provide a random email address you should use when signing up for a free trial. That way, you'll avoid pesky marketing emails and email notifications.