Where Can You Find a Notary in Erie, PA? DoNotPay Has an Answer!
Wondering about the easiest way to get a document notarized in Pennsylvania? There are several options at your disposal. DoNotPay can tell you how to find a notary in Erie, PA, and deal with the notarization process without stress.
What Does the Notarization Process Look Like in Erie, PA?
A notary in Erie will perform specific actions to ensure the notarization process is done according to the rules and regulations in Pennsylvania. The notary will:
Verify your identity by asking to see an ID or some other proof of identification

Make sure you are of sound mind

See that you are signing the document willingly without anyone forcing you

Witness your signing of the document

Include their

signature

and stamp

Write a notary statement
Notaries in Pennsylvania perform standard notarial acts, including taking acknowledgments and administering oaths and affirmations.
What Documents Should Be Notarized?
When dealing with legal documents, it is important to always inform yourself about the required steps that will make them legally binding. Some documents don't need to be taken to a notary, while others won't be official if you don't get them notarized.
Here are some examples of documents that need a stamp and a signature from a notary:
Loan documents

Trusts

Real estate deeds

Consent forms

Power of attorney forms

Business contracts
These rules and requirements also differ among the states. You can check out our guides for using notary services in Illinois, New Jersey, Oregon, Nevada, and Maryland.
Where Can You Find a Notary in Erie, PA?
When looking for a notary in Erie, you can check out some of the websites that offer notary location information. The popular solutions involve the American Society of Notaries, American Association of Notaries, Notary.net, or 123notary.com.
You can also find a notary in numerous public places around the city. Some of the spots notary services are offered at include:
Accountant offices

Public libraries

Real estate agents

Office supply stores

Police departments

Money transfer stores

Tax preparation firms

Insurance agents

Law offices

AAA

locations
The traditional notarization process involves you going to a notary's office and handling the task in person, but there is a more convenient method.
Online notarization is a practical way of making documents official without having to leave your house. This option is especially important during the global pandemic when avoiding contact with people is a way of protecting yourself and others. Many states have adapted their laws and started practicing online notarization. Is Pennsylvania one of them?
Is Online Notarization Allowed in Erie, Pennsylvania?
Since October 2020, Pennsylvania allows online notarization due to the COVID-19 pandemic. This way of notarizing is done virtually, over a live video call. While you may be concerned about the safety or validity of this method, you should know that online notaries must fulfill strict requirements.
To perform online notarization, a PA notary has to:
Let the Department of State know they will notarize a document this way

Be in Pennsylvania (the client can be in any state)

Use the allowed technology to perform the notarization (Zoom, Skype, and FaceTime are not approved)

Make a recording of the notarization process

Keep the recording for at least ten years
If you wish to find an online notary the easiest way, you should use DoNotPay!
DoNotPay Makes Online Notarization Easy
If you wish to get a document notarized fast and without unnecessary stress, you should turn to DoNotPay for assistance. Our platform offers a user-friendly experience and the efficiency you need when dealing with tedious administrative tasks.
Check out how easy using DoNotPay is:
in a web browser

Navigate to the

Notarize any Document

product

Upload the document you want to get notarized

Type in your email address in the provided field

Confirm your appointment with the notary
While the virtual meeting takes place, the notary will verify your signature. Don't hesitate to opt for this type of notarization if you wish to deal with the task the fastest way!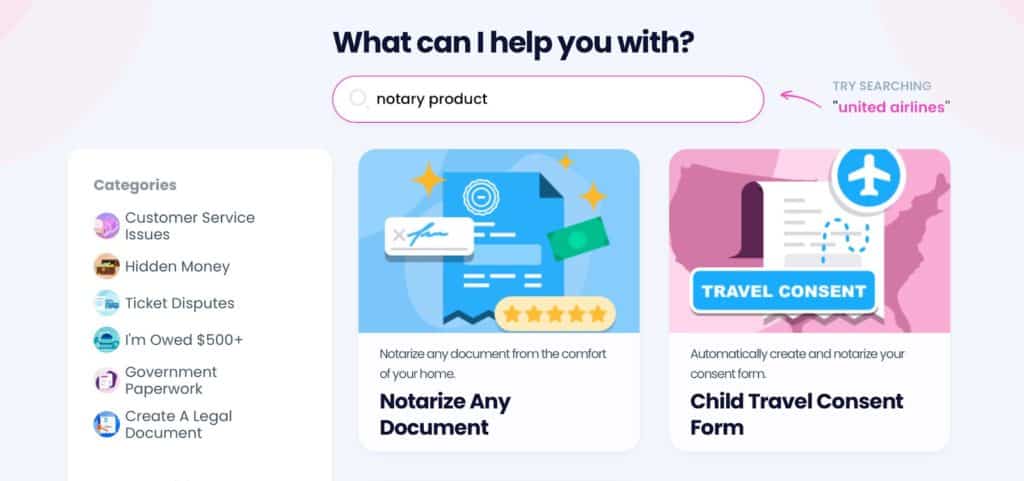 DoNotPay has another feature you might find useful—your virtual assistant allows you to create legal documents in a matter of minutes!
Draw Up a Legal Document With DoNotPay's Help
Creating legal documents has never been easier, thanks to help. You will get a document made specifically for your case in a matter of minutes. You only need to access our Standardized Legal Documents product. Take a look at the table below for currently available options:
Business Agreements

Bill of Sale

General Business Contract

Non-Compete Agreement

Non-Disclosure Agreement

LLC Operating Agreement

Independent Contractor Agreement

Real Estate

Quitclaim Deed

Residential Lease Agreement

Estoppel Certificate

Intent To Purchase Real Estate

Miscellaneous

General Affidavit

Prenuptial Agreement

Promissory Note

Parenting Plan (Child Custody Agreement)
DoNotPay also offers information on other agreements you might need to create, such as:
Freelance Artist Contracts

Disc Jockey Contracts

Settlement Agreements

Horse Lease Agreements

Construction Documents

Purchase Agreements
Don't Let Companies Take Your Hard-Earned Money!
People love to subscribe to all sorts of services—especially if there are free trials involved. The problem is that most of them forget that they signed up for anything in the first place. Companies are aware of this, which is why they auto-renew memberships as soon as the free trials expire.
Don't let them get away with it—use DoNotPay to sign up for free trials and cancel subscriptions right before they renew. If you want to save even more money, use our platform to learn how to handle high bills, parking tickets, college application fees, canceled or delayed flights, or faulty services you should get refunded for.
Use DoNotPay To Stop Illegal Activities and Earn off Scammers!
Our AI-powered platform can assist you in dealing with all sorts of scammers. If you got any of the following, the world's first robot lawyer will help you seek justice:
Do you want to protect yourself and your loved ones from stalking and harassment as well? Use DoNotPay to learn how! If the situation with a stalker escalates, our app is going to help you take them to small claims court by preparing all the paperwork and your court statement.
Don't stop there—check out how you can bypass phone number verification, claim any type of warranty, or pass any government test with flying colors!