Notary in Clarksville, TN—All You Need To Know
Do you need to get a legal document notarized in Clarksville, TN, as swiftly as possible? If so, you need to know what your options are. Many factors can influence your choice of a notary in Clarksville, TN, including the price, method, and personal preference.
DoNotPay will help you make that choice! We will all answer your questions regarding notarization in Clarksville and guide you through getting a notary's signature easily.
Types of Notaries in Clarksville, TN
The table below presents the types of notaries available, depending on the method they use and the documents they are authorized to notarize:
Notary Type

Description

Regular notary public

Traditional notaries public can be found in a local

bank

,

AAA

branch, or a

UPS

store, for example. To obtain their

service

, you need to schedule an appointment and visit them in person

Mobile notary

Instead of having you come to their office, mobile notaries travel to your location to perform the notarization

Electronic notary

Electronic notaries notarize documents with a digital signature, stamp, and seal, and you also have to visit them in person

Notary signing agent

Notary signing agents can only notarize loan documents. They typically travel to an agreed-upon location to complete the notarization

Online notary

Online notaries perform notarial acts by the use of audio-video technology. That means that you don't have to physically appear in front of a notary. He or she will meet you on a video call and notarize the document electronically
What Does the Notarization Process in Clarksville Entail?
A notary's job is to serve as an impartial witness during the signing of legal documents, including deeds, affidavits, and powers of attorney. He or she has to ensure that the signatures on the documents are authentic. Tennessee law establishes a specific procedure that state notaries have to follow, regardless of the notarization method.
Take a look at the steps a notary public is required to take for the notarization to be deemed proper:
Determine your identity

—You have to present a valid, government-issued ID

Check your mental state

—Notaries have to establish that you are of sound mind, sober, and not under the influence of drugs during the signing

Determine if you are signing the document of your own free will

—You will answer a series of questions to prove you are not being coerced or blackmailed into signing

Confirm that you are aware of what you are signing

—The notary needs to establish that you are aware of the document's content and the consequences of signing the agreement

Review the document

—A notary must refuse to notarize any document with blank spaces or missing pages

Witness the signing

—You have to sign the document in the notary's presence. A notary will likely decline to

notarize a document signed beforehand

Complete the notarization

—Notaries in Tennessee are required to notarize documents with their signature, stamp, and seal
How Much Does a Notary Public in Tennessee Charge?
The State of Tennessee doesn't dictate the maximum fees notaries can charge for their services, except in the case of online notaries ($25 per notarization). This means that a notary public can charge you any amount they see fit. If you decide on the in-person notarization, you should contact local notaries, ask for prices, and make an informed decision.
Bear in mind that mobile notaries charge extra for travel expenses. Depending on the mileage they have to cross to get to you, you could end up paying a significant amount.
The Perks of Online Notarization
Visiting a local notary takes up a lot of time and requires adjustment to the local notary's busy schedule. Mobile notaries may be a more practical option, but they're expensive.
Ever since the outbreak of the COVID-19 pandemic took place, online notary services have been in demand more than ever. If you choose to hire an online notary, you will be able to:
Schedule an appointment at any time convenient for you (many online notaries are available

24/7

)

Finish the whole process from any place via your computer, tablet, or phone

Have your document notarized in minutes
If you are wondering where to find an online notary, you've come to the right place! , and we will save your time even further by connecting you with an online notary!
DoNotPay Assists in Getting Documents Notarized Online
With DoNotPay, you won't have to look for an online notary. After you complete a few simple steps, our app will match you with a notary who performs online notarization.
All you have to do is and:
Enter

Notarize Any Document

in the search field

Upload the document that you want to get notarized

Type in your email address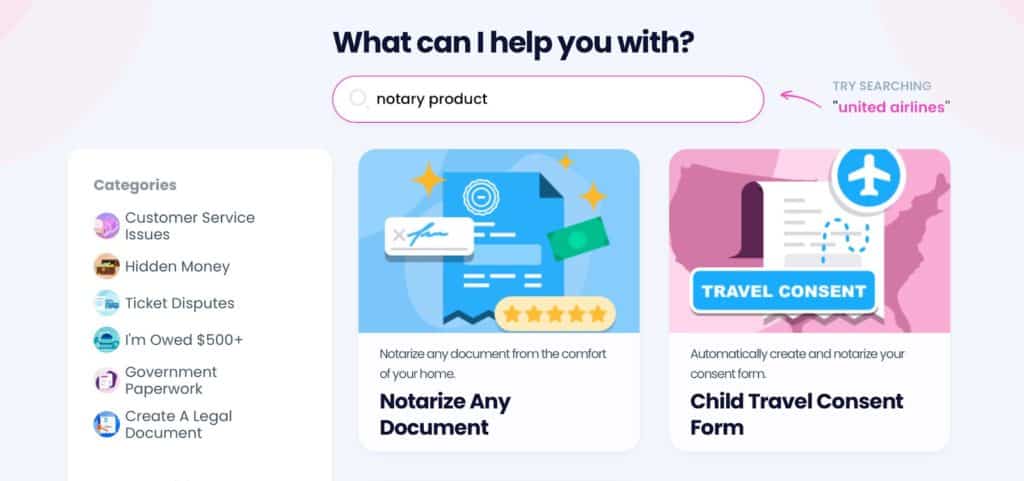 You will soon receive an email with a link from us. All you have to do is click on the link and schedule an appointment with one of our online notaries. An online notary will meet you at the agreed time to complete the process in a virtual environment.
That is not all DoNotPay can do for you! For the same low subscription fee, we enable you to access the rest of our products. Apart from getting your documents notarized, you can:
Create legal documents

with our

Standardized Legal Documents

product

Use our

Online

Fax

product

to send the document to anyone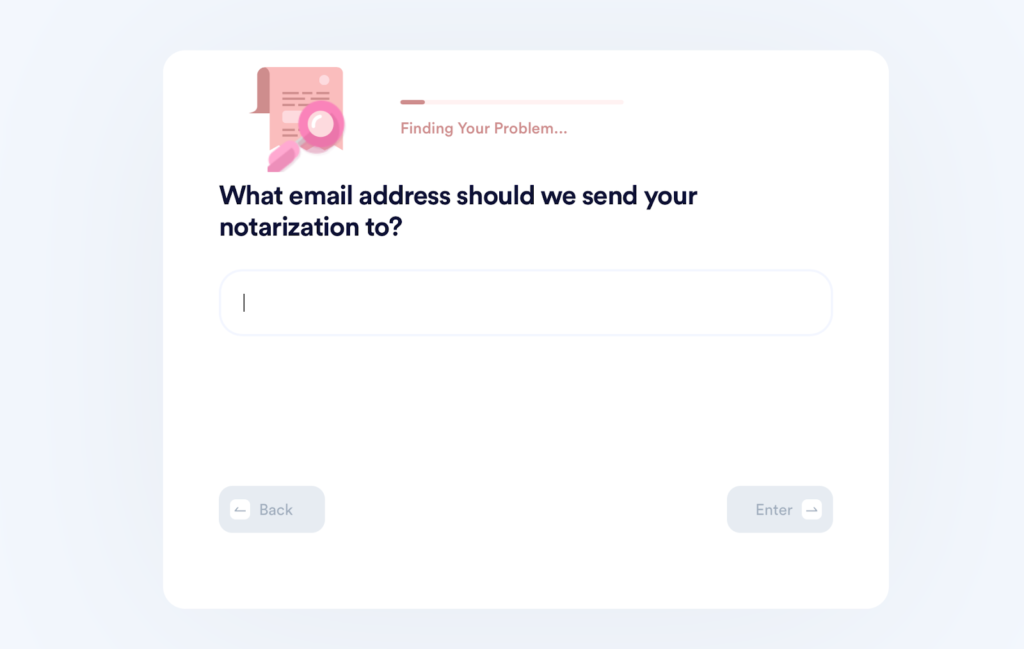 Learn About DoNotPay's Awesome Products!
DoNotPay is a multifunctional app that can solve numerous everyday challenges swiftly.
You can use our app to protect your work from copyright violations, schedule your driving exam or any other appointment with the DMV, reduce your property taxes in a few steps, and similar.
We have created many useful products to help our users take care of their issues through the same app. With us, you can:
DoNotPay Connects You With Your Loved Ones
Sending letters to inmates can be difficult since you have to follow certain rules to a T to avoid having your letter rejected. The situation is even more complicated if you don't know where your incarcerated loved one serves time. DoNotPay's app can help you locate prisoners and correspond with them without worrying whether you're breaking any rules.
Do you want to send a letter, but you don't feel like heading over to a post office? By using our mailing service, you can mail as many letters as you want from the comfort of your home. With DoNotPay, you can also send online faxes in under five minutes!
Email and text spam is something that everyone experiences at least once in their lives. DoNotPay has a solution for that too. Access your DoNotPay account and count on us to help you block spam and get compensation by reporting pesky robocalls.