How To Set Up a Meeting With a Notary in Arlington, VA, From Home
In the United States, the traditional document notarization process is outdated and exhausting, even though approximately a billion documents get notarized every year. Are you looking for notary services for your official documents to ensure mutual legal responsibility? Do you want to know how to get a document notarized easily in Arlington, VA? We've got you covered! With DoNotPay's step-by-step instructions, you can get documents notarized in Arlington, VA, without a hassle!
Why Is It Essential To Notarize a Document?
Even if you're not legally required to have a document notarized, important documents should always have a notary signature for protection and accountability. It also makes certain documents legally binding. Documents that need notarization are:
Wills

Court documents

Custody agreements

Guardianship agreements

Property and mortgage documents

General business contracts

Loan agreements

Vendor contracts
Notarization ensures that the people signing the document provided proof of identity, understood the contents, and were not forced to sign a document. It makes the transaction official, protects against fraud, and provides security to all parties signing the contract.
How Much Does a Notary in Arlington, VA, Charge?
Each jurisdiction sets a maximum limit that a notary can charge, but it varies from state to state.
In Arlington, VA, a notary can charge up to $5 per signature or document. Any notary who charges more than that is subject to disciplinary procedures and can be suspended.
Notaries can charge less if they want to.
How To Get Your Documents Notarized by a Notary Public
Follow these instructions to get your documents notarized by a notary public:
Find a notary near you

Set up an in-person appointment with the notary

Make sure you have all the necessary documents you need to notarize

Bring a government-issued photo ID as proof of identity

Make sure you don't sign the documents prior to your appointment
The predetermined notarization procedure must be followed to a tee. If you fail to comply with any requirement, e.g., forget an ID, you will have to redo the entire process.
Where Can You Get Your Documents Notarized?
If you are looking for a notary, here are a few places to go in Arlington, VA:
| | | |
| --- | --- | --- |
| Place | Address | Phone Number |
| The UPS Store Courthouse | 2200 Wilson Blvd Ste 102, Arlington, VA 22201 | 1-703-358-9500 |
| Wallace Corporate Services | 1515 Richmond Hwy #1510, Arlington, VA 22201 | 1-877-545-7059 |
| Parcel Plus | 2503 N Harrison St, Arlington, VA 22207 | 1-703-752-1888 |
| Crystal City Notary Public | 320 23rd St S, Arlington, VA 22202 | 1-703-473-3213 |
| The UPS Store | 4201 Wilson Blvd Ste 110, Arlington, VA 22203 | 1-703-522-4000 |
How To Get Documents Notarized Remotely
Virginia also allows you to get your documents notarized remotely if you prefer online appointments. You can start by searching for an online notary in your area. Find the contact details on their website, and follow their instructions to complete the process.
Although this might seem a little too easy, most online notary websites aren't user-friendly and can be cumbersome to navigate through. If you need to get a document notarized without any hassle, DoNotPay has got your back!
DoNotPay Can Assist You in Getting Any Document Notarized Quickly
Do you want to create and notarize legal documents but don't want to go through the hassle of getting it done by yourself? With the help of DoNotPay, you can get any document notarized online in a few easy steps.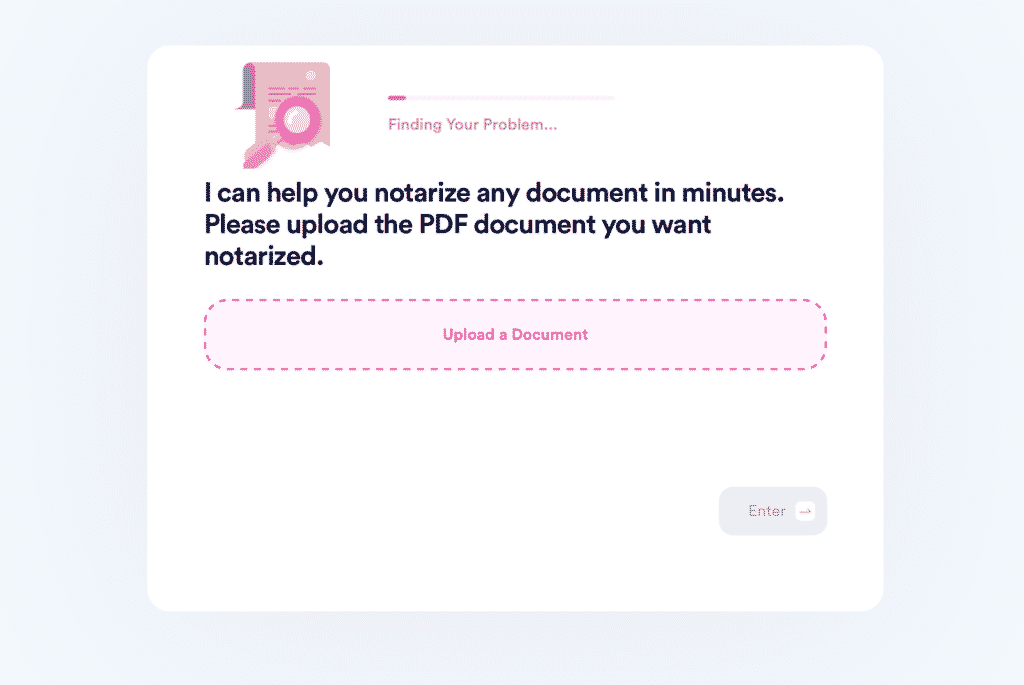 All you have to do is follow these straightforward instructions:
Open DoNotPay in your

Select the

Notarize Any Document

option

Upload the document you want to notarize

Type your email address
You will receive an email from DoNotPay with a link to set up an appointment with a notary. During the virtual appointment, they will add a digital signature and notary stamp to verify your document.
DoNotPay can make the notarization process easy whether you're in Virginia or any other state, including:
DoNotPay Drafts Legal Docs for You
You do not need to waste hours looking for online templates or hire expensive lawyers to create a legal document. DoNotPay can create a contract for you in only five minutes!
DoNotPay has integrated the Notarize Any Document service with the Standardized Legal Documents tool, so you can create and notarize your documents in one place!
We can help you draft various contracts, including residential lease agreements, non-disclosure agreements, independent contractor agreements, general business contracts, affidavits, and prenuptial agreements, to name a few.
How can you create a document? Follow these easy steps:
Type in the name of the document you want to create

Answer our questions to help us make an adequate document

Download or print your contract
Get Back at Greedy Corporations With DoNotPay
How many times have you tried reaching out to an airline regarding your canceled flight? Did you ever spend hours trying to contact customer service reps only to be refused your refund request?
Big companies tend to make certain processes complicated for their customer in hopes they would give up on pursuing their goals.
This is why your warranty claims often get denied the first time or why canceling a gym membership can be an administrative hell.
Our AI-powered app is here to help you sort these problems out.
Whether you're trying to file an insurance claim, schedule your driving test, start a free trial without disclosing your payment info or a phone number, or get access to public records, we've got you covered.
DoNotPay Is the Virtual Assistant You Need
DoNotPay is the first robot lawyer in the world created to simplify complex tasks. We can help you with anything from appealing your parking citations to filing lawsuits in small claims court.
In case you need to save up some money, our app will show you how to get an extension on your bill payments, sign up for paid clinical trials, or avoid paying your college application fees.
DoNotPay can also report robocallers, text spammers, and email phishing attempts, and real-life stalkers with a few clicks.