Where Can You Find a Notary in Altoona, PA?
Do you feel like you need notary services way too often these days? Instead of wasting time and money every time you need to notarize a document, counting on one notary in Altoona, PA, would be the best option.
Where to find the one best service, though?
Find out where you can find a notary in Altoona, PA, and why you may want to switch to using the services of online notaries.
What Do Notaries Do?
You can find notaries public and notarial officers all over the place because their services are important—but what do notaries do exactly?
The primary job of a notary is to witness the signing of documents and put their seal and signature on them.
Notaries public also:
You should note that it isn't the notary's job to inspect the legal validity of your document. They only need to witness the signing, but they must not notarize a document if they detect signs of fraud or coercion.
It's also important to differentiate between civil law and common law notaries. The former has passed the bar and can offer advice if you need it, whereas the latter isn't allowed to give advice to customers.
Why Do You Need To Get Your Document Notarized?
Getting a document notarized is the best way to make it legally binding.
Many institutions—governmental and otherwise—will not recognize your contract or any other document as valid if a notary public doesn't put their signature on it. Having a notarized document means that the signer entered into a contract of their own free will and in full understanding of what they are doing.
It's the notary public's job to watch out for signs of coercion during the signing of documents. They should judge whether the person is signing a document under duress. They also need to ensure that the signer isn't under the influence of drugs, alcohol, or medication when providing their signature. If notaries believe there are fraudulent actions by any party, they don't have to notarize the document.
Where To Find a Notary in Altoona, PA
Some of the most common places that offer notary services are:
Of course, you can also go to notaries' private offices to get your documents notarized.
Here are some of the places you can go to in Altoona, PA, to get notary services:
Place
Contact

Address

Notary & Copy Stop

(814) 946-4114

401 6th Ave

Altoona, PA 16602

The

UPS Store

Martins Plaza

(814) 201-2038

1002 Logan Blvd

Ste 114

Altoona, PA 16602

Notary & Copy Stop, Inc.

(814) 949-7070

319 S. Logan Blvd.

Altoona, PA 16602

Frye's Notary

(814) 940-1666

709 N 3rd St Altoona, PA 16601

Saleme Insurance Services, Inc.

(814) 946-5471

1409 11th Avenue

Altoona, PA 16603
How Much Do Notary Services Cost in Altoona, PA?
Witnessing the signing of documents and notarizing them usually costs $5 per signature or per document in Altoona, Pennsylvania.
Is Online Notarization a Better Alternative?
Even though notary services are offered left and right these days, the traditional way of notarizing documents isn't convenient. People deal with deeds, contracts, and other documents frequently, and having to meet a notary in person each time a document needs to be notarized has become a nuisance.
Over a billion documents get notarized yearly, and to make the job easier for both customers and notaries public, the majority of states now allow remote online notarization. As of 2020, some states allow this notarization method only temporarily due to the COVID-19 pandemic.
Having an option to notarize your document online is a great advantage. When you're dealing with legal documents, you want the red tape part of the job to be over as quickly as possible. Online notarization makes the process pass swiftly and smoothly, and you don't have to leave your home to complete it because Pennsylvania is one of the states where remote notarization services are permanently allowed.
Here's how remote notarization usually works:
You schedule a virtual meeting with a notary and receive a link to enter the meeting

You display the document on the screen so that the notary can see it

The notary witnesses you signing the document electronically

The notary puts their seal and signature on the document digitally
Online notarization allows you to get the job done with minimum effort and move on with the rest of your day quickly—and DoNotPay can in a flash!
DoNotPay Will Get Your Documents Notarized in a Jiffy!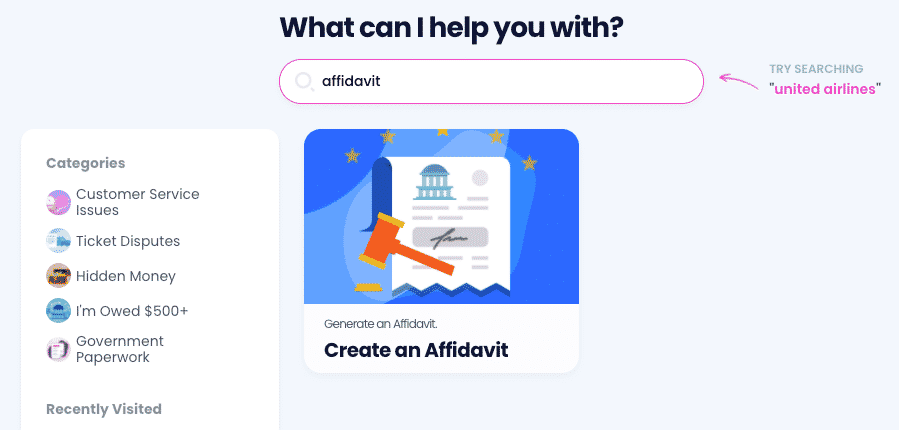 Getting the best online notary service with the help of DoNotPay requires no effort on your part! You can get the entire job done in under a few minutes. Here's how the process works:
Go to the

Notarize Any Document

product

Upload the document you want to notarize

Give us your email address

Wait for DoNotPay to send you an email through which you can make an appointment
Outsmart Scammers With DoNotPay
Are you troubled every time you think about subscribing to a service because you fear your personal information will leak and your privacy will become invaded?
There's no need to fret anymore as DoNotPay has come up with a way to shield you from hackers, scammers, and identity thieves alike.
Check out how you can use DoNotPay and browse the internet care-free:
Open DoNotPay in your web browser

Locate our

Virtual Credit Card

generator

Use the made-up card number to sign up for any

free trial

Move forward to our

Burner Phone

product

Use the temporary phone number to verify any online account

Enjoy the trial without worrying about

canceling it

—the service will do it on its own
Signing up for services with DoNotPay's hacks frees you from ever falling victim to a serious crime, such as identity theft, and liberates you from the bothersome and never-ending spam calls, texts, and emails that you never explicitly agreed to receive.
What Else Is Hot About DoNotPay?
DoNotPay does wonders in protecting your online privacy, but it can do so much more for you!
With our assistance, you can claim compensation for canceled or delayed flights, request refunds and chargebacks for unsatisfactory purchases, file warranty claims for defective products, and even overturn unjust parking tickets!
Our app can locate unclaimed funds that exist under your name, the best clinical trials for your needs, and public records that you couldn't identify on your own.