Get the Hang of the Nordstrom Curbside Returns
During the pandemic, all of us had to adapt to the new COVID-19-related measures. Shopping became an online experience, which means you can easily end up with the wrong sizes, colors, and fits.
If you've got an item from Nordstrom that you'd like to return, Nordstrom curbside returns are among the safest options. DoNotPay decoded the details of this return method to save you some time.
In case you'd like to simplify the Nordstrom return process even further, sign up for our service!
Nordstrom Return Policy—COVID Edition
The Covid-19 crisis demanded that all businesses adapt to the new circumstances. Nordstrom did it by turning towards their remote buyers. Nordstrom return policy—Covid-19 version—introduced Nordstrom curbside returns as a safe way of handling in-store returns.
Which Items Are Ineligible for Nordstrom Curbside Returns?
Before you head to a Nordstrom store, there are two crucial details of the company return policy that you need to know:
Only online-bought items will be accepted back through curbside returns
You will need to provide your order number
The items that cannot be returned even if you fulfill these two conditions are:
Fine jewelry
Designer items
Opened baby equipment
Nordstrom Rack Return Policy—COVID Rules
Nordstrom Rack returns during COVID are not allowed. The policy states that Nordstrom Rack shops cannot accept the returns of articles bought at retail locations or on the official website.
You should also keep in mind that you cannot use Nordstrom curbside returns as means of returning your Nordstrom Rack merchandise.
Nordstrom Curbside Returns—Processing Time and Refunds
If you opt for Nordstrom curbside returns, the company return policy states that your return request should be processed right away. You'll have to wait for your refund, though. The expected time is five to seven business days.
You also shouldn't expect a full refund of the price you paid for your original order. Shipping fees are non-refundable, whatever return method you choose.
The good news is that the company doesn't charge any restocking fees.
How To Carry Out Nordstrom Returns During COVID
This return method has two parts:
Filling out the forms online
Taking the product to the store
Check out the steps that you need to go through before your return request is filed and processed:
Go to the Nordstrom website
Find the Customer Service section in the website's footer
Click Returns & Exchanges
Find the instructions column titled Curbside Returns
Click the link at the end that leads to an interactive return request form
Fill out all the required information
Select Add to Return
Type in your contact information
Click Submit Return
Once you've done all this, go to your nearest Nordstrom location and drop off your item. To find the store closest to you, you need to:
Go to the company website
Find the Stores & Events page
Type in your ZIP code
A Simpler Alternative to Nordstrom Curbside Returns—DoNotPay
Don't double up your job. The Nordstrom curbside returns steps require you to fill out the paperwork and then also drive to the store.
DoNotPay saves you time, gas, and money. Here are all the steps to a painless product return:
Log in to your DoNotPay account using any web browser
Go to Item Return Request
Reply to a few questions about your purchase
Submit the request
This process takes a few seconds, and we will gather all the information we need to send a rock-solid request in your name.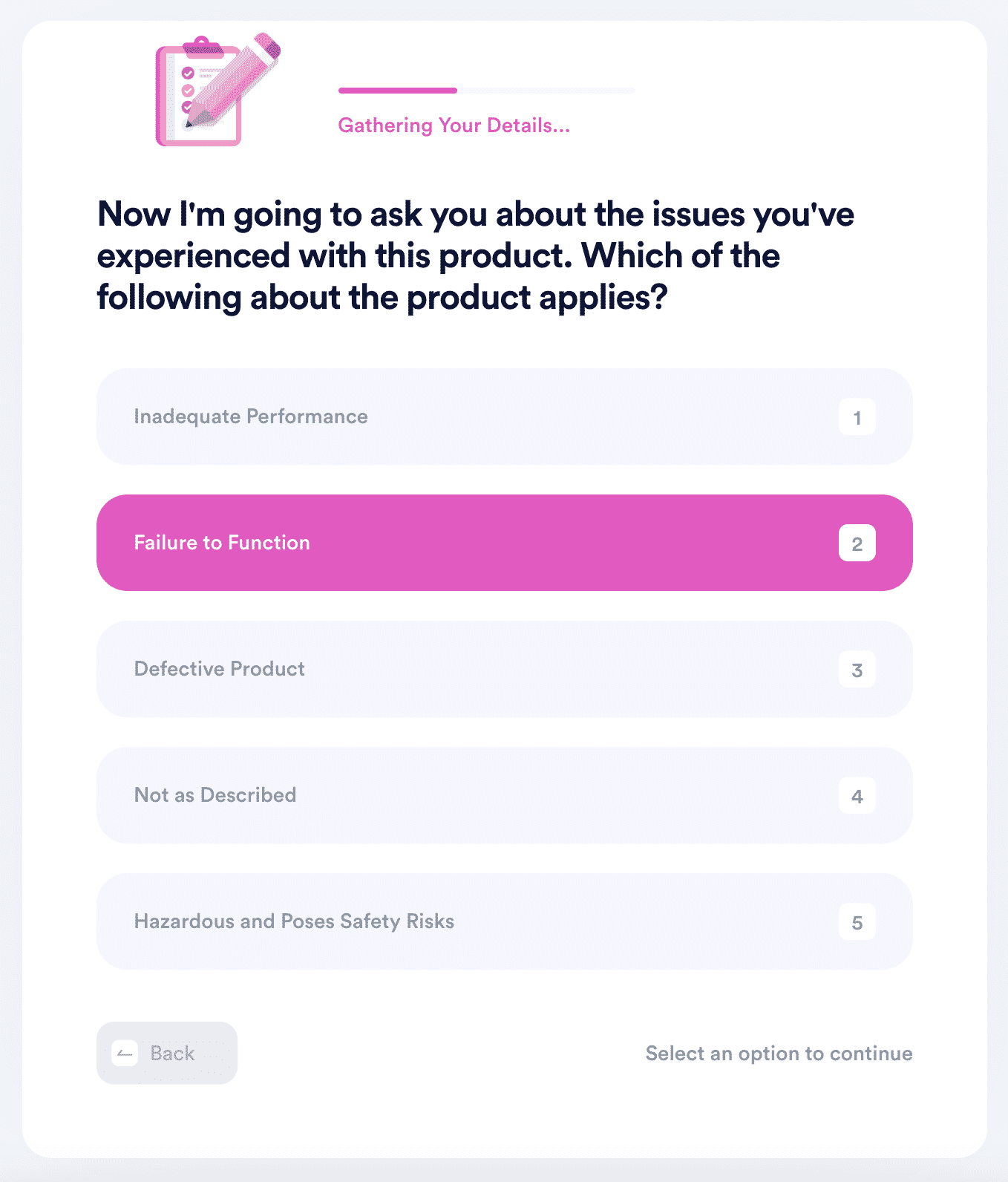 Your refund won't take weeks either. Our refund deadline option allows you to stipulate by what time you want to get your money back. This helps speed up your return request processing.
DoNotPay also offers a return label that enables you to send your product back for free.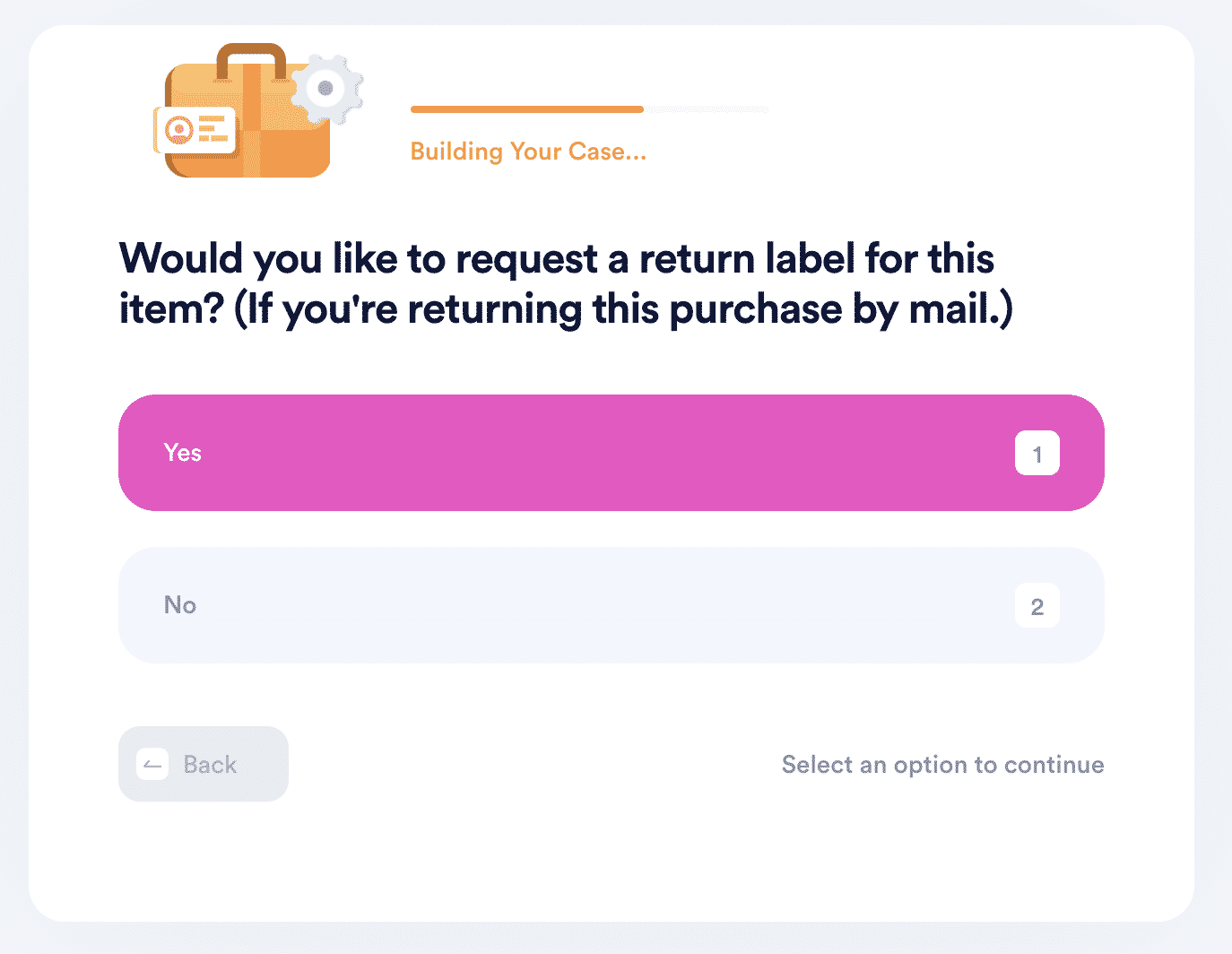 You won't have to drive to the Nordstrom store and handle your package alone. Your chosen carrier will do this for you, and you won't spend a penny.
Our app takes care of your request in writing. Thanks to this, it will be easier for you to resolve any disputes that may arise in the future.
DoNotPay can help you return a product to many other companies, including:
DoNotPay Can Get You a Refund in a Split Second
Have you completed the return process? Would you like to demand an immediate refund? DoNotPay can help you with this as well. Here's how to file a request:
Locate the Chargeback Instantly feature
Click on Get Protected
Provide some info to our chatbot
Click Sign and Submit
As soon as you complete these few steps, we will handle the rest! We will notify you as soon as we get a response from the merchant.
Don't Tolerate Corporate Attitudes—Request What's Rightfully Yours
DoNotPay is known for being the champion of customer advocacy because we help our users claim what's rightfully theirs, and we don't tolerate big corporations taking people's hard-earned money.
No matter if you want to request a refund, insurance, extended warranty, or compensation from airlines, our AI-powered lawyer will fight for your right.
If you feel like you're overpaying certain subscription services, we can help you cancel them. Also, if you want to test a subscription before you start paying money for it, don't connect your credit card to the free trial page! You can sign up for free trials using our virtual credit card. That way, companies won't be able to charge you auto-renewal fees because the card has no funds.
Wait! DoNotPay Can Help You in Many Other Ways
DoNotPay has many different areas of expertise—helping you return your faulty items is only one of them.
Check out how our app can assist you in: