Everything You Should Know About Claiming Nissan LEAF Battery Warranty
Nissan is a famous Japanese vehicle manufacturer. Some of the models it offers are a Nissan Titan truck and Nissan LEAF battery electric vehicle. Every Nissan LEAF is covered by a Nissan warranty called New Vehicle Limited Warranty. It has basic coverage, powertrain and electric vehicle system coverage, and Lithium-Ion battery coverage.
The battery in a Nissan LEAF is the most important part of the vehicle. If the need arises, we can help you claim the Nissan LEAF battery warranty.
What Does Nissan LEAF Warranty Cover?
Every new vehicle comes with a manufacturer's warranty. The warranty period begins on the date of purchase or on the date of the first car ride.
The coverage period for a Nissan LEAF battery is eight years or 100,000 miles. The battery is expected to last for at least ten years, so an eight-year warranty period is not enough for most buyers.
The battery warranty covers any repairs due to defects in materials or workmanship. Nissan is also the first company to offer a warranty for battery capacity loss. The battery can be replaced or repaired, but only when the battery has a one- to four-bar strength out of the 12-bar capacity.
This warranty covers any repairs needed to return the battery capacity to the nine-bar level or higher strength. When the repairs or replacements have been done, the battery will be returned to the vehicle.
This car warranty has great conditions on paper. In reality, many consumers have complained that their car battery has a very short life and that Nissan denied many warranty claims.
| | |
| --- | --- |
| Warranty | Coverage |
| Lithium-Ion Battery | 96 months/100,000 miles |
| Lithium-Ion Battery Capacity | 96 months/100,000 miles |
What Isn't Covered by Nissan LEAF Battery Warranty?
Like every warranty, the LEAF battery warranty has its exclusions. The warranty doesn't cover damages or failures caused by:
Exposing the vehicle to temperatures above 120F for over 24 hours

Storing the vehicle in temperatures below -13F for over seven days

Failing to charge the battery for over 14 days when it reaches zero or near-zero charge

Damaging the battery physically

Exposing the battery to direct flame

Opening the battery

Having it serviced by someone other than a Nissan LEAF certified technician

Disregarding correct charging procedures

Using incompatible charging devices
The Nissan LEAF battery warranty is transferable when changing ownership of the vehicle at any time.
EV Battery Usage Reports
If you want your battery to be eligible for a warranty, Nissan requires annual battery usage reports. They can be performed by a Nissan LEAF certified dealer or any other qualified repair shop facility.
The 12- and 24-month battery usage report will be performed at no charge if done at a Nissan LEAF certified dealership. Consecutive reports are done at the expense of the car owner.
If any failure occurs due to not performing this report, Nissan will automatically reject any battery warranty claim.
How To File the Nissan LEAF Warranty Claim
Claiming a warranty by yourself can be a hassle since many warranties get rejected by Nissan. If you still want to go down that road, you can file the LEAF battery warranty claim in these ways:
How To File the Warranty Claim via Phone
Nissan offers you a way to claim your warranty through its customer service. You should follow these steps:
Call the Consumer Affairs Department at

1-877-664-2738

Provide your personal information

Give your

Vehicle Identification Number, date of purchase, and current odometer reading

Talk about the problem you are experiencing

Follow the instructions of the customer service rep
How To File the Warranty Claim via Letter
You can also send a letter to Nissan with your warranty claim. Write down the required information above and send the letter to:
Nissan North America, Inc.
Consumer Affairs Department
P.O. Box 685003
Franklin, TN 37068-5003
File a Warranty Claim Easily With DoNotPay
If you are experiencing problems with your Nissan LEAF battery and are looking for an easy solution, DoNotPay can help you claim the warranty! We can also help you claim a CPO, CVT transmission, and Nissan extended warranty.
To claim your battery warranty, follow these steps:
Open DoNotPay in your

Go to the

Claim Warranty

feature

Select

Car Warranty

Provide the details about your problem

Click

Submit
DoNotPay will automatically submit your warranty claim to Nissan. You can expect them to contact you soon regarding the claim.
We can also help you claim an extended warranty for used cars or handle a dealer who refuses to cancel an extended warranty.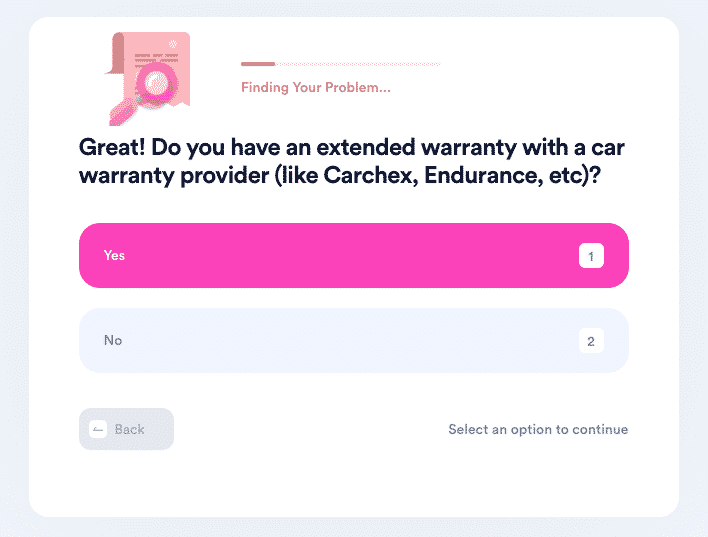 DoNotPay Can Help You Resolve a Rejected Warranty Claim
If your warranty claim has been rejected, DoNotPay's app can help you submit an appeal. Follow these simple steps:
Open DoNotPay in your

Select the

Claim Warranty

feature

Click on

Appeal a Denied Warranty Claim

Enter the details about your rejected warranty

Click

Submit
Our app will generate an appeal letter and send it to the company. A customer support rep should contact you shortly.
DoNotPay can assist you in claiming home warranties and offer extensive home warranty reviews to help you choose the best home warranty in America.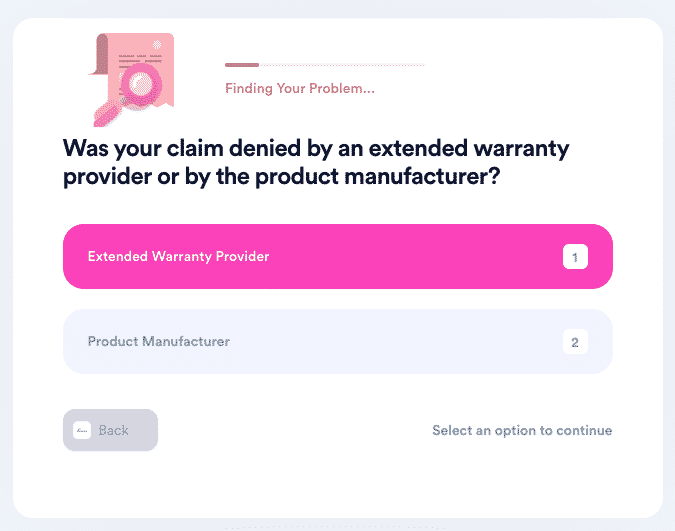 The Solution to Your Driving Woes
DoNotPay provides invaluable help to future and current drivers. By helping you ace that driver's license test, scheduling a DMV appointment the easy way, or contesting parking tickets, our app saves you money and time.
If you need to file a car warranty or an insurance claim, we will help you deal with the necessary paperwork within minutes. Trying to get out of a car wash membership? DoNotPay can cancel it in an instant.
Our platform works above ground as well. You can use DoNotPay to secure refunds from airline companies or compensation for delayed and canceled flights.
Falling for Scams Is Less Likely With DoNotPay
Thanks to AI technology, DoNotPay is a great resource for protecting your privacy and finances from potential scammers. Our bots can help you report robocalls, keep your inbox clean from spam email and shady text messages, or even deal with stalking and harassment, if it comes to that.
In case the issues escalate, skip the expensive lawyers and sue the offenders in small claims court with ease.
Another great way to increase your online security is to use our virtual credit cards and sign up for any free trial without risking unwanted charges. You can even avoid sharing your contact info with our Burner Phone feature.