How To File an MSI Laptop Warranty Claim Easily
Micro-Star International (MSI) is a computer hardware and electronics company from Taiwan with headquarters in New Taipei City. It manufactures some of the best products on the market and all of them come with a warranty.
If you end up having a problem with your MSI device, you should claim the warranty the easiest way—DoNotPay! We can help you with home and car warranties as well.
What Does the MSI Warranty Cover?
MSI laptops have a 12-month manufacturer warranty, which is applicable from the purchase date. Check out the table below to see what protection comes with your product:
What's Covered
What's Not Covered

Motherboard

CPU Memory

LCD

HDD

Battery

Adapter

Software included with the Notebook

Malfunctions caused by thunder stroke, catastrophes, or faulty electric power

Failures caused by spills or drops

Damage made by the operator's mistake

Consumable items such as earphones

Packing material like boxes or the user's manual
File an MSI Product Warranty Claim With DoNotPay
Filing warranty claims doesn't have to be tiring and dull. If you use DoNotPay to handle the task, you'll be done with it in minutes. To get MSI to fix your device as soon as possible, follow these easy steps:
Open DoNotPay in your

Select the

Claim Warranty

feature

Choose the

Warranty on a Purchased Item

category

Pick

MSI

as the company you want to claim a warranty from

Provide us with the details of the purchase and tell us what's wrong with your product
That's all! DoNotPay will send the claim letter on your behalf. If you don't know all the details of your warranty, we will still be able to use solid arguments to help your case in accordance with the law.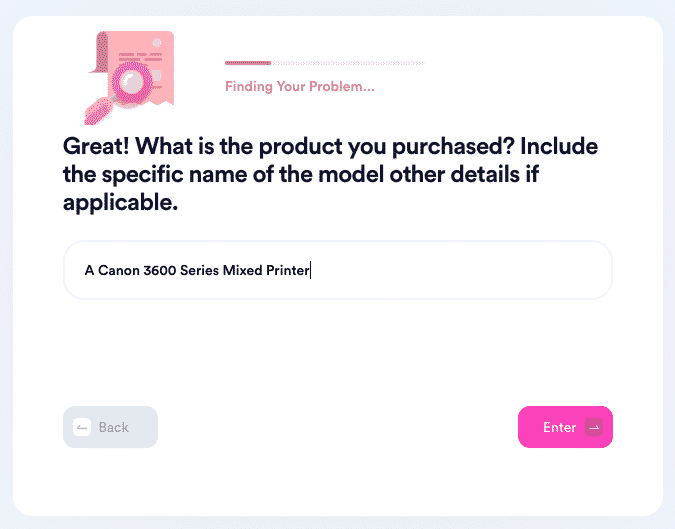 If you need help dealing with car warranties, we will be there to assist you as well. DoNotPay has all the info on extended warranties for used cars. Perhaps a dealer won't cancel your extended warranty? Don't worry! We can tell you how to handle that situation.
If you are dealing with home warranties, you can check out our reviews to make a better choice and secure the best home warranty in America.
How To File an MSI Manufacturer Warranty Claim on Your Own
You can get your warranty claim on your own, but you should be prepared for a lengthy and complicated process. If you decide to ask MSI to repair your product, you have two options to do so:
How To File an MSI Warranty Claim Online
You can submit a warranty claim on MSI's website. This is what you'll need to do:
Visit MSI's website

Locate and open the

Online Customer Service Request Form

Type in personal information in the provided fields

Enter the requested product info such as the product type and RMA number

Explain the issue you're having and what you need help with

Click on

Submit Your Request
How To File an MSI Warranty Claim Over the Phone
You may get in touch with MSI's customer care over the phone and tell the rep you wish to claim your warranty. This is what you should do:
Call

1-888-447-6564

Tell the customer agent why you are calling them

Explain the issue with your product

Provide them with the info regarding your laptop and warranty

Follow any further instructions
Rejected Warranties Are Not an Issue for DoNotPay
MSI, or any other company, could easily refuse the warranty claim the first time you submit it. Companies try to pull this off to avoid paying for the repair. If you want to avoid the repair expense yourself, you should use DoNotPay to file an appeal!
These are the only four steps you need to perform:
Locate and select the

Claim Warranty

feature

Choose the

Appeal a Denied Warranty Claim

option

Indicate who you are appealing against—a product manufacturer or dealer of extended warranties

Give us all the important info regarding MSI and your warranty claim
DoNotPay will submit the appeal letter on your behalf, and MSI will get in touch with you soon after to inform you about your current warranty status.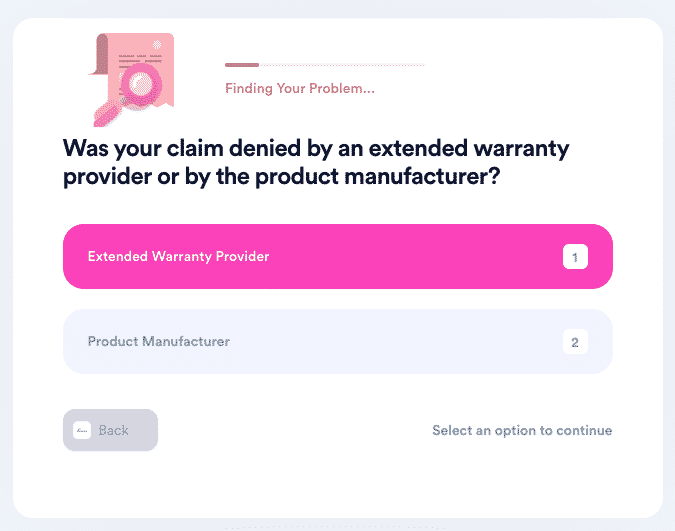 DoNotPay Can Help You Get Out of Administrative Troubles
DoNotPay can assist you with claiming warranties from numerous companies similar to MSI. Learn everything about laptop warranties and have your products repaired if you bought them from Acer, Asus, Razer, Lenovo, or Toshiba.
If you wish to learn more about our generous offer of useful features, access DoNotPay from your , and let us help you simplify any of the following tasks:
Fighting traffic tickets

Disputing speeding tickets