Motorcycle Extended Warranty Explained in Detail
Motorcycling is an expensive hobby. These beautiful machines require considerable investments in maintenance and repair. Your motorcycle should be covered by a warranty to avoid high costs in case of a breakdown.
At the time of purchase, all motorcycles come with a manufacturer warranty. Once it expires, you can buy an extended warranty to continue having protection for your motorbike. Considering that your motorcycle is more likely to require repair after the manufacturer's warranty has expired, you should seriously consider getting extended coverage.
What Kinds of Extended Warranties for Motorcycles Exist?
You can buy an extended warranty for your motorcycle from:
The manufacturer

A third-party warranty provider
In most cases, you need to buy an extended warranty plan before your manufacturer warranty expires. The following table contains an overview of extended warranties offered by the most popular motorcycle manufacturers in the United States. For more details about each manufacturer's plans, contact a dealership near you.
Manufacturer
Deductible
Extended Warranty Duration
Coverage

Harley-Davidson

$50

Seven years or unlimited miles

Over 1,100 major components and systems

Up to $750 for rental

Up to $450 for meals and accommodation

Up to $200 for towing

Honda

$0

Five years or unlimited miles

Fuel system

Electrical

Engine

Brakes

Yamaha

$0

Unlimited time or miles

Roadside assistance

Towing

Travel and accommodation reimbursement

Kawasaki

$0

Unlimited time or miles

Engine

Fuel system

Brakes

Electrical components

Suzuki

$0

Unlimited time or miles

Up to $50 for towing

Up to $120 for rental
Third-Party Extended Warranties
Extended warranty plans offered by third-party providers vary depending on the brand and the model of the motorcycle. As opposed to manufacturer warranties, you can explore multiple providers to find a plan most suitable for you and your vehicle.
Take a look at the table for coverage highlights offered by some of the most reputable third-party warranty providers.
Provider
Deductible

Warranty Duration Options

Total Auto Protect

Up to $200

Two, three, and five years

Discount

$50

Depends on the vehicle

Pinnacle

$50

From two to seven years for new motorbikes

From one to five years for used vehicles

Motorcycle Agent

$0

Up to six years for new motorcycles

Up to three years for used vehicles
How To Claim Extended Warranties for Motorcycles
Available methods of filing a warranty claim for your motorcycle depend on the warranty provider. The table shows what methods are generally accepted.
| | |
| --- | --- |
| Can You Claim Your Warranty Via | Yes/No |
| DoNotPay | Yes |
| Email | Maybe |
| Phone | Yes |
| Letter | Maybe |
| In Person | Yes |
| Company Website | Maybe |
Each method requires you to take your vehicle to a licensed repair facility for a check-up. If the defect coverage is confirmed, the repair facility should estimate costs and ask the provider's claims department for authorization to perform service.
Usually, you pay a deductible and later get reimbursement for additional service costs, but some warranty providers don't require you to pay anything out-of-pocket.
DoNotPay Makes Claiming Motorcycle Extended Warranty a No-Brainer
Regardless of where you bought your extended motorcycle warranty, DoNotPay provides a one-size-fits-all approach to filing a claim. And it's not only motorcycles! Our AI-powered robot lawyer covers procedures for claiming warranties for your car, home, recreational vehicle, appliances, and various other products.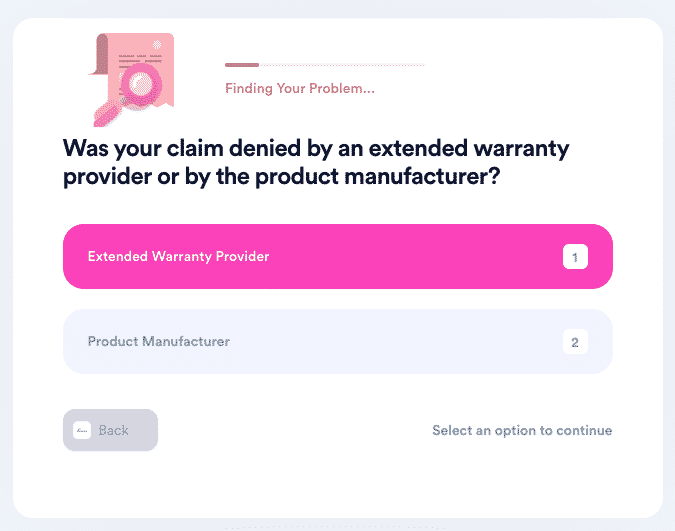 We designed DoNotPay to be a user-friendly tool for fighting bureaucracy and getting rid of tiresome tasks. We can help with claiming an extended warranty for used cars or handle dealers who refuse to cancel the extended warranty. Use our virtual sidekick to check out home warranty reviews or claim any home warranty in America in a snap.
The procedure is as follows:
Sign up for DoNotPay in your

Select the

Claim Warranty

function

Click on

Car Warranty

Enter the

required information

about your extended warranty

Click on

Submit my claim
We will send your claim to the warranty provider, and the company should contact you directly with a follow-up.
The Claim Didn't Go as Planned? DoNotPay Will File an Appeal for You
Initial warranty claims often get rejected, but many people don't know they are entitled to appeal against the decision. Even those who are aware of their rights tend to give up pursuing the case. But you shouldn't! DoNotPay offers a simplified appeal process that takes only a few moments!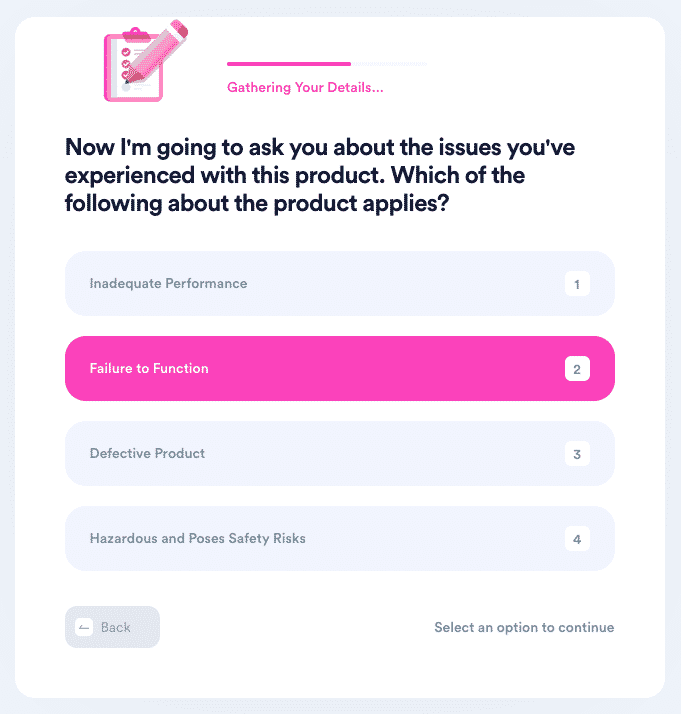 Use our virtual administrative assistant to obtain the service you paid for. Once you sign up for DoNotPay in your , take these steps:
Navigate to the

Claim Warranty

option

Choose

Appeal a Denied Warranty Claim

State whether you're appealing against a decision by

a manufacturer or an extended warranty provider

Provide

details about the company

and the original warranty claim
Similarly to filing a warranty claim, we will send the appeal letter to the warranty provider on your behalf. Any follow-ups regarding your case will go to you directly.
Fend Off Scammers With DoNotPay's Help
Are you sick of having a cluttered inbox or getting robocalls? So are the majority of Americans. If you want to get rid of email spam, text message spam, or annoying robocalls, DoNotPay can help you put a stop to them once and for all.
Do you feel like serving justice to companies that wronged you or stalkers and harassers that won't give you a break? Use our AI-driven app to fight for your right!
Keep Your Money in Your Pocket and Save Time
With our assistance, you can also appeal parking tickets in any city, get help with bills, make an appointment with the DMV, protect your copyright, and avoid phone number verification!
If you feel like you were wronged either by a faulty product or a delayed or canceled flight, DoNotPay will also help you request a refund from any company or airline hassle-free.
Being on a tight budget isn't easy—knowing that, we've developed features that will get you free trials, unclaimed money, extended warranties, college application fee waivers, and so much more!