Everything You Should Know About Honda Motorcycle Warranty
Many people choose to buy Honda motorcycles for the vehicles' quality and reliability. Still, customers can experience issues with their Honda motorcycle. In that case, it is of utmost importance to learn what the Honda motorcycle warranty covers and how to file a warranty claim.
Honda Motorcycle Warranties in a Nutshell
Honda offers different kinds of warranty protection for motorcycles:
Honda Limited Warranty and HondaCare Protection Plan

HondaCare Roadside Assistance
Honda Motorcycle Extended Warranty and Limited Warranty Explained
When you buy a new Honda motorcycle, you get a limited factory warranty. The limited warranty differs for each vehicle. It covers the damages in material or workmanship. You should check your warranty booklet to see how long the warranty for your motorcycle lasts.
You can also opt for a HondaCare Protection Plan and get extra coverage. If you decide to take this extended warranty plan, you should sign up before your factory warranty expires. The plan offers you benefits, such as:
Nationwide coverage

Unlimited mileage

No deductible

Transfer of the coverage to the next owner
All motorcycle models, apart from racing and competition ones, are eligible for the Honda Care Protection Plan.
Here is an overview of the motorcycle models and the warranty duration you can get for each:
Motorcycle
Honda Limited Warranty Duration
HondaCare Duration

(Extended Warranty)

Touring models

Three years

Up to five years

On-road motorcycles and scooters

One year

Up to five years

SXS and ATV

One year

Up to four years

Off-road motorcycles

One year

Up to four years

Eligible certified pre-owned vehicles

Check with your

Honda Dealer

Up to two years
The Coverage of Honda Motorcycle Warranties
HondaCare and Honda Limited warranties cover the same damage repairs. Here is what Honda warranties cover:
Cover
Don't Cover

Drive system

Engine

Fuel system

Cooling system

Brakes

Electrical

Chassis

Tires

Batteries

Accessories

Navigation equipment
What Is HondaCare Roadside Assistance?
HondaCare Roadside Assistance is an optional feature you can add to your warranty. With this feature, you can get:
Locksmith assistance

Fuel delivery service

Extrication assistance

Emergency towing
How To File a Honda Motorcycle Warranty Claim on Your Own
If you notice any damage to your Honda motorcycle, you can file a warranty claim by reaching your Honda Dealer. You should provide information about the issue you are experiencing. You can ask for the broken part to be repaired or replaced.
DoNotPay Can Help You File a Honda Motorcycle Warranty Claim Fast and Easy
DoNotPay allows you to file a Honda motorcycle warranty claim in minutes! We make the process simple and easy—all you need to do is:
Set up your DoNotPay account in any

Select the

Claim Warranty

feature

Choose

Car Warranty

Provide the details about your motorcycle warranty and the issues you are experiencing

Hit

Submit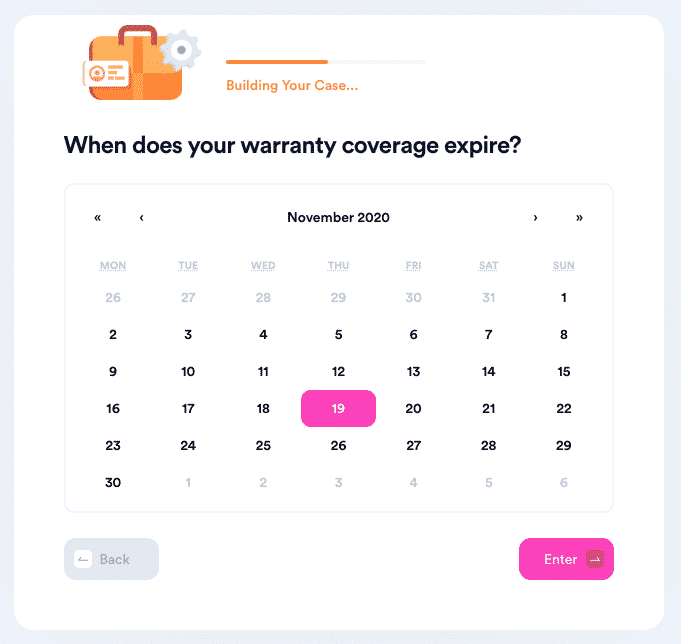 Once you complete these steps, we will compose a claim letter and send it to Honda. The company should contact you to give you the information about the results of your claim.
You can use DoNotPay to get more information about the Honda battery warranty.
In case you want to file a warranty claim for your car, we can assist you in that as well! With our app, you can claim Honda, Toyota, Lexus, Subaru, and many other warranties.
You can also find out more about extended warranties for used cars.
Did Honda Reject Your Warranty Claim? Use DoNotPay To File an Appeal
In case Honda denies your warranty claim, don't be surprised! Companies often reject warranty claims under different excuses to avoid any costs of repair.
If you think you've been wronged, you can appeal a denied claim via DoNotPay! All you need to do is:
Access DoNotPay from any

Open the

Claim Warranty

option

Select

Appeal a Denied Warranty Claim

Answer the questions about the Honda warranty and your original claim

Click on

Submit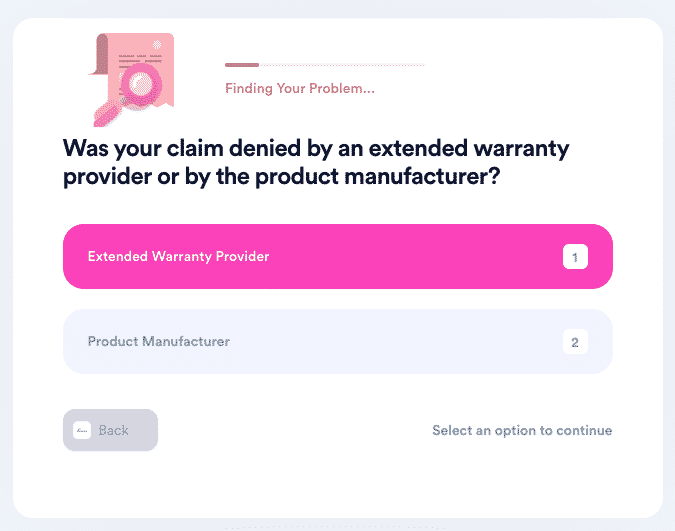 We will generate a strong appeal letter that can beat any of the company's excuses for denying your warranty claim. We will send the letter to Honda, and its representatives should contact you directly to tell you the result of your case.
Handle Administrative Tasks Effortlessly With the Help of DoNotPay
Do you need information about home warranties? Check out our home warranty reviews and find the best home warranties in America.
With DoNotPay, you can also learn what to do in case your dealer refuses to cancel your extended warranty.
DoNotPay can take over other bureaucratic tasks, such as canceling services, requesting refunds, or making a DMV appointment. Open DoNotPay in any and check out what tasks we can take off your shoulders:
Disputing speeding tickets

Fighting traffic tickets