Retrieve a MetroPCS Lost Phone Quickly and Easily
Trying to find something you've lost can be stressful and time-consuming. You end up wasting hours or even days searching for phone numbers, email addresses, and online forms to report your lost car keys, phone, wallet, or any other item.
If you're looking for options to report your MetroPCS lost phone, you've come to the right place. This article saves you time, money, and energy by listing precise steps and showing you the fastest and easiest way to get your phone back.
I Lost My MetroPCS Phone—What Should I Do Now?
In case of a Metro by T-Mobile—formerly known as MetroPCS—lost phone, you need to do the following:
Suspend your service
File a claim
How To Suspend Your Lost Phone's Service
If your phone is lost or stolen, you need to prevent potential unauthorized use as soon as possible. To suspend your service, you should take the steps presented in the following table:
Steps To Take
Details
Prepare the following information

Device make and model
Phone number, serial number, or International Mobile Equipment Identity (IMEI)
Account PIN or security question

Get in touch with Metro by T-Mobile

Call customer service at 1-888-863-8768
Head to a Metro by T-Mobile store
Keep in mind that if you don't disconnect your phone fast, you will have to settle any additional usage charges that happened after you lost it and before you notified Metro by T-Mobile.
File a Claim for Your MetroPCS Lost Phone
If you've lost your Metro by T-Mobile phone, you should report it using one of the following options:
Fill out an online claim
Visit a Metro by T-Mobile store
Use regular mail
Send a message on social media
Submitting an Online Claim
You can file a claim online by taking these steps:
Open the File, Continue, or Track My Claim page
Click the Start here button on the right
Type in your mobile or IMEI number
Tick that you're not a robot
Hit the Submit box
Provide additional information requested in the following steps
Once you've filed your claim, you can track it online and expect to receive your replacement phone:
The next day—If you submitted your claim on working days until 8:30 p.m. (CET)
Within a few days—If you filed the claim during the weekend or holidays
Visiting a Metro by T-Mobile Store
Another option to report that your phone got lost is to visit the nearest Metro by T-Mobile store. To choose the most convenient location, you should:
Access the Metro by T-Mobile Store Locator page
Type in the ZIP code or address
Click on the magnifying glass icon on the right or press Enter
Select a suitable store from the provided list
It might be a good idea to call the shop before heading there to check their work hours. The opening hours might change due to the COVID-19 pandemic.
Want To Use Regular Mail To Report a MetroPCS Lost Phone?
If you're old school and prefer using (snail) mail, you could get in touch with Metro by T-Mobile customer service by sending a letter to T‑Mobile Customer Relations, P.O. Box 37380, Albuquerque, NM 87176-7380.
Keep in mind that it'll take days—in some cases even weeks—until a representative contacts you and resolves your issue.
Connect With Metro by T-Mobile Customer Service via Social Media
You could report your MetroPCS lost phone by sending a message to customer service using the following social media accounts:
Twitter
Instagram
Facebook
If a customer service representative misses your message and doesn't reply, you should consider other options.
DoNotPay Can Report Your Lost Item in a Flash
DoNotPay can help you save lots of energy and time you'd otherwise spend contacting customer service, writing letters, completing and tracking online forms.
Don't you resent having to wait for a representative to answer your call? Our AI-powered app can get hold of customer service at MTA, Metro, Disneyland, or any other company in your stead quickly.
and:
Start typing Find My Lost Items
Enter where you last saw the lost item, e.g., you lost your phone in Uber, a restaurant, cafe, or park
Provide details to help us identify the lost product, e.g., describe specific features or upload a photo of the item
Choose the time and date when you last saw the lost object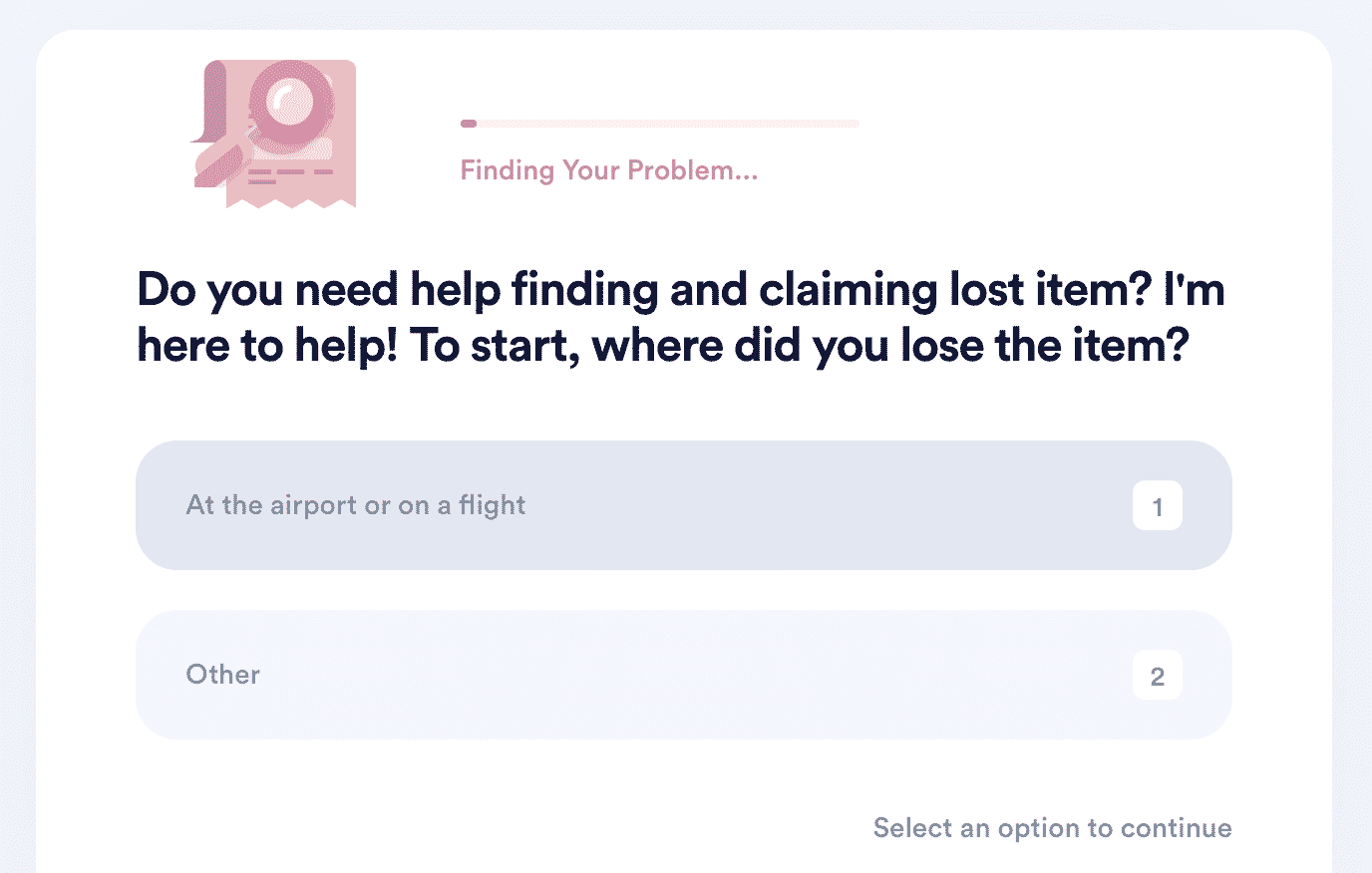 Once you've completed the above-listed steps, DoNotPay will contact the company in question automatically. If your lost item is found, we'll explain how you can get it.
Use DoNotPay To Retrieve Different Lost Items
Our database is full of up-to-date contact details that we use to help you retrieve your valuable items fast and hassle-free. Here are a few companies we can get in touch with on your behalf:
Check out our informative guides to retrieving lost items, such as:
DoNotPay Has More Products in Store for You!
Our app is adept at solving numerous issues and completing various tasks in your stead.
You may want to use DoNotPay to protect your work from copyright infringement, reduce your property taxes, send defamation demand letters, or file FOIA requests.
Through the same app, you'll be able to skip many bureaucratic hurdles. Here are more tasks DoNotPay can help you with:
Use DoNotPay To Keep in Touch
If your friend or family member is in jail, we can help you locate them and send and receive letters with ease. Do you need to send other letters but hate going to the post office? You can use our Mailing Service product and save time.
We can also help you send online faxes, reach customer service, and contact embassies or government representatives.
In case you're drowning in email and text spam, our app can end it for good. Even if robocalls are bothering you, we have a solution!