Cricket Lost Phone—Get Your Money or Your Phone
Going through the process of finding something you lost requires a lot of time and energy on your part. You need to go around looking for the lost item and call up customer service. Everything gets even more difficult if you lose a phone and don't have any means of making calls.
In this article, we'll show you how you can retrieve a Cricket lost phone and what course of action you can take if you can't find it anywhere. We'll also introduce DoNotPay—a faster, more convenient way of finding your phone, regardless of whether you've lost it in an Uber, on an MTA ride, or any other location in the United States.
How To Find a Lost Cricket Phone
Once you realize your phone is no longer with you, there's no reason to feel doom and gloom from the start. The chances are that you will be able to find your phone and get it back before you begin searching for a new one.
The first step is to retrace your steps—try to remember the last moment you saw your phone and work on a list of places you visited afterward. This will limit your search area significantly.
You can look for your phone in several ways:
With a tracking app
In person
With DoNotPay
Tracking Apps
Depending on whether you have an iPhone or an Android, you can use different tracking apps, as shown in the table below:
Find My Phone—iPhone
Find My Device—Android
Use any Apple device to open a Find My app or go to iCloud and sign in with your Apple ID. Once you're in, you have to:

Select All Devices
Pick your missing iPhone

If you can't find the iPhone, you can use the Find My app to lock the device remotely and erase all personal data on it

Access your Find My Device account in a web browser. Then, you need to:

Go to Settings
Click on Google Services
Choose Security
Select Remotely Locate This Device

If your device's GPS is enabled (the phone has to have internet access), the app will show you its exact location
In-Person Hunt
Once you make up a list of possible places where your Cricket lost phone might be, you can visit each one and see if you can find it there. If you lost an iPhone, the Find My app has the helpful feature of playing a sound to pinpoint its exact location more easily.
If you think you've lost your phone in transportation, like Metro Transit, or a large place like Disneyland, you won't be able to find it in the same spot. You will need to reach out to customer service or the locations' lost and found offices.
Both of these options are time-consuming—be prepared to spend days wandering around and listening to those annoying customer support tunes while you're on hold.
Optimizing Your Search With DoNotPay
Losing an essential item like your phone, car keys, or wallet is stressful enough—you don't need the added tension of going around looking for it by yourself.
DoNotPay can help you avoid the whole ordeal. When you , all you need to do is provide the following:
The description of the phone or a photo if you have one
The date you lost it on
A list of possible locations
We'll get in touch with everyone you mention and make sure that you get your phone back if it's still in one of those places.
What To Do if You Can't Find Your Cricket Wireless Lost Phone
Once you run out of searching options, it's time to accept that you probably won't see your phone again. When this happens, you should reach out to Cricket and protect yourself.
You can temporarily suspend the Cricket service online—if you do happen to get your phone back, you can activate the service again using the same platform.
If you believe your phone was stolen, you can request Cricket to block your device. To do that, you need to reach out to its customer support. When they block your lost Cricket phone, nobody will be able to text, call, or use data on it. All carriers share the blocked list, so your thief won't be able to activate the device on another network.
Cricket Protect
Cricket Protect is an optional feature available to Cricket users with eligible devices (less expensive models are ineligible). To use Cricket Protect for your lost or stolen device, you need to have it activated before the loss happens.
Cricket Protect offers warranty protection for an $8 monthly fee for the more sophisticated models or Samsung and iPhone BYOD devices.
The feature covers you for:
Damage
Loss
Theft
Out-of-warranty malfunction
Find Your Cricket Lost Phone in No Time With DoNotPay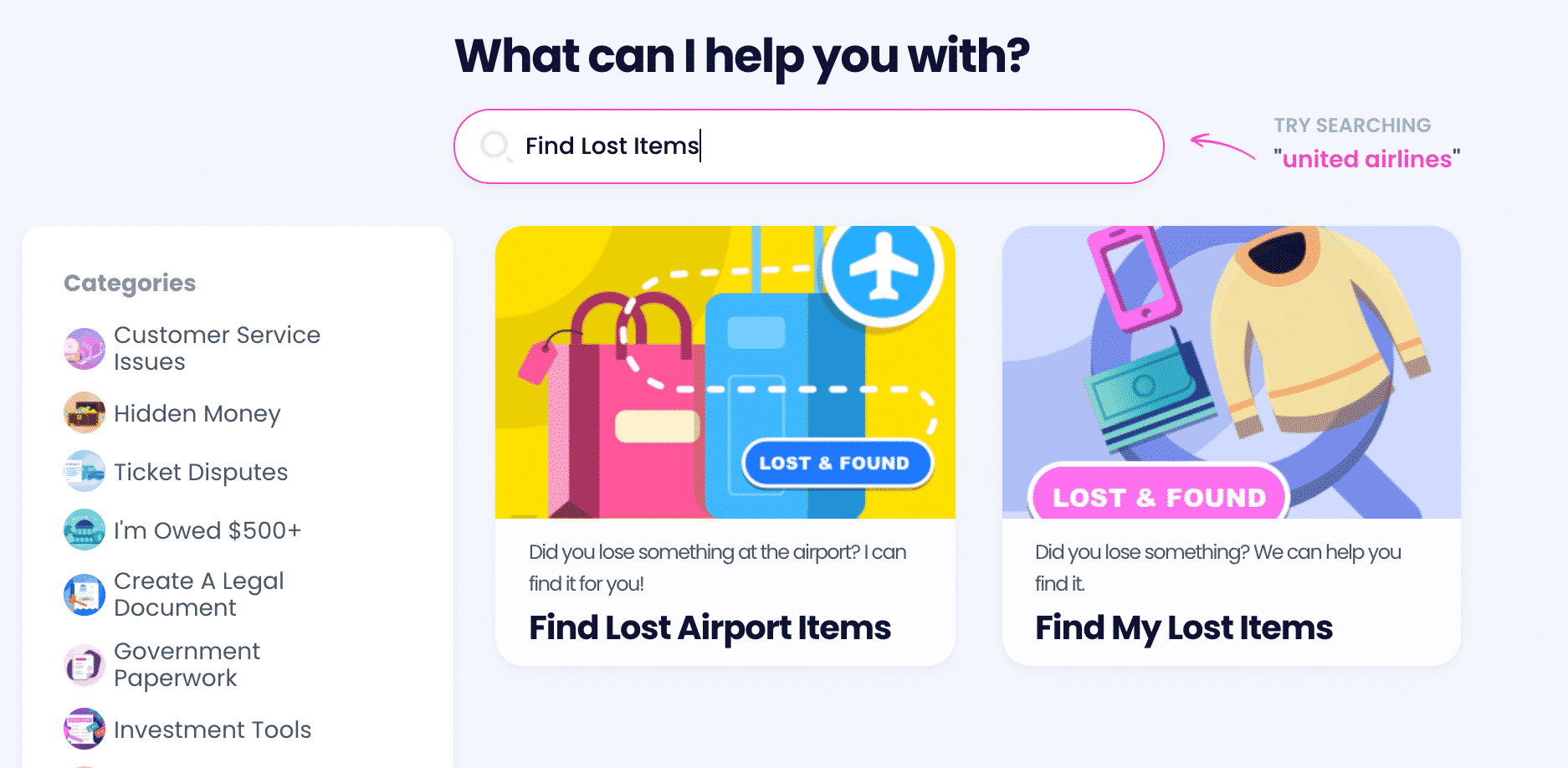 Why waste your time on reaching out to customer service and revisiting various places when there's an app that does it for you? DoNotPay will contact all locations you've been to from the moment you lost your phone until now.
All you need to do is the following:
via any browser
Select the Find My Lost Items product
Answer a few questions from our chatbot
Say Goodbye to Boring Tasks
When a task takes up too much time, you may give up or procrastinate incessantly. We have a solution—use DoNotPay to manage numerous administrative or bureaucratic errands.
No more waiting in neverending DMV lines or staying hours on the phone waiting for a customer service rep to pick up. You can even skip going to the post office. We can help you send letters and even online faxes in a flash. If what you're sending needs to be notarized, use our app to schedule an appointment with an online notary.
Traveling soon? Get your passport photos ready, apply for a tourist visa, contact embassies, and draw up a child travel consent form—all within the same app.
What Else the World's First Robot Lawyer Can Do for You
When you need legal assistance but you can't afford to hire a lawyer, rely on DoNotPay. With our legal expertise, we can help you do the following: