All There Is To Know About Maine Implied Warranty 
The implied warranty protects every consumer from a seller's potential fraudulent activity. Every product that you purchase in Maine comes with an implied reassurance that the item will fulfill its purpose. 
If you want to learn more about the implied Maine warranty law and find out how to file a warranty claim—be it for your car, home, or any purchased item—you are in the right place! DoNotPay has the easiest way of filing a warranty request.
How Does Maine Implied Warranty Law Work?
Implied warranty law in Maine is designed to protect every customer from being sold a seriously defective item. The law refers to any product bought for family, household, or personal use. 
If you buy a refrigerator in Maine, the implied warranty law guarantees that the product will serve its purpose and last for as long as refrigerators usually last.
Maine's implied warranty law applies to any new or used product from the date of purchase and ensures four-year protection, depending on the product's life expectancy. If you buy a kitchen appliance that comes with a two-year manufacturer's warranty, it is still protected by the implied warranty law for four years. The assumption is that the product should last at least four years, provided you treat it properly and keep it in good condition.
If the product's life expectancy is less than four years, the implied law of merchantability will last that long.
What Does Maine Warranty Law Cover?
Maine implied warranty covers any malfunctioning item that is within its useful life, provided:
It is not worn out

The consumer didn't cause the damage
How Can You File an Implied Warranty Claim in Maine on Your Own?
If you discover that you bought a defective item immediately after purchase, you can demand a refund for the product. The only solution for consumers who discover the malfunction after a while is to have the manufacturer repair the item. If the item cannot be repaired, you have the right to reject it and try going for a refund.
The method of claiming a warranty for a product depends on the manufacturer. Here is an overview of possible approaches to filing a warranty claim:
| | |
| --- | --- |
| Method of Claiming a Warranty | Can I Use It for Every Company |
| DoNotPay | Yes |
| Email | No |
| Phone | No |
| Letter | No |
| In Person | No |
| Company Website | No |
Most of these ways often prove to be unreliable and lengthy. DoNotPay is the only method that will save you time and improve your chances of getting the desired result.
Claim Any Warranty With DoNotPay
DoNotPay provides the most time-efficient method of filing a claim for any warranty. You can even use our feature to claim a warranty for used cars or handle a company refusing to cancel your extended warranty. The process is straightforward and doesn't require any effort on your side. The steps are as follows:
Open DoNotPay in your

Choose the

Claim Warranty

feature

Select the type of warranty you wish to claim

Type in the required information

Click on

Submit my claim
We will generate a convincing warranty claim with the information you provided. The company is bound to contact you as soon as they receive it.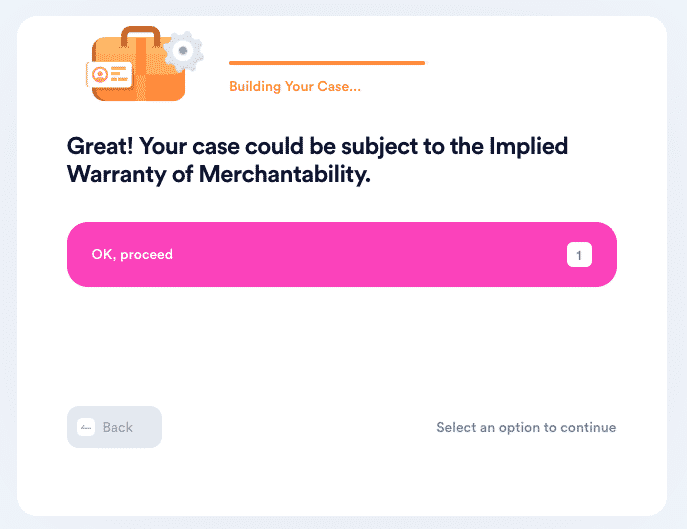 If the Company Denies Your Warranty Claim, DoNotPay Can Help
It is not unusual for the company to reject a warranty claim. If that happens, the worst you can do is give up. DoNotPay offers to appeal the denied warranty claim and ensure that you come out as a winner this time! 
The steps for filing an appeal are simple:
Open DoNotPay in your

Select the

Claim Warranty

feature

Tap on the

Appeal a Denied Warranty Claim

option

Indicate whether you are appealing against the decision of the

Extended Warranty Provider

or a

Product Manufacturer

Give us necessary details about the company and the original warranty claim
DoNotPay will create an appeal letter and send it on your behalf. We will use the information you provided and general warranty laws to make a convincing case. The company whose decision you're appealing against will contact you shortly after to discuss the situation.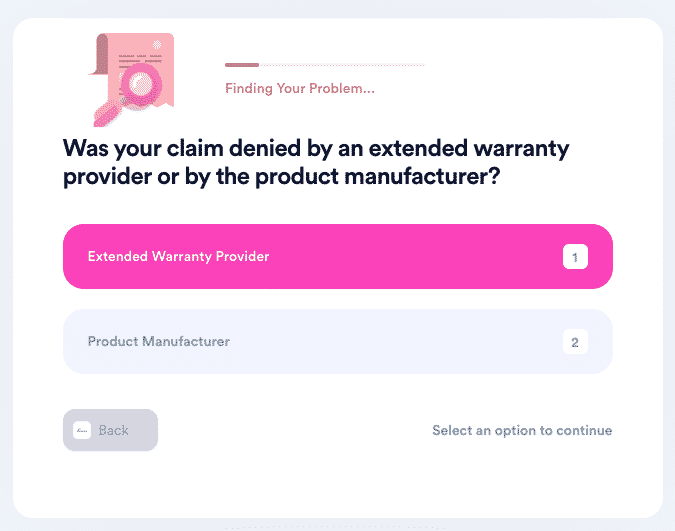 DoNotPay Helps You With Other Mundane Tasks
If you want to know more about warranties, check our knowledge base for home warranty reviews and information about the best home warranties in America. DoNotPay provides information on filing warranty claims for various products, like a Samsung microwave, Apple AirPods, or Vizio TV.
Open DoNotPay in your and check out how we can help you with:
Overturning traffic tickets

Disputing speeding tickets