If My Car Is Under Warranty, Do I Have To Pay for a Service? DoNotPay Answers
If you own a new or used car, a car warranty will help you reduce the cost of repairs if something goes wrong. A car is an investment and requires maintenance and inspections. When something unexpected happens, a car warranty is your backup.
Do you still have to pay for a service even if you have a car warranty? We will answer that question and give you all the necessary information on car warranties and how to file a warranty claim!
What Is a Car Warranty?
A car warranty is a written guarantee given by the car manufacturer. With this document, the manufacturer agrees to cover various damages and faults that may occur over time. When you buy a car, you will see that there are several options:
Factory warranty

Bumper-to-bumper warranty

Extended warranty
Car warranty coverage varies among manufacturers. If your repair or replacement is covered by the warranty, you won't have to pay for the service.
The cost of the non-covered repairs can be extreme. Because of this, you should get to know all of the details of the coverage before deciding on the best one. You should claim the warranty as soon as the damage happens.
What Is a Factory Warranty?
A factory warranty covers any defective parts due to poor workmanship or manufacturer error. This warranty is usually meant for new cars, as well as certified pre-owned cars. A factory warranty is not common for used cars, but it depends on your car dealership or manufacturer.
What Is a Bumper-To-Bumper Warranty?
A bumper-to-bumper warranty includes comprehensive coverage for your car. It is also called a manufacturer or exclusionary warranty since some of the components are not covered by the deal. You can purchase this warranty for your new or used car.
This warranty covers most of the repairs, except for wear-and-tear. Here you can see items that are usually covered:
Included
Not Included

Major vehicle systems

Heating and air conditioning

Steering

Fuel system

Safety systems

Electrical systems
What Is an Extended Warranty?
An extended warranty includes complete coverage combined with a regular car warranty. Every extended warranty has different terms and conditions and covers different parts of the vehicle. It usually comes at a higher price, but it continues after the manufacturer's warranty has expired.
You can acquire an extended warranty from your manufacturer or a third-party provider. Finding a reputable extended warranty provider can be a tiring process. Make sure to research the worst extended auto warranty companies so you don't make a wrong choice.
How Long Does a Car Warranty Last?
Every car warranty lasts a different number of years or miles. The length can vary depending on your car model, brand, or year.
These are the most common lengths of car warranties:
| | |
| --- | --- |
| Car Warranty Type | Coverage Length |
| Factory warranty | 3–5 years/36–50,000 miles |
| Manufacturer's warranty | 3 years/36,000 miles |
| Extended warranty | 5–10 years/60–100,000 miles |
A factory warranty can be transferred to a new owner when you sell your car if it hasn't expired yet. If you are not satisfied with your extended warranty, DoNotPay can help you if your dealer refuses to cancel your contract.
File a Warranty Claim Using DoNotPay
Many companies make the process of filing a claim complicated and time-consuming. Why go through the trouble when you can use our app and file your warranty claim in minutes?
Follow these steps to file a warranty claim the easy way:
Open DoNotPay in any

Select the

Claim Warranty

feature

Choose

Car Warranty

Specify whether you have an extended warranty or not

Explain the issue you have in detail
When you provide all the necessary details and information, we will forward your claim to your warranty provider.
We can also help with other warranty issues you may have, such as claiming a home warranty. Finding the best home warranty reviews and home warranties in America is also not a problem for our app.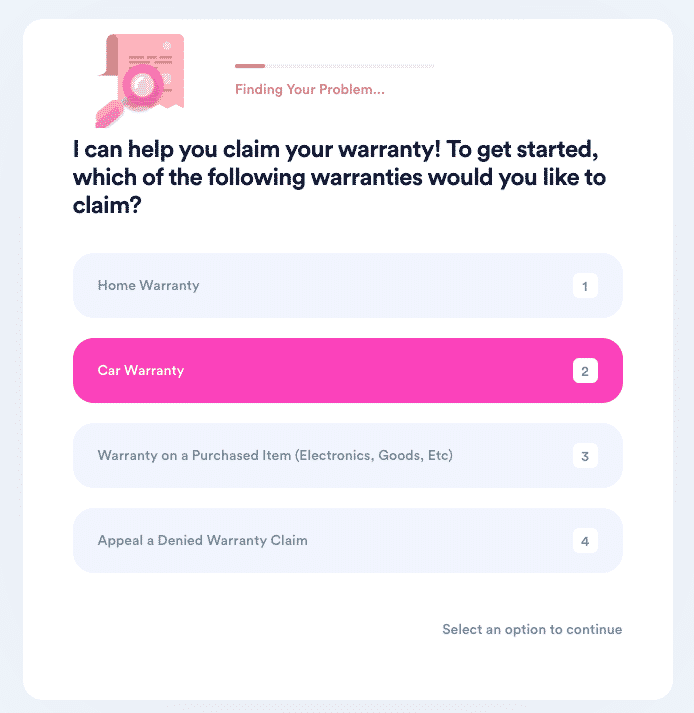 Make an Appeal for Your Rejected Car Warranty Claim With DoNotPay
Denied car warranty claims are widespread and can make you give up on pursuing further action. DoNotPay can help you appeal a rejected warranty claim without much stress or effort on your part.
Here is what you need to do:
Open DoNotPay in your

Go to the

Claim Warranty

feature

Click on

Appeal a Denied Warranty Claim

Provide the details about your rejected claim and the company

Click on

Submit
After you submit the info, we will create an appeal letter and send it to the company you specified. You can expect to hear from the customer service reps soon.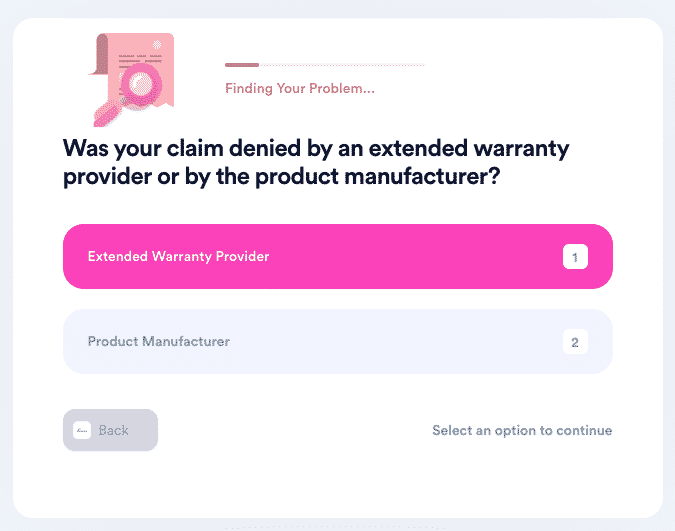 The Solution to Your Driving Woes
DoNotPay provides invaluable help to future and current drivers. By helping you ace that driver's license test, scheduling a DMV appointment the easy way, or contesting parking tickets, our app saves you money and time.
If you need to file a car warranty or an insurance claim, we will help you deal with the necessary paperwork within minutes. Trying to get out of a car wash membership? DoNotPay can cancel it in an instant.
Our platform works above ground as well. You can use DoNotPay to secure refunds from airline companies or compensation for delayed and canceled flights.
Falling for Scams Is Less Likely With DoNotPay
Thanks to AI technology, DoNotPay is a great resource for protecting your privacy and finances from potential scammers. Our bots can help you report robocalls, keep your inbox clean from spam email and shady text messages, or even deal with stalking and harassment, if it comes to that.
In case the issues escalate, skip the expensive lawyers and sue the offenders in small claims court with ease.
Another great way to increase your online security is to use our virtual credit cards and sign up for any free trial without risking unwanted charges. You can even avoid sharing your contact info with our Burner Phone feature.