Does Google Voice Block Robocalls? 
Robocalls have become one of the most frequent forms of lawbreaking in the United States. According to the Federal Trading Commission's (FTC) estimations, dealing with automated calls cost Americans over $3 billion each year! 
To fight back against robocalls, people started resorting to third-party number blocking apps and services, such as Google Voice, in hopes that their struggles with robocall scams will come to an end. 
What Is Google Voice and How Do You Sign Up? 
Google Voice is a phone service provided by Google that offers international and long-distance calling, alongside free voicemail services. 
Google Voice allows you to:
Place affordable international calls

Access voicemail and read through it as if it was your email list

Send texts from your computer or smartphone

Create personalized voicemail greetings for friends and family

Protect yourself from spam calls, screen calls before answering, and block unwanted callers
To start using Google Voice services, all you need is a Google account, computer or a smartphone, and a U.S. phone number that allows conditional call forwarding. 
Using Google Voice to place calls to the U.S. or Canada is free of charge.
Signing Up for Google Voice Services
To sign up for Google Voice on your computer, you need to:
Open

Google Voice

 

Sign in to your Google account

Review the Terms of Service and Privacy Policy and click Continue

Search a number by area code or city  

Click Select 
Exploring the World of Google Voice Robocall Blocking
If you are looking for solutions on the matter of how to stop robocalls, Google Voice has a few tricks up its sleeve. Through Google Voice, you can:
Set up Call Screening

Send calls to voicemail

Send calls to spam

Block individual callers
Using Google Voice to Filter Robocalls
Google Voice lets you decide how to deal with incoming calls. One option you have at your disposal is to turn on Call Screening to protect yourself from annoying telemarketers and other spam callers. 
To enable this service, you need to:
Access your Google Voice account and select Settings

Open the Calls tab

Turn on Call Screening
Call Screening allows you to listen to the caller's greeting before deciding whether you should answer the call or not. 
When this option is enabled, the unknown caller will have to record a greetings message before getting forwarded to you. 
Send Calls Directly to Voicemail
From the Call Settings tab, you can turn on the option to send all calls directly to voicemail. If you are running a small business, this is a great way to manage calls when your business is closed, or you are doing inventory. 
Google Voice will even offer you a Do Not Disturb option through which you can send calls to voicemail during a selected number of days, hours, or minutes. 
You are free to go through your voicemail messages and return calls at your convenience. 
Send Calls Directly to Spam
Your Google Voice panel contains a spam folder where messages from all identified spam callers are stored. To assign a certain number to the spam list, you have to:
Click the checkbox next to the number you want to verify as spam

Select Spam
The next time this contact tries to call you or send you a message, it will automatically go to the spam folder. 
Block Individual Numbers With Google Voice
Google Voice allows you to completely block specific contacts if they become too annoying. In these cases, blocked callers receive pre-recorded messages saying that your number is no longer in service. To block a caller with Google Voice, you must:
Access the call log in your Google Voice account

Click More

Select Block Caller from the menu

Confirm that you want to block the caller
Google Voice Robocalls Cannot Be Unblocked, Can They?
Whenever you decide to unblock a certain number or remove the caller from the spam list, you are allowed to do so. To remove a caller from the spam list, you need to:
Go to your spam folder

Click on the checkbox next to the number

Select Not Spam
To unblock a caller on Google Voice, you must:
Click the More link underneath the number on Google Voice

Select Unblock Caller
DoNotPay Has a Better Solution

Can Google Voice stop robocalls? To a degree, yes. However, here at DoNotPay, we are confident that we have devised a much better solution for fighting back against malicious robocallers. 
Instead of just blocking a scam number, we believe that scammers need to get punished for their illegal activities. DoNotPay's new Robocall Revenge feature allows you to do just that. 
By using Robo Revenge, you can track down scam callers and sue them for up to $3,000 in court settlements. 
To start using our services, access DoNotPay through a web browser. 
Here is how DoNotPay fights back against robocalls:
You get a scam call

The fraudster tries to steal your money or personal information

You open DoNotPay and select Robo Revenge

Our app provides you with a

free virtual credit card

You share the

virtual credit card

details with the scammer

We track them down based on the attempted transaction details

DoNotPay helps you write a dispute letter to

report the robocall

and file a

robocall lawsuit

against the fraudster
Virtual Credit Cards Are a Necessity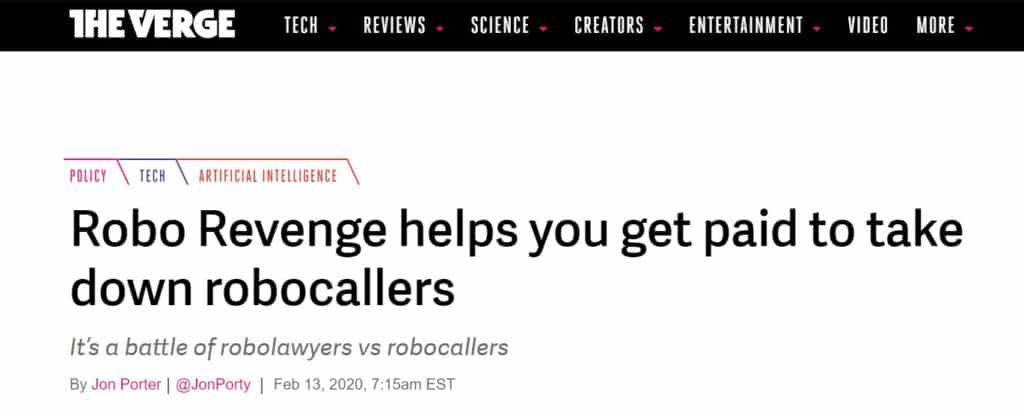 While you can follow the FCC guide to robocalls and learn how to protect yourself from scam callers, DoNotPay lets you track them down thanks to our virtual credit card. VCCs allow us to do two critical things:
We can protect your personal information and identity

We can track down the scam caller based on the transaction details when they try to charge your virtual account
For the time being, DoNotPay can only assist you with suing U.S.-based scam callers. Location information is mandatory for filing a robocall lawsuit, and we are unable to access that data if the robocallers are based abroad. 
Using Your Smartphone to Block Robocalls
Though Google Voice does a solid job of keeping robocalls at a distance, you can use your smartphone to prevent annoying callers from bothering you. 
Keep in mind that blocking spam callers makes sense only if you are dealing with legal telemarketers. Scam robocallers tend to change their numbers frequently, and that makes blocking their numbers a futile endeavor. 
Blocking Numbers on iOS Devices
If you are using an iPhone, you have the option to block a certain number or silence all unknown callers (available on iOS 13 devices or higher). To block a number on an iPhone, you have to:
Open the Phone app

Select Recents

Tap on the info icon found next to the number you want to block

Select Block this Caller

Select Block Contact
To silence all unknown callers on an iPhone, you should:
Open Settings

Select Phone

Toggle on the Silence Unknown Callers switch
Blocking Numbers on Android Devices
Android users have the option to block individual numbers or prevent all unidentified numbers from reaching them. To block a specific number on an Android smartphone, you have to:
Open the Phone app

Select Recent Contacts

Tap on the number and select Block or Report as spam

Confirm that you want to block the number
To block all unidentified numbers, you need to:
Open the Phone app

Select Settings

Toggle on the Block Unidentified Numbers switch
How Can You Block Robocalls on a Landline?
Depending on what kind of technology your landline uses, solutions greatly differ. Voice over Internet Protocol (VoIP) landlines use sophisticated, up-to-date technology that enables them to rely on third-party apps such as Nomorobo for blocking robocalls. 
Nomorobo is free for VoIP landlines, and it uses the "simultaneous ring" technology to ward off scam callers. "Simultaneous ring" means that each time your phone rings, Nomorobo gets the call as well. If the app picks up the call first, it will run the number through its system and discern whether you are dealing with a scam call or not. 
In case the app verifies that the number is suspicious, your phone will not ring the second time!
What About Copper Wire Landlines?
To stop robocalls on a copper wire landline, you need to purchase additional hardware and attach it to your phone. These devices are costly and fairly limited in terms of what they can do to prevent scammers from harassing you as they can only alert you about the scam call by screening out the bad number. 
In most cases, these devices come preloaded with a set of scam numbers that cannot be expanded.
Robocalls Are Not Illegal By Default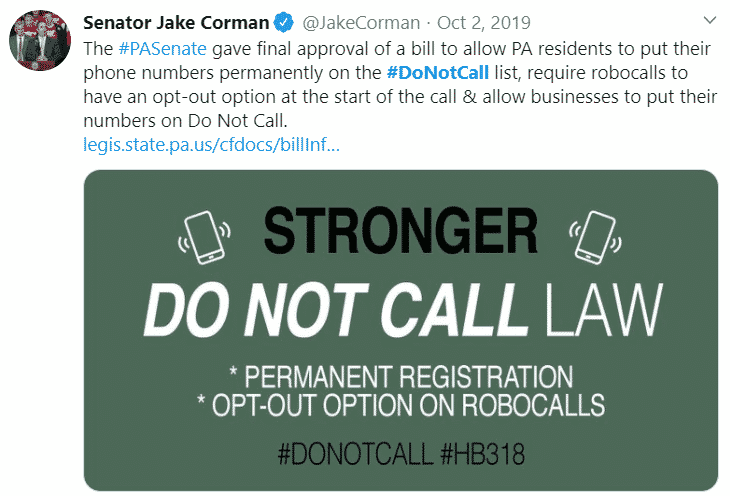 Annoying? Yes. Illegal? Not necessarily. 
Robocalls can be categorized as illegal only if the company fails to abide by the rules defined by the Telephone Consumer Protection Act (TCPA), the FTC, and the Federal Communications Commission (FCC). 
Politicians, charities, debt collectors, and many others are allowed by the government to place robocalls.
Many schools use robocalls and robo texts to inform students and parents about upcoming events, school closure, report card issuing, etc. 
All of this shows that robocalls are not necessarily illegal and that they can be put to good use. 
For a telemarketer to place a legal robocall, they have to:
Place the call between 8 a.m. and 9 p.m.

Provide proper identification when placing the call

Provide the customer with an option to pull out of the company's telemarketing calls

Refrain from dialing numbers found on the National

Do Not Call list
Proper Identification Is Mandatory
Whenever a telemarketer gives you a call, they have to identify themselves properly. At the beginning of the call, the caller must:
Reveal his or her identity

Reveal the identity of the company on whose behalf they are placing the call
Before the conversation ends, the caller must:
Provide you with the company's address

Provide you with the company's phone number
It Is All About the Option to Opt-Out
Telemarketers have to provide their customers with an option to pull out of the company's calls. 
If telemarketers use pre-recorded messages for their robocalls, the message has to enable the customer to press a certain digit and put their number on the company's do not call list. 
When telemarketers use voicemail, the message has to contain a toll-free, callback number that the customer can dial and revoke their autodialing consent. 
FTC's Do Not Call Registry
The FTC's Do Not Call registry has been active since 2003. You can use it to put your phone number on the list and prevent legal businesses from autodialing you. 
To put your number on the Do Not Call list and report an unwanted call, you have to:
Visit the

FTC's Do Not Call website

Select Report Unwanted Calls

Provide information about the unwanted call you received 

Submit your request
If you are unsure whether your number is already on the registry and you are wondering how to check if a number is on the Do Not Call list, feel free to go through our guide and find out. 
We have also written in-depth guides on the Do Not Call list expiration and Do Not Call list exceptions, so you can check those out as well! 
Notorious Robocall Scams
Not all robocall scams are created equal. While most of them come and go at a fairly rapid pace, some robocall scams keep coming back stronger and more dangerous than before. Some of the most common and infamous robocall scams are:
Robocall Scam

What Gives It Away

IRS scam

IRS scammers

are particularly dangerous and scary as they threaten their victims with arrest warrants if they refuse to pay their alleged overdue tax bills 

Scammers identify themselves as IRS inspectors and provide a badge number to prove it

Taxpayers who have unpaid tax bills receive a notice via U.S. Mail first. Atop of that, they are allowed to appeal the owed amount before further proceedings 

The government never calls its taxpayers, let alone threaten them with an arrest warrant 

Government Grants scam

Some scammers call their victims and tell them that they have become eligible for a government grant. Most of the time, immigrants and the elderly are the main targets of government grants scams 

The only thing that is required from the victims is that they pay a small, one-time processing fee for the money to get transferred to their accounts 

Government grants do not function like that. If you become eligible for free government money, as a beneficiary, you are not subject to any expenses 

Google SEO scam

Google SEO scammers

target small business owners and threaten to take their Google listings down if they refuse to pay the requested SEO fees 

If you ever end up receiving such a call, immediately hang up the phone. Google has publicly stated that it does not use automated calls to communicate with its customers 
Google Voice Alternatives
While Google Voice does a decent job of stopping spam calls from interfering with your daily activities, you should consider opting for a more versatile and reliable third-party robocall blocker such as:
Robocall Blocker

Service Summary

Free 14-day trial period

Free for VoIP landlines

$1.99 per month

Customizable personal whitelist feature

Extensive database of confirmed scam numbers

Free one-week trial period

$2.99 per month or $24.99 per year for Android devices

$3.99 per month or $29.99 per year for iOS devices

Includes Answer Bots

Customizable Answer Bot messages

Text spam filtering service

$2.99 per month or $26.99 per year for Truecaller Premium

$249 per year for Truecaller Premium Gold

Free basic service

Accurate caller ID authentication

Number lookup service

Caller's location detection feature

Free basic service

$2.99 per month

$14.99 per year for Hiya Premium

Extensive database of scam numbers

Ad-free

Intuitive interface

$5.99 per month for YouMail Plus

$10.99 per month for YouMail Professional

Free basic service

Easy voicemail accessibility

Great for businesses
When Things Come Crashing Down DoNotPay Will Be Around
Bureaucracy is a merciless beast. Instead of letting it do your head in, you can turn to DoNotPay and get the assistance you need. Our app can help you lower your bills, cancel unused subscriptions, assists you with paying bills, and a plethora of other things. To start using our services, simply open DoNotPay through a web browser. With DoNotPay, you can:
Dispute traffic tickets

Fight speeding tickets