eBay Item Not Received but Says Delivered? File a Missing Package Claim Easily!
eBay item not received but says delivered? You don't have to worry!
We are here to explain all you need to know about package delivery and the steps you need to take if your parcel is missing!
for the most streamlined way to file a claim and request a refund fast!
USPS Says Delivered, but No Package—eBay Package Delays Explained
It's not uncommon for packages to get delayed, lost, or stuck in transit. Some of the common reasons eBay packages get delayed are:
You provided the wrong address
A courier attempted to make a delivery, but you weren't there to receive the package
You changed the initial address after it was accepted and confirmed by the system
You failed to provide the required documentation, so customs caused a delay
The access to your property requires a courier to have an access code that you failed to provide when placing the order
The items you ordered were restricted/prohibited
Weather or traffic conditions stopped the courier from making the delivery
You gave incorrect info when placing the order
A technical issue occurred
Although it's not a pleasant experience, there is good news! You can track your package and locate it with our help or choose a different route and file a missing package claim or request a refund. Whatever you decide, we'll present you with the easiest method to do so!
eBay Item Says Delivered but Never Received—How Can I Track My Package?
You can track your package at any time using various methods. Check out the table below and choose the tracking method that works best for you if the courier service is USPS:
Tracking Method
How It Works
Phone
You can track your package by calling a USPS customer service rep, but note that the reps don't have any additional info apart from what they can find on the official website. Here's what to do:

Dial 1-800-222-1811
Tell the rep about the status of your package and your request
Follow the instructions the rep provides

USPS website
To track your package online, follow these instructions:

Visit the official USPS website
Type in your tracking number
Select Enter

Text message
You can send your tracking number to 28777 (2USPS) and track your package via text message
USPS mobile app
Download the official USPS app for Android or iOS and use it to find your package
eBay Item Says Delivered but Never Received—Can I File a Claim?
Can I file a claim if USPS fails to deliver my package? Yes! USPS allows you to file claims if your package is lost or you receive a damaged parcel. In this scenario, should the courier fail to locate and deliver your eBay package, it will be considered lost.
You will be able to file a missing package claim within 60 days from the mailing date.
eBay Item Says Delivered but Never Received—Requesting a Refund
If your missing eBay package was sent with Priority Mail or Priority Mail Express, you can request a refund. A package sent with Priority Mail has to be delayed for five or more days to be considered missing/lost. As for the packages sent with Priority Mail Express, if they don't reach you within two days from the mailing date, you can request a refund.
You will need to submit the following documents as proof of purchase:
Your photo ID
The tracking number
The purchase receipt
You can request a refund online by visiting the official USPS website or in person by going to the nearest USPS location and explaining your request.
Let DoNotPay File Your USPS Claim and Request a Refund in Your Stead!
You don't have to bother figuring out how to file a claim or request a refund by yourself anymore! DoNotPay will take the burden off your back and do the job on your behalf! We use the info you provide to send a claim for you—all you need to do is complete the following instructions:
Pick the Late Delivery Refund feature
Choose USPS and provide the required info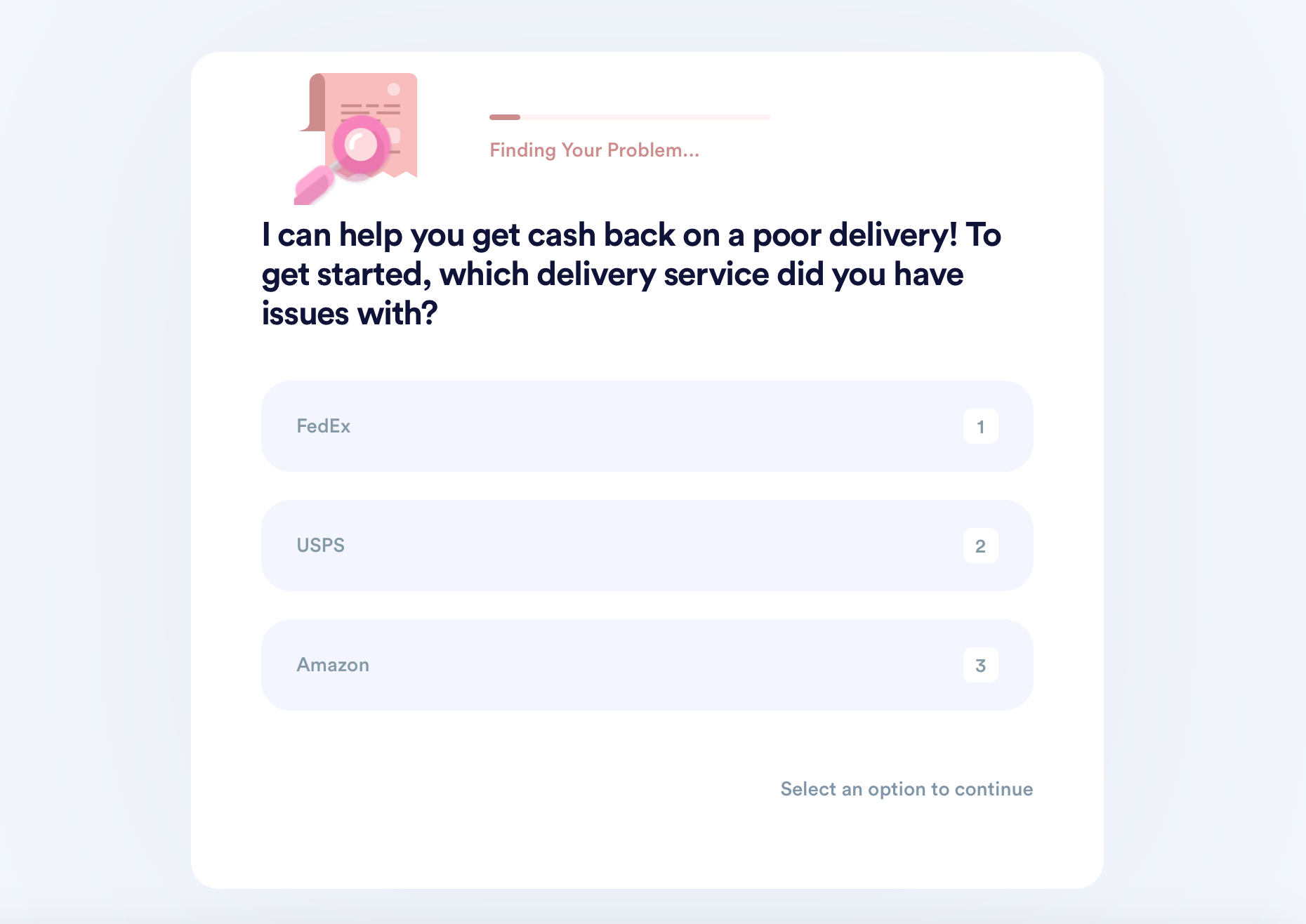 We send your claim to the USPS claims department, and you are all set! In case you want to file a USPS insurance claim, we got you covered as well!
Explore DoNotPay's Vast Database!
If you need more info regarding eBay, USPS, or any other delivery service, check out the list below:
Deal With Companies on Your Terms Using DoNotPay
Claiming late, missed, and damaged item delivery refunds is only one in a sea of services you can get with our app. We can show you how you can:
As if that were not enough, we can also unsubscribe you from a company's email list, stop any annoying robocalls or robo texts they are bothering you with, and cancel any service or free trial you're unhappy with or are no longer using. Our Free Trial Card and Burner Phone products can help you try out any service without being spammed or auto-charged later on.
What Other Services Can DoNotPay Extend?
DoNotPay is invaluable when dealing with companies and their confusing policies, but we can also help you bypass tedious government procedures. If you use our app, you'll have no trouble filing FOIA requests, passing government exams, reducing property taxes, as well as drafting legal documents and getting them notarized in a single app!
To top it off, we'll also help you claim lost assets, delay bills, locate an inmate, report stalking and harassment, or take anyone to small claims court in any U.S. state.