The Duluth Trading Return Policy in a Nutshell
When you need durable clothing, Duluth Trading is the place to go, or is it? Did you shop at Duluth only to get disappointed? Learn whether you can return your products and under which conditions in this guide!
DoNotPay walks you through the essentials of the Duluth Trading return policy!
Duluth Trading Return Policy—The Basics
According to the Duluth Trading return policy and the No Bull Guarantee, customers have one year to return or exchange products they aren't satisfied with. Duluth Trading requires proof of purchase to allow and process returns and exchanges.
Can Customers Return Duluth Custom Built Pants?
Custom Built Pants fall under the No Bull Guarantee and are subject to the standard Duluth Trading return policy.
What Is the Policy for Gift Purchases?
Customers who wish to return gift purchases can discuss the details of the purchase and arrange a return by:
Visiting any of the 60+ Duluth Trading stores
Calling the Duluth Trading customer service department at 1-866-300-9719
Does Duluth Trading Accept Returns From Third-Party Sellers?
Duluth Trading does not accept returns for products bought at third-party sellers. Customers who purchased a Duluth product from a third-party seller should consult the company they purchased it from to return it.
How To Return Your Products to Duluth Trading
There are four ways you can go about returning your products to Duluth Trading:
Online
By phone
In person
With DoNotPay
Initiate a Return Request With Duluth Trading Online
Follow these steps to initiate a return request with Duluth Trading online:
Visit the Easy Returns page on the company's website
Enter your order number and email address
Follow further instructions to receive a shipping label
Pack your products
Complete the return form you received when you ordered your items or download one from the website
Place the shipping label on the parcel
Bring the parcel to your nearest carrier office
If you initiate a return request online and mail your products, you will have to pay $7.99 for shipping.
When you're exchanging a product for the same one but in a different size or color, you won't have to pay any shipping fees, and Duluth Trading will mail the new item to you as soon as you complete the online form.
Start Your Return to Duluth Trading by Phone
To initiate a return request with Duluth Trading by phone:
Call 1-866-300-9719
Express your concerns about the products in question
Request a return
Provide the necessary details to the customer service representative
Return Your Products to Duluth Trading in Person
To return your products in person:
Find and visit your nearest Duluth Trading location
Approach the cash register
Ask an employee to process your return or exchange
Unfortunately, returning products in person isn't the most convenient option for some customers as there are only around 60 Duluth stores in the United States.
With expensive shipping for online requests, getting rid of unwanted items can be tricky. That's why DoNotPay offers a better way once you !
Here are all the ways you can return your products to Duluth Trading:
| Can You Initiate a Return Request Via | Yes/No |
| --- | --- |
| Email | No |
| Phone | Yes |
| In person | Yes |
| Letter | No |
| Online | Yes |
| DoNotPay | Yes |
Return Your Products to Duluth Trading With DoNotPay's Help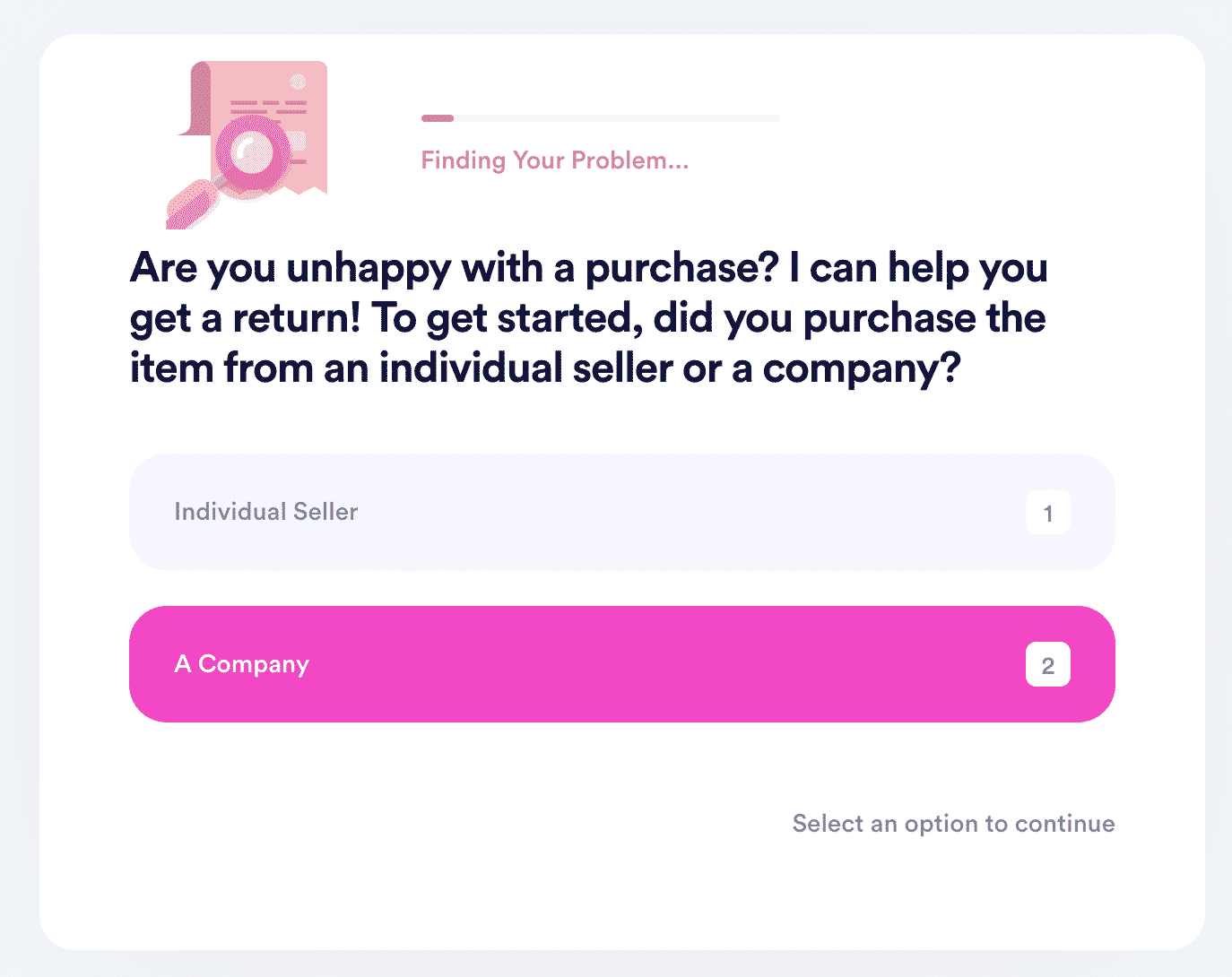 Some customers might struggle with the limited return options or expensive shipping fees, thus never getting their money back. Are you dissatisfied with your Duluth Trading items? Return your products any time, any place with DoNotPay! Forget about pricy shipping fees because we provide a free shipping label for all requests initiated using our app!
To get started:
Navigate to the Item Return Request feature
Provide details about your purchase
We will forward your request to Duluth Trading and impose a deadline for the company to process it.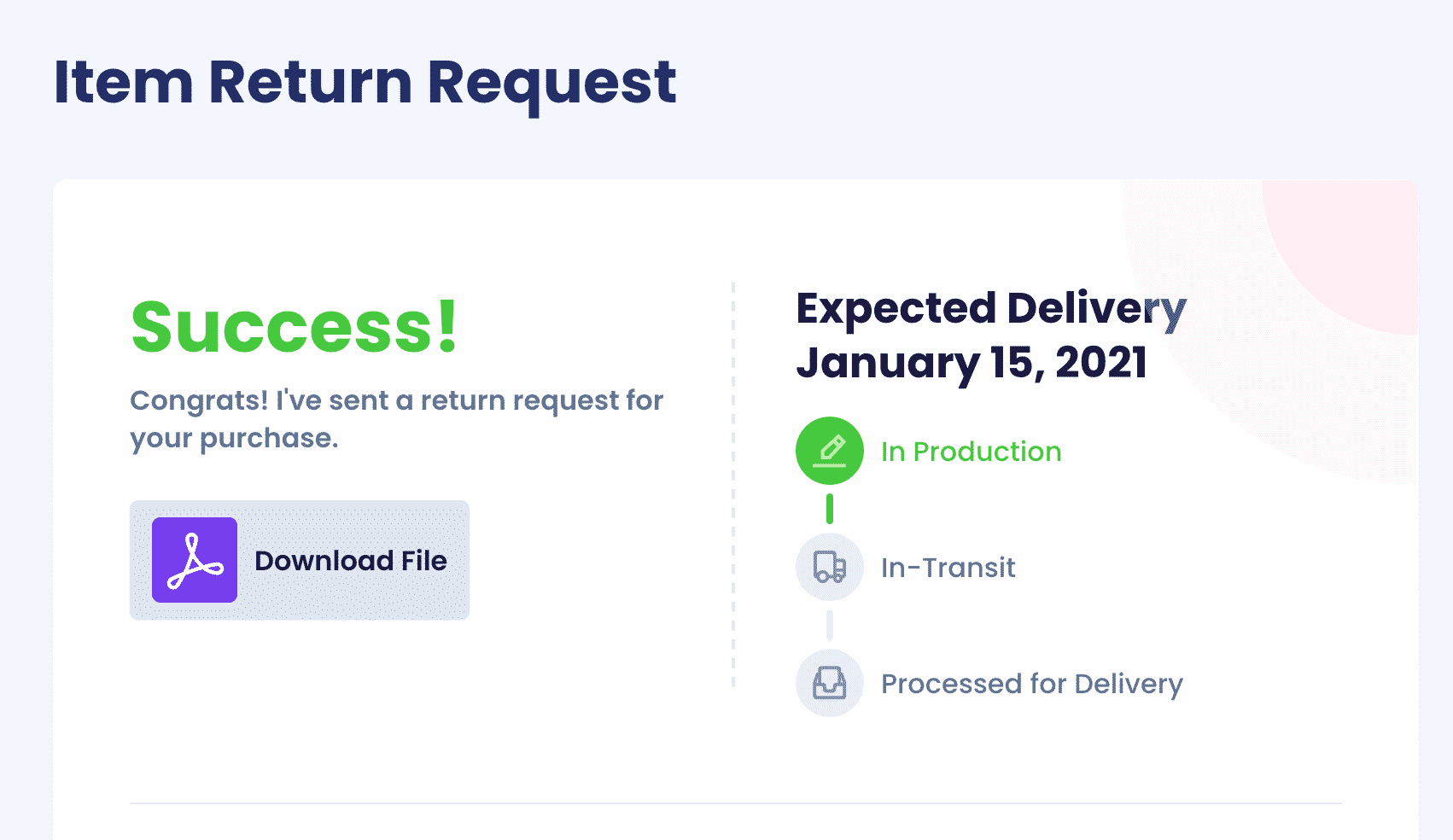 Do you have more disappointing purchases to return? Check the list below to learn about some of the numerous companies we can help you with:
Duluth Trading Refund Policy
Duluth Trading issues a refund immediately for all in-store returns. The company takes around ten to 15 days to process online returns because of the shipping delay. Whichever method you use to return your products, Duluth Trading will refund your original payment method, including Afterpay, if you used it to pay for the items in question.
Demand a Refund From Duluth Trading With DoNotPay
Duluth Trading products aren't the most budget-friendly ones. Waiting for up to two weeks to get that amount of money back can be frustrating, but you don't have to wait! All you need to do to demand a refund from Duluth Trading is open DoNotPay and:
Search for File a Chargeback
Click on Get Protected
Answer a few short questions about your purchase
Click on the Sign and Submit button
Item Returns and Other Annoying Tasks Take but a Minute With DoNotPay
Looking into resolving other tedious bureaucratic tasks with the help of our app? Check out a fraction of our product range that can assist you with:
Drawing up power of attorney documents
Don't Stop There—See How We Can Help You Even Further
You can count on our app's assistance if you need to cancel any subscription, demand a refund from a company or airline, get help with utility bills, reduce your property taxes, get a tourist visa, appeal banned accounts, contact embassies, or get cash back on gift cards.
Think you have some missing money? Claim it before the government does it in your stead! Need help preparing for a government test? Skim through our guides! Want to schedule a DMV appointment in a snap? We'll do it for you! Have any other obstacles? We'll get rid of them in the blink of an eye.