Crist CDL Test—Is It Any Good?
CristCDL.com is a website that offers help to drivers who want to get their commercial driver's license (CDL). With this license, they will be allowed to operate commercial motor vehicles (CMV), such as trucks and (school) buses.
The company was first founded as a training center providing material and courses for those applying for the CDL exam. The school is not operational any longer, but the website is.
If you would like to prepare for a CDL exam, you might be wondering whether the Crist CDL test is worth your time.
What Does the Crist CDL Test Cover?
Crist CDL practice tests can help you go through the material covered in the CDL written test. You will first need to review your state's CDL manual to get familiar with all regulations and safety measures.
Crist CDL practice tests include the following areas:
General Knowledge

Air Brakes

School Bus

Tanker

Combination

Pre Trip

Hazardous Material

Doubles/Triples

Passenger
Here is what you should do to take one of the Crist CDL knowledge tests:
Click on the

Select Your State

button at the bottom of the homepage

Click on your state in the pop-up window

Choose the practice test you would like to take
Some information on a Crist CDL test might differ from the state's CDL handbook, so you should pay close attention not to learn something that's wrong. Use only the data provided in the official up-to-date state's CDL handbook, as Crist's website may not be accurate or up-to-date.
Can DoNotPay Help You Pass Your CDL Test?
Yes, we can help you prepare for your CDL general knowledge test better than anyone else! DNP is always up-to-date with the latest rules, so it is the safest bet for practicing and learning.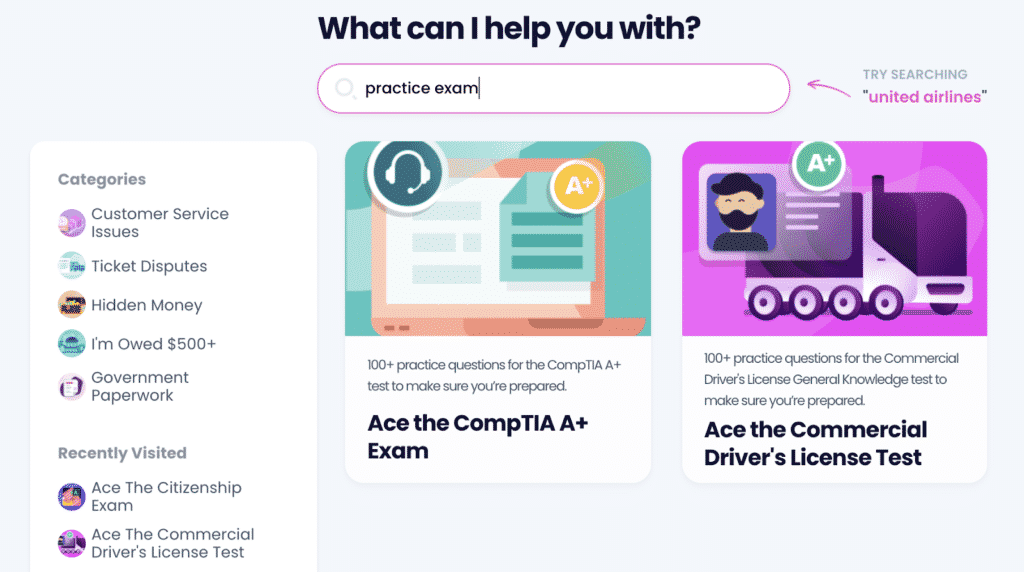 DoNotPay provides assistance with a state-specific CDL test to help you ace the exam and start operating CMVs.
Take our CDL practice test by following these simple steps:
Go to DoNotPay in your

Select the practice test by entering

CDL

or

commercial driver's license

Pick the test you would like to do

Choose the number of questions you want to cover—10, 20, or 30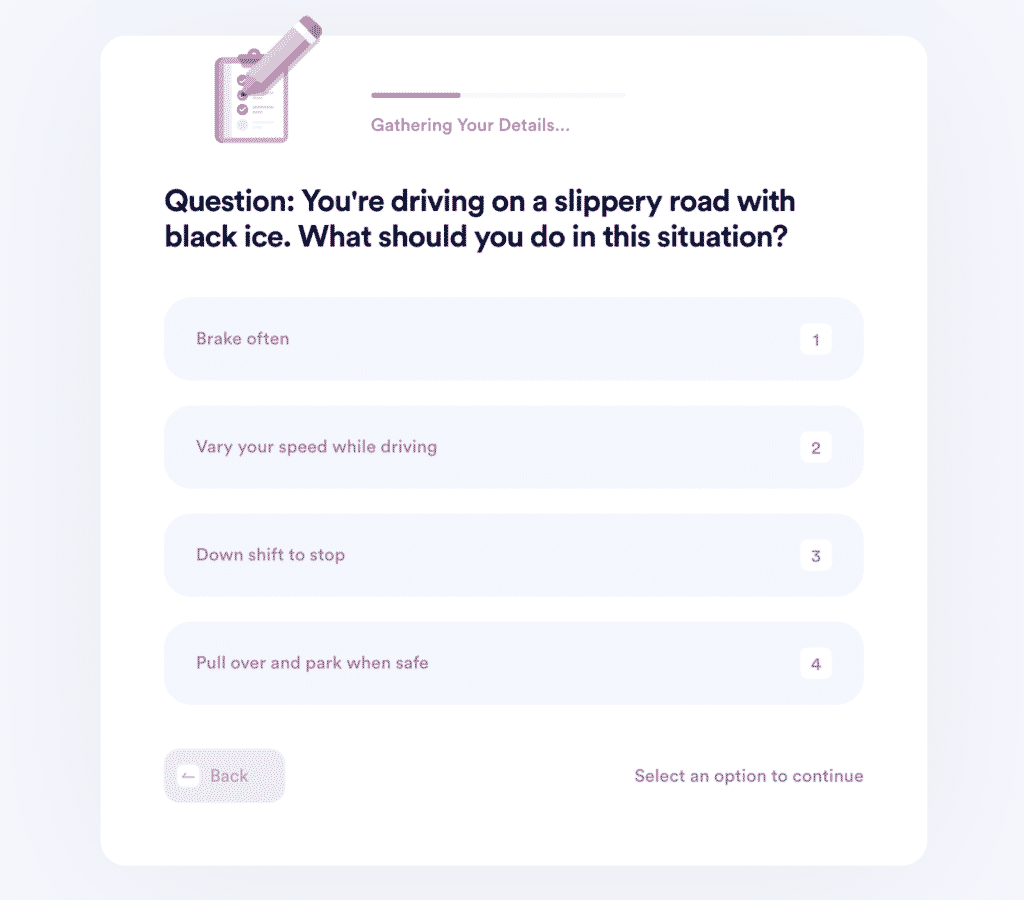 What happens if you make a mistake? Don't sweat it. Try again on the spot, or complete the test and retake it. Practice makes perfect, so make sure to take DoNotPay's practice tests as many times as you need.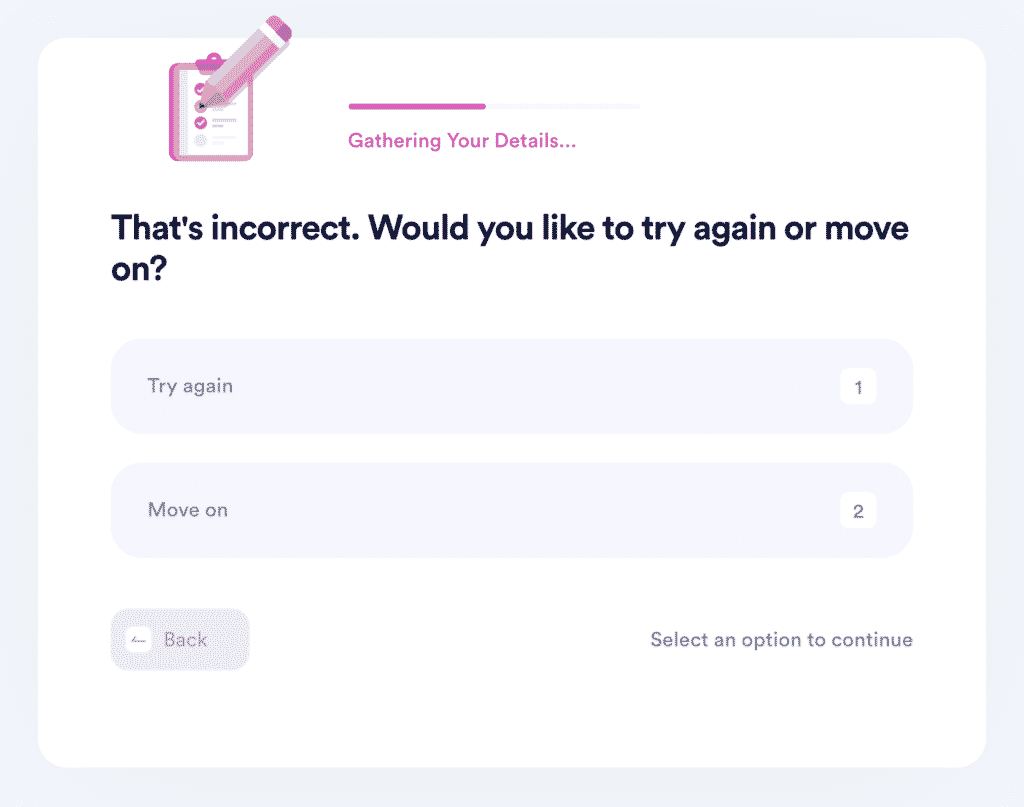 DoNotPay offers suitable preparation for various government tests by supplying relevant practice materials. Pick the exam you would like to prepare for—a CCAT, CompTIA, DMV, postal, U.S. citizenship, notary, or ASVAB test. You can also check out our ASVAB test scores guide.
What Is the CDL Test?
All CMV drivers need to show they have the knowledge and skills to load, unload, or transport products, materials, or passengers. The CDL test includes two parts—a knowledge test and a skills test.
You need to meet state and federal requirements to be eligible to take this test. The Federal Government created CDL regulations and shared them with all U.S. states. Each state uses these guidelines to create the test, and you can only pass the CDL exam in the state where you live. Before you can apply for the CDL, you will need to obtain a commercial learner's permit (CLP).
The states-specific CDL tests and the requirements regarding license issuance must meet at least three federal requirements:
The CDL general knowledge test must include at least 30 questions

A score of 80% is the minimum to pass the general and endorsement knowledge tests

CDL applicants must take the driving skills test in the type of vehicle they will operate and master all required skills
The written part tests general driving knowledge and safety issues regarding vehicle operation. The driving skills part includes a vehicle inspection, basic vehicle control demonstration, and a road test in different situations.
All CDL applicants should first check the criteria that might disqualify them. Most information is available on each state's Department of Motor Vehicles (DMV) website.
CDL Classes and Endorsements
CDL has these three classes:
Class

Details

Class A

Any combination of vehicles:

With a gross vehicle weight (GVWR) of 26,001 lbs or more

GVWR of the vehicle(s) being towed over 10,000 lbs

Class B

Any single vehicle with a GVWR of 26,001 lbs or more

Any such vehicle towing a vehicle not in excess of 10,000 lbs GVWR

Class C

Any single vehicle or a combination of vehicles that do not meet the definition of Class A or Class B but is designated to transport any of the following:

16 or more passengers, including the driver

hazardous materials
If drivers operate a specific type of CMV, they might have to pass additional tests to obtain the following endorsements to their CDLs:
P

—Passenger transport

T

—Double/Triple trailers

N

—Tank vehicle (tanker)

X

—Tanker/HAZMAT combination

H

—Hazardous materials (HAZMAT)

S

—School bus/passenger transport combination
Who Qualifies for the CDL Test?
Each state determines the minimum age (18–21), driver, and medical requirements for intrastate CDL holders. Interstate CMV drivers need to meet federal driver requirements and be at least 21 years of age.
You do not have to complete a training course or some special education to apply for and take the CDL test. To pass the written test, you should study the information and regulations provided in the state's CDL handbook.
It will take lots of studying to get at least 80% on the test, but you should also do lots of state-specific CDL practice tests. DoNotPay provides CDL tests for various states, such as California, Virginia, and Indiana, to name a few.
We can also help you obtain your HAZMAT endorsement by practicing with Indiana, New Jersey, Texas, Georgia, and other HAZMAT practice tests.
A vision test is part of the CDL exam, and you might need to meet certain medical requirements, but this depends on the type and class of the vehicle.
Why Take the CDL Exam?
The biggest advantage is the income, as the average annual salary for a truck driver is $60,954.
Truck drivers are in high demand as the number of trucking companies is increasing. Are you qualified to drive a truck? You will need to prove this by taking the CDL exam in your state and obtaining a commercial driver's license.
Your earnings will increase if you add the HAZMAT endorsement to your CDL. This will allow you to transport hazardous materials and substances and open doors to specialized industries that pay hefty salaries.
DoNotPay Helps You Solve Bureaucratic Issues
DoNotPay lends a helping hand with other government test-related issues. Find out how to make a DMV driving test appointment or pass the written driving test.
We can help you solve tiresome administrative issues effortlessly! To get an overview of our practical features, access our website from any and learn how to:
Dispute traffic tickets

Dispute speeding tickets