Sending a Fax From Your iPhone? It's Possible if You Sign Up for the
eFax Free Trial
!
eFax is an internet fax service that makes it easy to send and receive faxes by email or over your phone. There is no need to print anything or look for the fax machine manual—the whole process is smartphone-friendly.
eFax offers several plans suited for individuals or corporate clients, but all of them include:
Searchable Faxes

Free local number

24/7 live support

Unlimited storage 

Access for multiple users

Ability to edit and sign faxes

Apps for Android and iOS devices

Option to fax a document via email

Possibility to add multiple recipients
If you are looking for a fully digital faxing platform, keep reading to learn how to test eFax for free. 
Is There a
Free Trial
for
eFax
Services?
eFax is offering free trials for all plans. The length of the trial can be 14 days if you choose a monthly subscription, or 30 days if you choose an annual one. 
When you sign up for a free trial, you get the same benefits as a paying client. 
You can:
Send and receive faxes immediately within the limits stated in your offer

Use email, website, Android or iOS apps

Access all Document Management features that the service offers
Take note that regardless of the plan, you will have to input your credit card info when signing up.
How Can I Sign Up for a
Free eFax Trial
Period?
The service does come with iOS and Android apps, but to get a trial, you need to sign up on the eFax website. 
Here are the steps to take:
Access the eFax website

Click on the

Start Free Trial

or

Try Now button

—there are several options on the

Homepage

Check the details of your offer on the left side—if you are satisfied with the offer, go to the right site to create a number

Select a country, state, and city from the drop-down menu

Choose one of the offered numbers—you can pick between ten different variations

Click on the

Setup Account

button

Enter your first and last name, which will be printed on your outbound faxes

Type in your email address, which will be a recipient for inbound faxes

Confirm email address

Enter your contact phone number

Check the box with the

eFax Customer Agreement and Privacy Policy

Click on the

Continue

button

Type in your country, address, and city

Enter your payment details

Click on the

Start Faxing

button
When you use this method, you will likely be set up with a default monthly subscription and a 14-day free trial. This subscription allows you to send 200 and receive 200 Pages. You can edit your offer from the left-side menu. 
How Can I Get
an eFax 30-day Free Tria
l?

A free trial that lasts for 30 days is reserved for those who want to be billed once a year. 
You can get a 30-day free trial by editing your offer, which is visible on the left side of the window during the entire signup process. 
There is another option that allows you to choose the plan before you begin the signup. 
Here is how to check available plans and subscribe for the free trial you want:
Go to the eFax website

Click on the

Pricing tab

in the top

Menu

Select the

Billed Yearly

option

Pick the plan you want and click on the

Free Trial

button

Follow the prompts to complete the process
Does the
eFax Free Trial
Automatically Renew Into a Paid Plan?
Yes, it does. The trial switches into a paid subscription of your choice. 
Since the company requested your credit card info during the signup process, as soon as the trial ends, you will get charged automatically for the plan you picked. 
You can prevent this by using DoNotPay's virtual credit card to sign up for eFax free trial. 
How To Use DoNotPay To Sign Up for eFax Free Trial and Avoid Unwanted Charges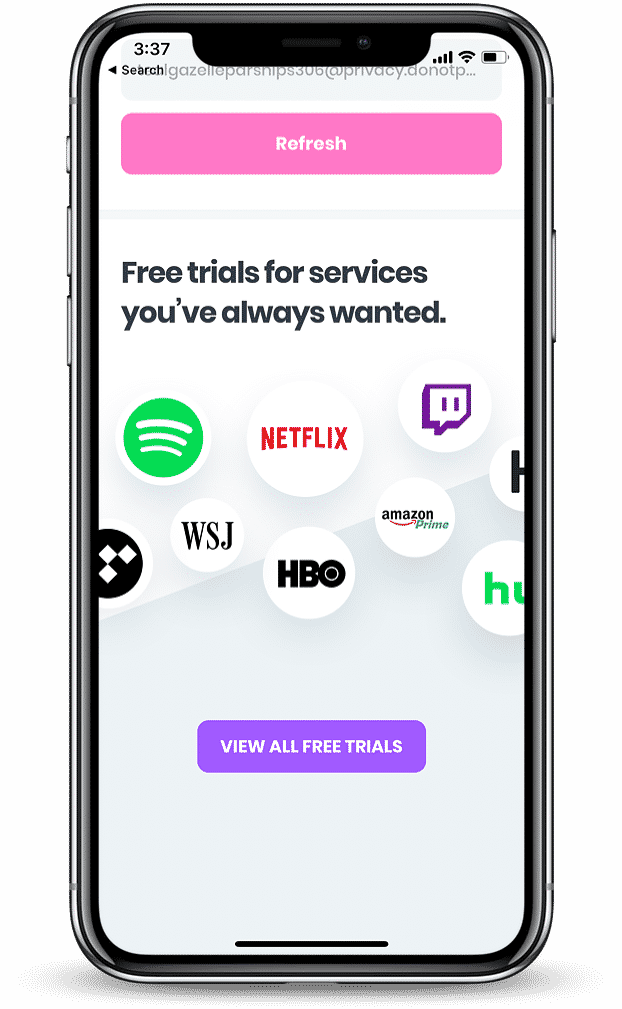 DoNotPay's Free Trial Card will let you sign up for an eFax free trial without any risk of auto-charges. 
This free virtual credit card is a virtual credit card number with an expiration date that looks legitimate to any company. The card appears real, but it is not connected to a funding source, which means it cannot be charged. 
An additional bonus is that you can use any name or address you like because the card comes with a temporary email address. If you use that email to sign up, eFax won't be able to send you spam emails. 
Here is how to use your free virtual credit card to sign up for eFax free trial:
Open DoNotPay in your

web browser

Generate virtual credit card number and an expiration date

Provide eFax with those details when you sign up
Your free trial will get approved automatically, and you don't have to worry about any extra charges. 
How Much Do eFax Plans Cost After the Free Trial?
Each plan can be billed monthly or annually. If you choose an annual payment, you can get two months for free after you subscribe. 
Here is the overview of the prices:
Plan

Price

Features

eFax Plus

$16 per month

$169 for a year

Send 150 pages per month

Receive 150 pages per month

eFax Pro

$19 per month

$199 for a year

Send 200 pages per month

Receive 200 pages per month

eFax Corporate

Varies

Customizable

Security features available
What if I Subscribed for the
eFax Free Trial
With My Regular Credit Card?
In case you already used your real credit card to sign up for the eFax free trial, you need to cancel the trial before it expires. 
You have several options to do this:
Send an email to helpuk@mail.efax.com from the email address you used when signing up.

Make sure to include relevant contact info and your eFax number

Call the eFax support team at +442039497354 and explain that you want to cancel your free trial.

Prepare the email you used when registering, your eFax number, and other contact details

Use DoNotPay's Find Hidden Money feature to cancel your free trial in less than five minutes.

If you

cancel eFax

with DoNotPay, you can avoid email correspondence and tiresome conversations with eFax customer support
How Do eFax Charges Look Like on My Credit Card Statement?
Charges from eFax vary depending on your credit card and the plan you subscribed to. Check out some examples of eFax charges in the table below:
| | | |
| --- | --- | --- |
| J2 EFAX SERVICES 323-817-3205 CA | EFAX.COM 800-958-2983 | J2 EFAX PLUS SERVI |
| J2 EFAX SERVICES 3238173205 CA | Payment to J2 EFAX SERVICES|323-817-3205|CA | Authorization to J2 EFAX SERVICES,323-817-3205,CA |
| J2 EFAX SERVICES 323-817-3205 CA 90028 US | J2 EFAX SERVICES 323-817-3205 CA | ONLINEFAXES.COM/BILLIN |
| MYPHONEFAX ONLINEFAXES | J2 EFAX SERVICES, 323-817-3205, CA | J2 EFAX SERVICES|323-817-3205|CA |
| ONLINEFAXES.COM/BILLI 866-937-4511 NV | J2 EFAX SERVICES | J2 EFAX SERVICES 323-817-3205 CA 90028 USA |
| 800-958-2983 CA | J2 EFAX SERVICES | J2 EFAX PLUS SERVI, 4408707113311 |
| ONLINEFAXES.COM/BILLING | Debit Purchase - Visa J2 Efax Service323-817-3205ca | EFAX.COM SERVICES 800-958-2983 CA |
Check Out DoNotPay's Money Saving Tricks!

DoNotPay is a virtual assistant app that can help you manage your daily tasks in an efficient and cost-effective way. 
We can help you sign up for different free trials and try out services like Showtime, Adobe Premiere, Kindle Unlimited, and more. 
You can also use our app to get a Venmo refund, lower your internet bills, or report harassing phone calls. Whatever you need, we got you covered!
Open DoNotPay from your web browser to check out all the amazing features we can offer. 
Some of the tasks we can take over are:
Contesting traffic tickets

Fighting speeding tickets